This album is amazing. I know, it's not the most clever opening to an article, but I just spent the last ten minutes sitting at my desk trying to think of some witty opening line, and at this point I decided I'd have more luck getting things out in the open than to do that. BATTLE BEAST's album No More Hollywood Endings came out recently on March 22nd and is their 5th album, containing thirteen songs that, while most are heavy metal, have a few lighter ones that didn't feel too jarring from the rest.
Frontwoman Noora Louhimo has a powerful voice that I just couldn't get over no matter what song was playing, and Pyry Vikki definitely deserves appreciation for his work on the drums. Though, let's not take away from the guitarists Juuso Soinio and Joona Björkroth, who belted out some awesome riffs and solos, and the keyboardist Janne Björkroth and bassist Eero Sipilä who really brought most of the stuff together. There wasn't a single instrument in any of the songs that sounded unneeded or off. It was all great.
The album starts off with 'Unbroken' which, much like the rest of the album, gives off this 80's metal vibe that doesn't feel too forced or cheesy, and it contains riffs that alternate in tune as the chorus goes on. Honestly, while listening to it I could imagine it being the background for some training montage; it would be pretty effective too.
We then lead into the album's namesake 'No More Hollywood Endings', which ended up being one of my personal favorites of the album. It has this somewhat melancholic tone while still keeping in with high energy, and I loved the chorus and the small interlude of guitar that comes after it before leading to the next verse. I couldn't get over the drums in this song; it really brought out most of the instruments and the vocals. I much appreciated the piano as well, though it had small parts, it felt like a great way to lead into the next section of the song.
We go into 'Eden' next, and the intro of which somewhat reminded me of 'Whisper' from Evanescence (though, since relistening to the song to figure out how 'Eden' reminded me of it, I have no fucking clue where the distinction came from. Maybe the opening choir part?) Noora Louhimo's voice really shines through, and listening to the guitar solo made my fingers spontaneously start bleeding--because seriously, how do people pull this stuff off?!
After this powerful song we go right into another banger 'Unfairy Tales', where the chorus features an undertone to the vocals that sound amazingly put together. The lyrics are also great and there's another guitar solo that made my fingers bleed again. Oh, and the drummer is fucking great in this too. Let's not forget that part.
'Endless summer' is our first song that's different from the rest. It takes on somewhat of a more soul-y feeling, and Noora Louhimo sounds fantastic through and through. I still can't get over the drums or the keyboard because it all sounds so great-- sorry if I'm sounding like a broken record at this point. As for 'The Hero', it really incorporates the 80's metal feeling, but has a little more refine to it, and there's really not much I could say about it without regurgitating what I've already said about the other songs.
Next is 'Piece of Me', and just trying to imagine sounding like the vocalist in this song made my throat bleed-- seriously, her voice is that powerful. The chorus is adrenaline inducing and I really, really want to fight someone/get my ass kicked to this song.

We then go into a lighter song 'I Wish', which contains drums and orchestral instruments for the majority of the time. It's a breather from the rest of the heavy metal we've heard for most of the album, and the lyrics are really good and powerful. The guitar in the interlude wasn't misplaced either, and it put it all together well.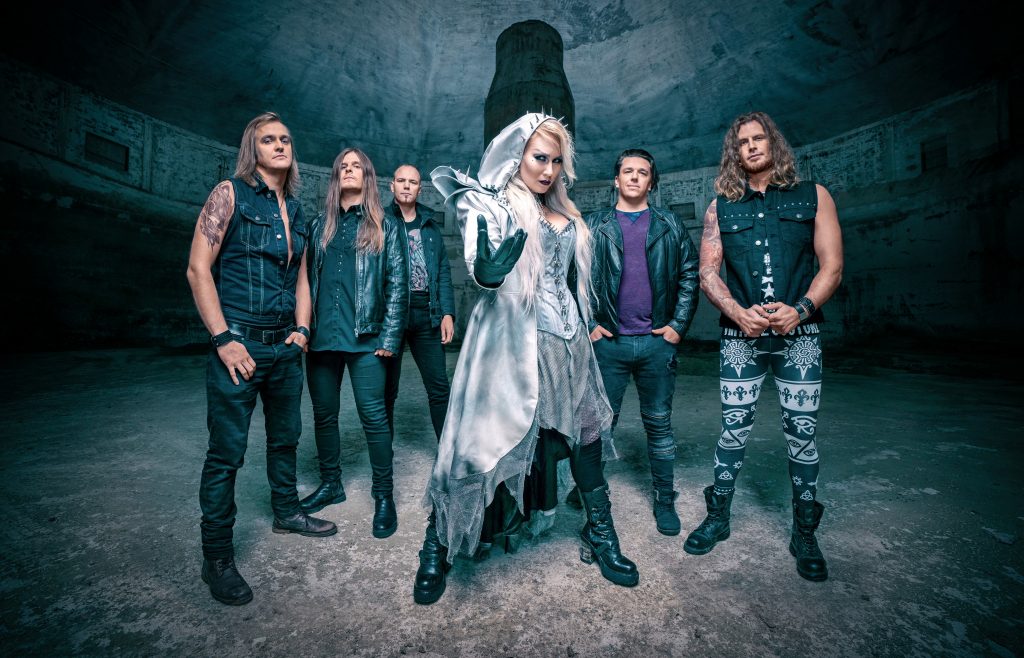 We head into 'Raise your Fists', and now we have a contestant to the ongoing competition of 'which song do I want to fight people more to?' There's a great instrumental portion in the intro and it remains throughout most of the song as well. And as for 'Golden Horde', I really can't say much without repeating everything I said about every other portion of this album, though the drumming and guitar was hectic and head-bang inducing, and the same goes for 'World on Fire'. The only thing new I can offer for this one is that it's my other personal favorite of the album, with the vocals alternating from light in the verses, to heavy in the chorus, and the lyrics are pretty thoughtful altogether.
With that, we now have 'Bent and Broken', another lighter song that goes heavy again about two minutes in, and the vocals in this song are very versatile when that change happens. It's sort of like the 'falling action' of the album, in that it gets you nice and relaxed before we head into 'My Last Dream', which slips back into high energy metal to give a wonderful and powerful conclusion to the album and features yet another awesome guitar solo within it.
Overall, this album was fantastic and there wasn't a song that I skipped or found myself unwittingly tuning out while listening. Definitely a few of these are going to make it onto my personal playlist, I think I can say the same for most of the people who listen the album.
No More Hollywood Endings can be found on vinyl, CD, and digital download and I highly recommend that you go check it out for yourself!
PHOTO CREDIT: All photos © Battle Beast - Original Photographer/Artist - Nuclear Blast Records