In March of 1982, guitarist Randy Rhoads died in a plane crash; the young virtuoso was a mere 25 years old at the time of his passing. Yet, even well after his death, the ex-Quiet Riot and Ozzy Osbourne axeman's influence remains felt by so many around the globe.
A few years ago, some of those who were inspired by Rhoads began doing Randy Rhoads Remembered gigs; which essentially bring together multi-talented musicians who want to pay tribute in the form of spirited live renditions of his best-known material, along with a handful of other surprises.
This was not my first time attending a Randy Rhoads Remembered gig; I attended the one at Vamp'd in 2017, and another reviewer on the site covered the one last year. But come 2019, the event was to return to Sin City in a big way. I'm not going to go through and name every single musician who was on deck for the event, as the posted ad photo below has that information.
John Zito of Count's 77 gets us warmed up!
To open the gig was a Vegas favorite, John Zito. This blues rock guitarist has been kicking ass out here for years. His band for the evening was comprised of his Count's 77 bandmates Barry Barnes on bass, and Paul DiSibio on drums (fellow Count's 77 member, Stoney Curtis, would play in the actual Rhoads tribute later in the evening). Following an uncharacteristic and comical "crooner" intro over the speakers, the trio broke into some fantastic tunes which got the audience warmed up for the impending tribute to Randy Rhoads. If there was one minor complaint to be had with this opening set, it was the brevity (likely a result of having to open for a tribute gig of extended length from the usual gig at the venue). But there's no denying these guys kicked ass.
After a wait, the lights all went down, and strange piano music began playing over the speakers. Given that Randy Rhoads was a classically-influenced musician, this would have made for a cool intro if it were about two minutes long. Instead, the gimmick dragged on for quite some time longer, only to fortunately be broken up by audio of some vintage Rhoads interviews. That said, given Vamp'd has TV screens, it would have been nice to show off some video content/photographs as well.
But let's get to what really matters: The music.
When it comes to Randy Rhoads' body of work, you have a handful of sources: Ozzy Osbourne's Blizzard of Ozz, Diary of a Madman, live Tribute album, a handful of non-album Osbourne cuts, and two Quiet Riot albums which were only officially released in Japan; Quiet Riot and Quiet Riot II. The performers essentially committed to perform every song off the two Osbourne records along with a few surprises.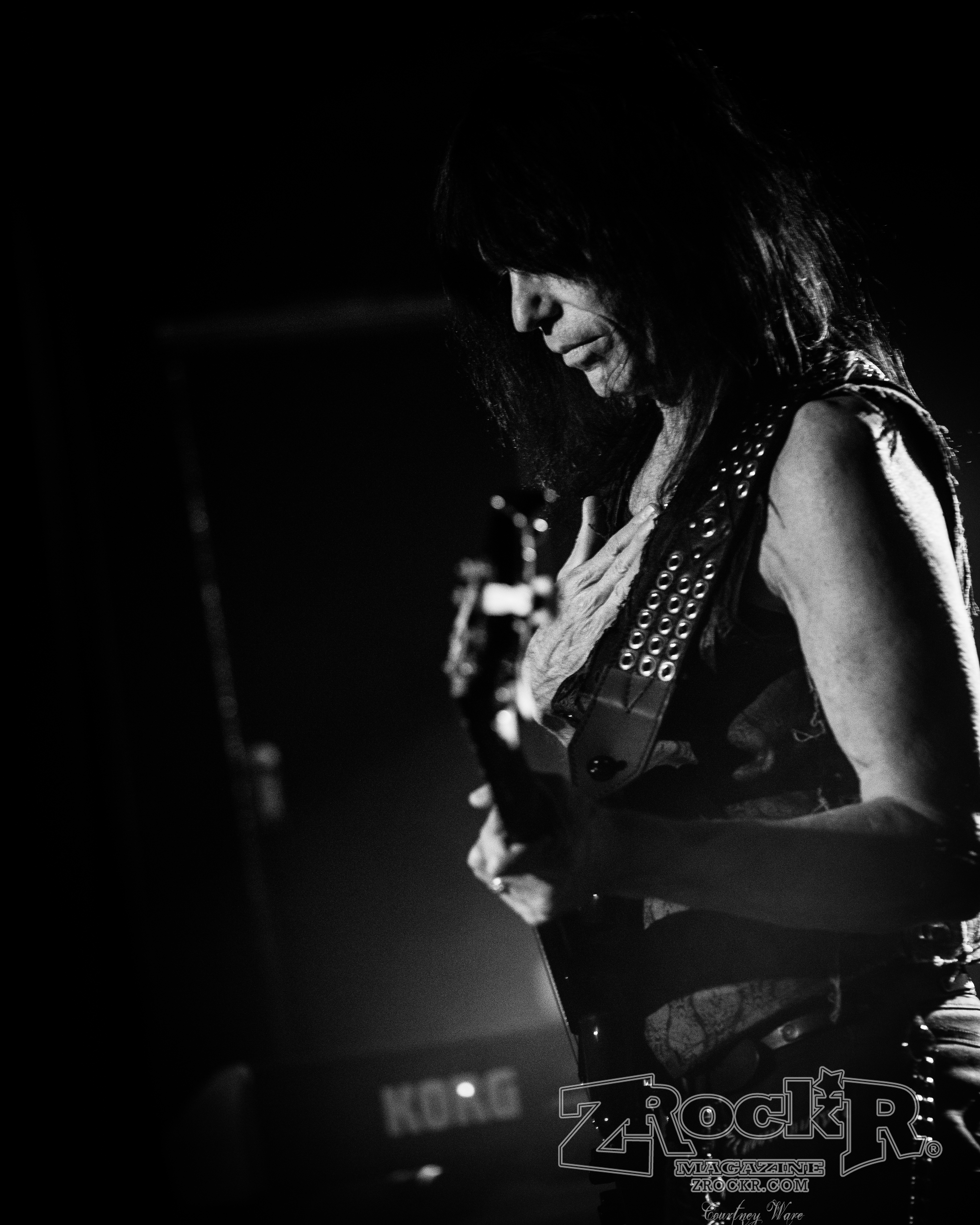 It wasn't long before the revolving-door group of musicians got underway with their tribute. Major highlights of the evening included Brian Tichy's drumming; with a massive kit and huge gong in back, this is a guy who's never content to settle for the house kit; vocals from the likes of Andrew Freeman and Frank DiMino, and bass work from Phil Soussan and the mighty Rudy Sarzo (who actually played in Osbourne's band with Rhoads, as well as Quiet Riot).
Guitarists present included the likes of Christian Brady, Oz Fox, Rowan Robertson, and Stoney Curtis; all of whom brought something unique to the table and beautifully expressed their admiration for the late Rhoads. And let's not forget keyboardist Gregg Fox! This ensemble cast did a fantastic job with the material, though the stand-out performer would have to be Rudy Sarzo. Pushing 70 years of age, this guy still moves around on stage with more energy than most men half his age. In fact, I'm going to come right out and say it: This guy's the greatest bass player of all time.
Suprise!
The "surprise" tracks not from Blizzard or Diary including some Black Sabbath covers which Randy did on the live Tribute record, and Rhoads' brother Kelle Rhoads taking the frontman position for renditions of "Killer Girls" and "Back to the Coast." However, these tracks would have been better had they been sung by DiMino or Freeman, whose voices are better suited to the material. As much as I respect Kelle for keeping his brother's legacy alive (and the guy's a kick-ass keyboard player when given the opportunity to shine!), It was just too obvious he was looking at a lyric sheet throughout his performances, and wasn't necessarily the best man to sing on these tracks (again, no disrespect intended). Next time, let's put this guy behind the keyboards where he can do the most good.
This was a great gig featuring some phenomenal musicians paying tribute to one of the greatest guitarists taken before his time. If you're a fan and Randy Rhoads Remembered hits up your down, don't hesitate to go. You won't be disappointed.
All live photos taken by Courtney Ware for ZrockR Magazine 2019. ALL RIGHTS RESERVED.