It has been 13 years since She Wants Revenge debuted their self-titled album, which seemed to take everyone by storm with their big hit "Tear You Apart". For me, they are a band that has steadily stayed in rotation when I'm in the mood for a darker, edgier playlist. So, naturally when I saw they would be coming to Vinyl inside of the Hard Rock Hotel, I had to be there.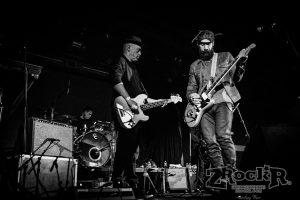 The venue was a bit empty at first, which made me nervous, but it was an early show, so there was plenty of time for it to fill up. Whoever was handling the music before the show and between sets did a fantastic job. Songs by bands like Depeche Mode (who She Wants Revenge toured with in 2006), The Cure, and The Smiths set the mood for the evening wonderfully.
Dark Black.
Starting out the evening was opening band and Las Vegas locals Dark Black. Describing themselves as "dream punk", which is the perfect description, the five piece is comprised of Matt Frantom, Dillon Shines, Kevin Oakley, George Foskaris, and Rocky Stevenson.
The venue filled quickly as the band began.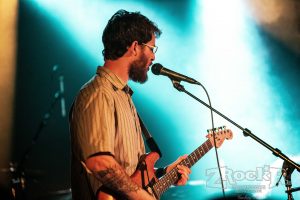 While the band didn't move around a lot (oh, the joys of having lots of gear on a stage), their music was moving; if that makes any sense at all.
Dark Black played a blend of their old and new stuff, and had I brought extra money with me to the show, I would have been first in line to purchase a copy of their new EP Dissolve, which is available on vinyl and cassette tape (yes, cassette tape). You can purchase their vinyls through www.runninginplacerecords.com, but if you want a cassette, you have to see these guys in person. Trust me, they don't disappoint.
Warbly Jets.
Hailing from Los Angeles, the Warbly Jets looks like a renegade group of new wave/punk kids, with vocalist Samuel Shea slightly resembling Marc Bolan.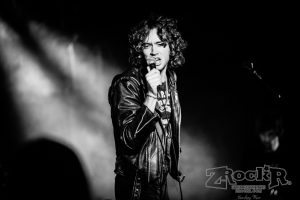 To be 100% honest with you, this performance did not do the band justice. I took the time to listen to them when I got home, and really dug them, but the mix during their set compressed their sound far too much. When you have a muddy mix, you really can't get the best impression, and unfortunately these guys were cheated and ended up sounding like Julian Casablancas and Trent Reznor attempting to make a record.
Regardless, they played their asses off and their energy was intense. Shea interacted with the crowd heavily and contrasted the band prior, as well as headliners She Wants Revenge.
If you enjoy solid rock n' roll, I implore you to take a listen to Warbly Jets. I hope next time they come to Vegas I can be there to really get what these guys are about.
She Wants Revenge.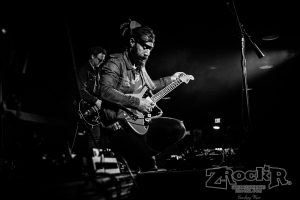 With there not being a curtain at the venue, we could see the band setting up, which threw the crowd into screaming fits of joy. One woman behind me kept screaming "Justin!" at an attempt to get the singer's attention.
By the time She Wants Revenge hit the stage, you could barely move; the venue was so packed. It seemed like everyone had turned out for this gig - the punks, the goths, the plain Janes; literally everyone.
Just before 10:00 p.m. the venue went dark and erupted with screams of excitement as the band broke into "Killing Time". Vocalist Justin Warfield's monotone vocals penetrated the air, and thanks to the blue lighting, helped add that creepy vibe that makes the band's sound what it is.
The crowd completely lost it during the band's biggest hits "These Things" and "Tear You Apart", which teenage me internally went nuts for as well.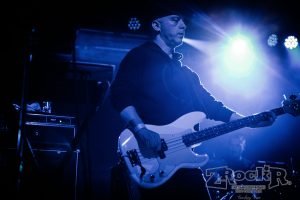 While the band didn't interact too terribly much with the crowd, the energy they gave off still permeated the room. Watching She Wants Revenge is kind of like an intense horror film. A lot of the emotion is in the music, and not necessarily what is happening in front of your eyes. Regardless, you feel it.
One of the things I love best about them is that they aren't out to prove anything or be avant garde. It's simple. It's creepy and emotion filled, kind of like Sisters of Mercy.
After 15 years since their inception, they are still going strong, and I look forward to their next show in Vegas. Until then, I'll just have to listen to "Sugar" on repeat...
ALL PHOTOS TAKEN BY COURTNEY WARE FOR ZROCKR MAGAZINE 2019. All Rights Reserved.