The End Machine played Vamp'd on Friday, April 5, 2019, with Leona X and Drop D as support acts.
Jeff Pilson, George Lynch, and "Wild" Mick Brown comprised the classic Dokken lineup alongside singer Don Dokken, and in the 1980s, the group created some of the best rock and roll of the era. In recent years, Don Dokken has gone on with another lineup of the band (though Brown sometimes still plays with him), leading his former bandmates to try their hand at "Dokken without Don Dokken" bands. There was a T&N project a few years back which spawned a superb album with new tracks and re-recorded older ones with rotating guest vocalists, but sadly, this project seems to have faded away.
But the trio is back, this time recruiting former Lynch Mob and current Warrant vocalist Robert Mason to be their frontman. The End Machine, the quartet comprised of these four artists, just released their first album, and arrived in Vegas at Vamp'd to play their second-ever live show. For these live dates, due to another commitment, "Wild" Mick Brown's slot has been filled with Evanescence drummer Will Hunt.
Starting the evening's festivities off was a group called Drop D. I was not familiar with this particular group going in, but was certainly eager to see what they brought to the table. The group's setlist was mostly comprised of nu-metal/modern rock-style covers of older songs, with a variety that spanned artists like Dio and Cinderella to George Michael! Admittedly, I won't listen to these versions of the songs over the originals, ever, but these guys had a good sound and I wouldn't be adverse to seeing them play again in the near future should they return to Sin City. All in all, a solid enough start to a fantastic rock and roll night.
Second in line was the gorgeous but oh-so-talented Leona X. If there's one thing I'm truly proud of on the music scene in Vegas, it's that we've got plenty of women who rock, and perhaps nowhere is that truer here. Ms. X owns any stage she's on, rocking hard and never letting up, something which was beautifully demonstrated with her opening set here. Anyone who attends a Leona X show is bound to be pleasantly surprised with the on-stage action and musicianship displayed, and it's highly unlikely you'll be disappointed. This evening's set was no exception, the only weakness being the brevity due to it being a "support act" set. But I have no doubt I'll see this bad-ass rocker woman and her partners in crime tearing it up as headliners in the near future.
And then we come to The End Machine.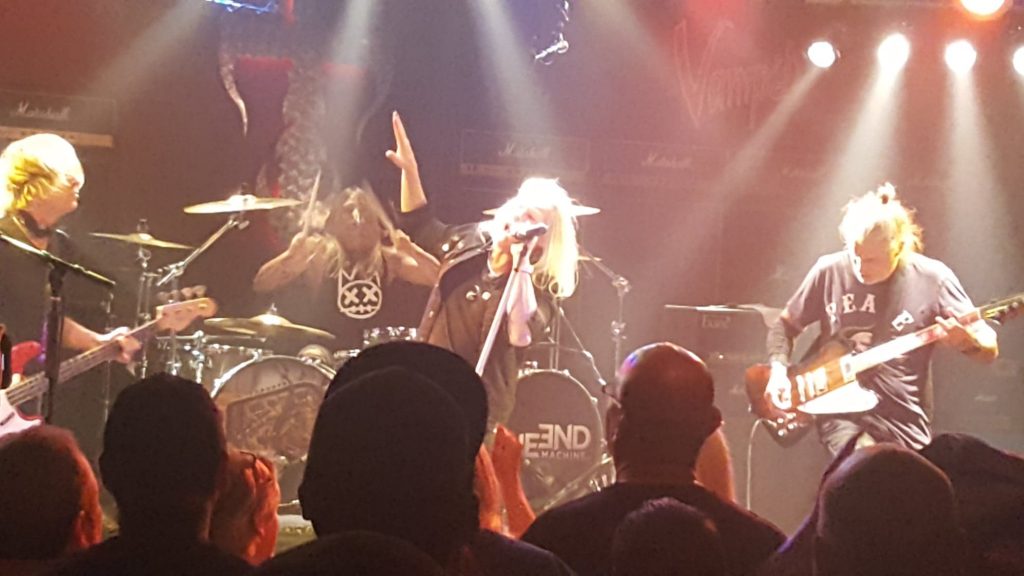 Confession time: Despite being a die-hard fan of all things classic Dokken, and Foreigner, and plenty of other acts he's been affiliated with, I had NEVER seen classic Dokken bassist Jeff Pilson play live prior to this. Ever. Getting to see him live has been on my bucket list for years, and the fact that I got to see him in a small (albeit packed to the gills) venue was even better. Guitarist George Lynch, on the other hand, I've seen more than a few times, and when the aptly-named Mr. Scary takes the stage with his axe in hand, people shut up and take notice. Mason I've seen fronting Warrant and as a Sin City Sinners guest a few times, and the guy is a seriously underrated singer. It was also my first time seeing Will Hunt drum, as he was filling in for "Wild" Mick Brown for these tour dates.
Now to the all-important question. How do these guys fare as a band? And how was their setlist?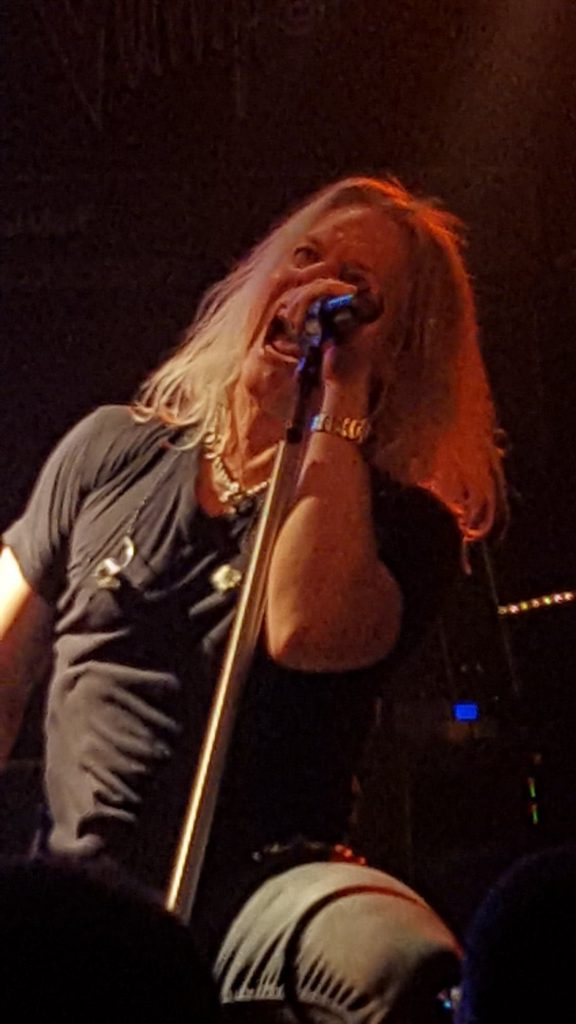 The End Machine kicked ass from start to finish. Having just reviewed their album a few weeks ago, I was pleasantly surprised by the modern-flavored original tunes, which were beautifully brought to life on stage at this gig. But classic Lynch Mob and Dokken fans need not worry -the group threw in plenty of cuts from those group's classic records, including the likes of Dokken's "Into the Fire," "Tooth and Nail," "Unchain the Night," and "It's Not Love," and Lynch Mob was represented in the form of songs like "River of Love," "Tangled in the Web," "Wicked Sensation," and their cover version of Queen's "Tie Your Mother Down." The best thing about this gig is it combined the old and new seamlessly, giving audiences a portrait of the classic and current in the best of ways. My one complaint with the setlist – why ignore material from the T&N album from a few years ago, which was basically an early version of this band?
Fortunately, the band members' chemistry on stage left nothing to be desired either. Lynch is still the bad-ass guitar god he's always been. Hunt proved himself an above-average drummer who you wouldn't even know was a fill-in player unless you were told otherwise. Mason hit the notes every song required and then some, showing audiences why he's one of the most underrated singers in the business; his versions of the classic Dokken songs are vastly superior to the ones Don Dokken struggles his way through in his live shows these days. You can tell the guys enjoy the musical company of one another as well, which is always a plus.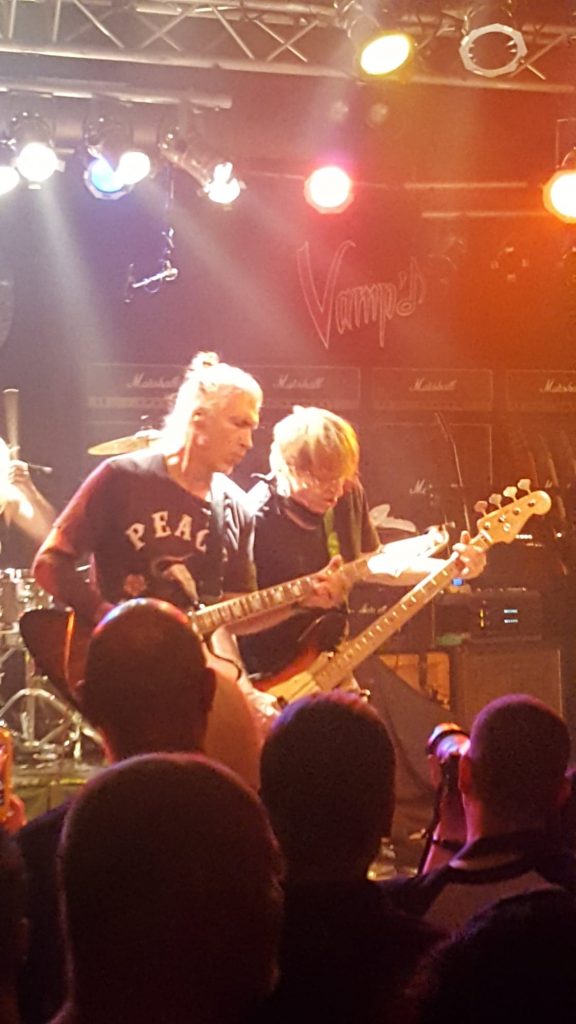 But for me, the true standout player of the evening was bassist Jeff Pilson. A bass player can simply stand there and pluck the strings, keeping the rhythm, but there was seldom a moment where the guy wasn't front and center. The aggression, energy, and enthusiasm in his playing is superior to many men half his age.
There were no dull moments at this Vamp'd gig, with a wall-to-wall crowd throughout most of the evening. The End Machine represents the best members of classic Dokken still active in the music business, and while "Wild" Mick Brown was away, Will Hunt didn't disappoint in the least filling his spot. This just might be my favorite concert of 2019 so far. If these guys make it to your city or a festival going on near you, and you're a fan of theirs, you owe it to yourself to go and check them out.