Deathgrind at it's best!
If you're unaware of who the band band Cattle Decapitation is, I wouldn't be surprised one bit. However, they have been a landmark band in their niche of death metal and are perfect for those who crave the deep, dark, and gritty sounds in the likes of grindcore, death metal, and black metal. This is the second time we've covered this band, (the first being Metal Blade's 35th Anniversary) and behold! This show was held once again at The Dive Bar.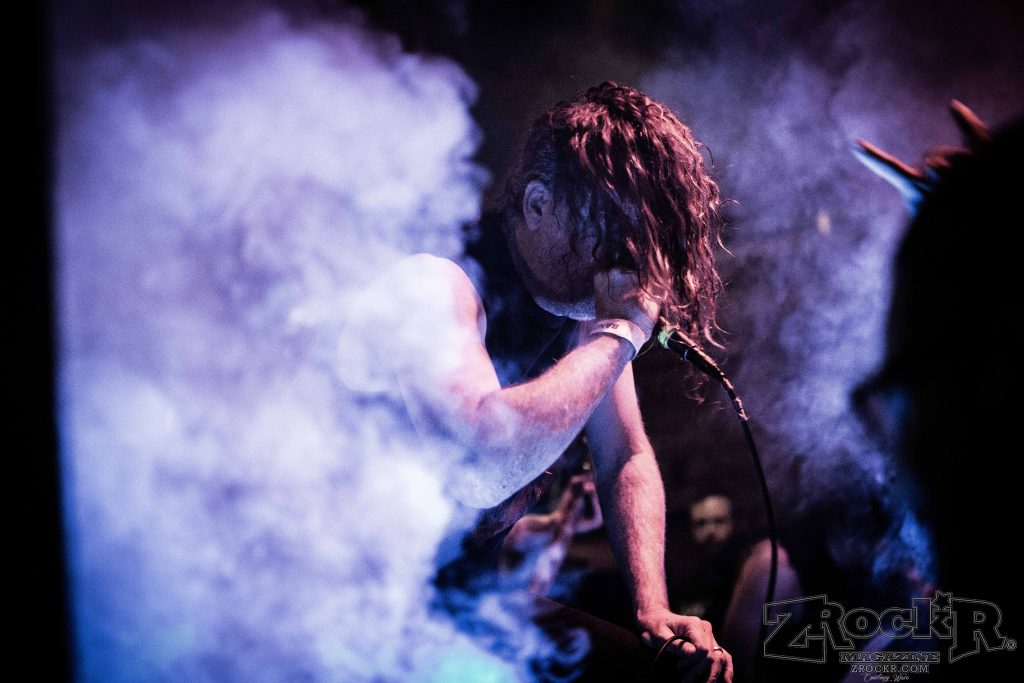 The Dive Bar is one of those landmark venues for obscure punk and metal. It makes sense that Cattle Decapitation would play here again. Even without an overkill of promotion, these guys pack the floor pretty effortlessly. And the best thing about it? Just about everyone there are die hard fans in this obscure niche of the metal scene.
The Dive Bar

I must give props where props are due, first of all. I was very excited to walk into Dive this evening. They have spent some time and have remodeled their floor quite a bit, added in some different lighting elements, and maybe it's just me… but the stage seems slightly higher than it once was. At any rate, their floor space is slightly expanded which makes for a better experience for those who don't feel like diving head first into a death metal pit. As someone who physically cannot partake in the pits anymore, this was a nice expansion to see, and I'm happy for them and their execution of their floor space!
Chit Chats!

Prior to the show I had the pleasure of sitting down with Josh Elmore, who plays guitar for Cattle Decapitation. We talked a bit about what we can expect with their new album that's due to be out later this year, and a number of other random things. (I'm not really too great at interviewing, so when in these scenarios I really just like regular conversations.) I was very surprised to hear about the dig in musical favorites, as well as the appreciation across genres that these guys have. It really puts that general blanket "Metalhead" term in it's place.
From 80's music, to classical, to hip hop, I felt my inner young self achieve some affirmation to hear a death metal musician in a very big, popular band express that hint of, "Well, fuck your shit. Listen to what you like. People can fuck off." kind of mentality when it comes to open mindedness within the metal genres.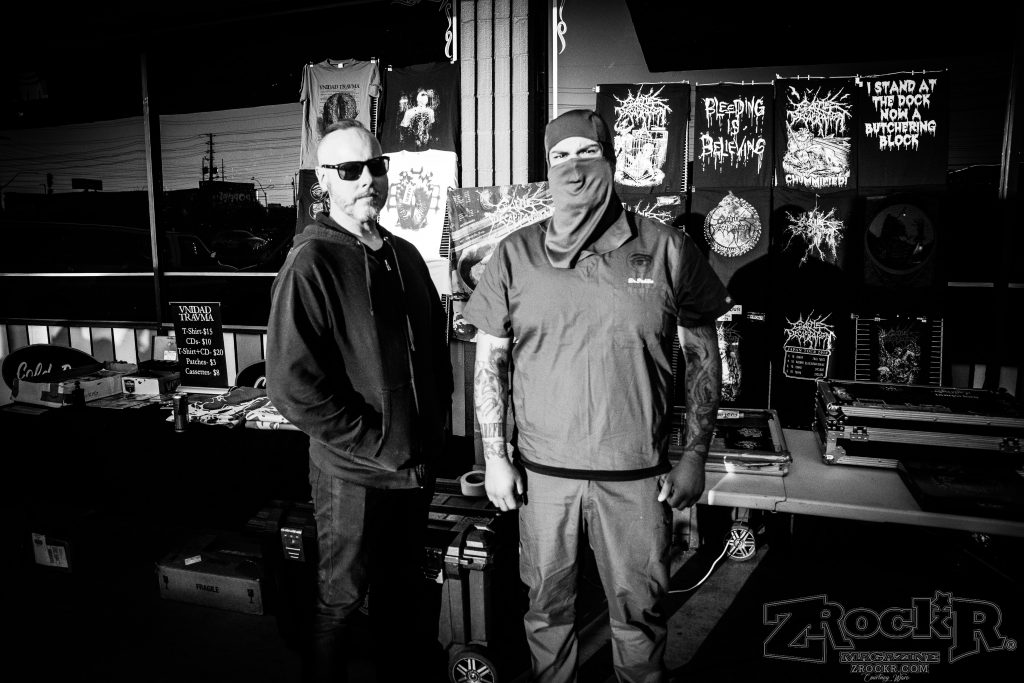 Trauma Unit!

I also was able to speak with Oscar Padilla, who is the guitarist/vocalist for Mexico based grindcore act Unidad Trauma. (Prior known for his work with Thanatology) Unidad Trauma speaks about the medical practices in Mexico, and the sometimes gruesome deaths that result from those medical practices. It was very cool to talk about the different kinds of influences and elements that these guys draw from, and it was even more awesome to hear that they had previously been to Vegas on Michael Gordon's Las Vegas Deathfest bill a number of years ago. (Goes to show you just how small this world is! Mr. Gordon is a great asset to heavy music in the scene, and it's awesome to see that other bands/musicians/artists agree!)
The guys landed this mini tour with Cattle Decapitation in hopes of spreading the word about them and their music. To be honest, if you like Cattle, you'll probably really dig Unidad Trauma as well. They couldn't have picked a more appropriate support artist!
Local Openers

Onto the show! Opening up the evening were the locals in Excerebration and some of my favorite heavyweights, Guttural Secrete. While I am unfamiliar with Excerebration, I'm hoping we'll see some more of them in the future so I can make a more legitimate sound opinion on their performance. They seem relatively new, but they were fitting for this bill as well, just as a gut punch reaction.
   Guttural Secrete were up next, and they are personal favorites of my own here so I'll try not to be biased. (We've covered them in the past, too!) Frontman, "Blue" as they call him has a snarky, entertaining stage presence. One filled with a special sense of humor that you might not know existed if you didn't catch one of their sets or knew the guy personally. As much as I love these guys, I do think that the Dive Bar stage is still far too small for them to be on an opening spot. They seemed very crowded on the stage this night. This did not stop them from packing a necessary punch though!
Unidad Trauma

Moving onto my new friends in Unidad Trauma. As I mentioned above, this was a perfect mini tour for them to expose their newfoundness to a familiar embracing crowd. They come out on stage in scrub-like uniforms, which is fitting, since "unidad trauma" is Spanish for trauma unit. They also refer to themselves as doctors and surgeons, and are sure to get your blood pumping! -Pun intended. They've got a slight thrashy incorporation into their sound, (I can always pick out thrash elements, excuse me a moment, ha!) but they stay pretty true to their grindcore nature. Between the dramatics in uniform, their lyrical content that's medical horror influenced, they would be a great addition to any heavy grindcore/death metal bill. I personally hope to see what they have in store for the future!
Onward to Cattle Decapitation!

I was very happy to be able to see and photograph the guys in Cattle Decapitation again. This time with a better round of my own gear. I was able to capture energy that I was unable to capture the last time I saw them here. Between the new-ish stage set up that they presented, (smoke machines and all!) the newly re-done atmosphere and lighting at The Dive, it proved successful for me on my own visual artistic level.
Circling back to the beginning a little bit, if you do happen to be unfamiliar with this Metal Blade flagship band, they began years and years ago… Founded in 1996 to be more exact. They are listed as extreme metal, but deathgrind and grindcore fall closely after that label. The lyrical content produced is an act of protest against the violence and mass consumption of animals, along with the apparent and constant abuse of the environment. These topics become incredibly obvious simply by just observing their album names and song titles. (ex: 2004's "Humanure" record with tracks such as "Reduced to Paste" and "Polyps".)
Power with substance:

Don't let the fact that their songs are about this type of protest make you think that they'll leave you with anything less of a sore neck at the end of their set though! As Ethan had mentioned in the last article we covered about them, they do not lack melody, and the vocal styles Travis Ryan executes are absolutely relentless. But their shift in musical usage is apparent, especially the way it's done on their 2018 single "Cannibalistic Invasivorism" from their "Medium Rarities" release. As someone who loves some great melody and appreciates the hard hits that this band provides, I never leave their sets dissatisfied.
I'm looking forward to seeing what punches are on the new album due out later this year, and as always, to more future tour dates! These guys cater to the fans in the like of Suffocation, Dying Fetus, The Black Dahlia Murder, and a number of other acts within the death metal genres. If this genre is up your alley, make sure you don't miss all the upcoming goodness, and incredible performance ethics that they have been executing all these years!
For more information on what these guys are up to, head on over to their band links!
Cattle Decapitation – Official Website
Instagram
Facebook

Setlist:
Manufactured Extinct
Your Disposal
The Prophets of Loss
Clandestine Ways (Krokodil Rot)
An Extreme Indifference to Human Life
Forced Gender Reassignment
Dead Set on Suicide
Not Suitable for Life
Circo Inhumanitas
Mutual Assured Destruction
Pacific Grim
All live photos taken by Courtney Ware for ZrockR Magazine 2019. All Rights Reserved.