Paul Gilbert played Vamp'd on Friday, June 28, 2019, with the Stoney Curtis Band as support.
Paul Gilbert made a name for himself as a guitar legend over the years, and is best known for his stints in Racer X and Mr. Big. Despite this, even after the peak of both bands' popularity, he continued to record, and has a lengthy solo career, featuring over a dozen releases.
Upon hearing Mr. Gilbert would be coming to Vegas to rock Vamp'd, I knew it was a gig I couldn't possibly miss. It was my first time seeing Gilbert in a full-on concert setting; the only other time I'd seen him live was an in-store event at a local Sam Ash back in 2012. Needless to say, this fan was pretty enthused.
Starting off the evening was a set from one of my favorite rockers in Vegas, Stoney Curtis. This guy is probably best known for playing in Count's 77 alongside Vamp'd owner/Counting Cars star Danny "The Count" Koker, but Mr. Curtis has been doing his thing for many years. Having released many amazing records (several of which were produced by Mike Varney, who ironically enough, is credited with discovering Paul Gilbert), this blues/rock axeman is still on fire. His backing band for the evening consisted of his Count's 77 bandmates, bassist Barry Barnes, and drummer Paul DiSibio.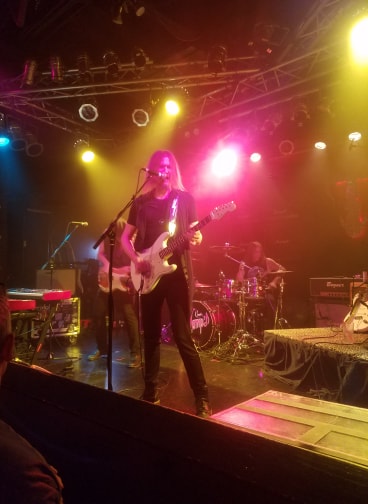 Stoney's set was comprised of plenty of songs, many of which included extended instrumental jam breaks, letting him show off what he does best. This guy must be seen live to be appreciated; something he beautifully demonstrated here. Perhaps the best thing about his set is it wasn't relegated to a quick, rushed opening set for a headliner. He and his band got a solid hour on stage to do their thing, packing it with plenty of fantastic moments. Stoney Curtis must be seen and heard to be appreciated. If you like bluesy rock and want to see a man who owns the stage playing it his own way, there's no better bluesman in Sin City. Catch his solo band or him with Count's 77; you won't be disappointed either way.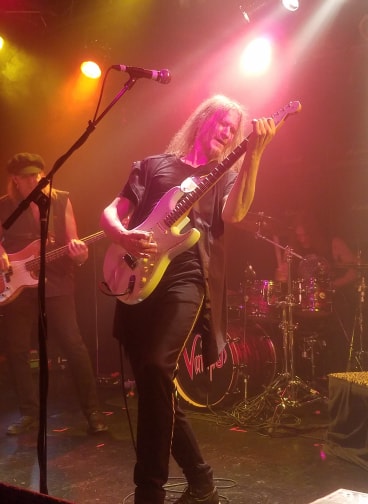 And then comes the headliner – The mighty Paul Gilbert! The axeman of Mr. Big and Racer X doing his thing on stage with a fantastic backing band. For the evening, Gilbert's backing band consisted of keyboardist Asher Fulero, bassist Timmer Blakely, and drummer Bill Ray. Interestingly, the group was scrunched together fairly close near the front of the stage rather than spread across it like most musicians who use the Vamp'd stage. This was likely to give it a more intimate feel, and to put the focus on Gilbert and his guitar player.
Right from the moment Gilbert took the stage wearing a blue suit and yellow tie, it was clear he was a man who despite his lifelong habit of taking his guitar playing seriously, certainly isn't above a sense of humor. The stories he told between songs were worth the price of admission alone, featuring some laugh-out-loud moments, many of which inspired his songs! Hell, at one point, he even began ad-libbing and playing something totally made-up on the spot when an amplifier wasn't working, singing about the struggle it caused. Or how about taking on a fake accent to recite a poem, or impersonating Johnny Cash? Moments like this are priceless, and it only contributed to this being one of the best shows I've seen all year.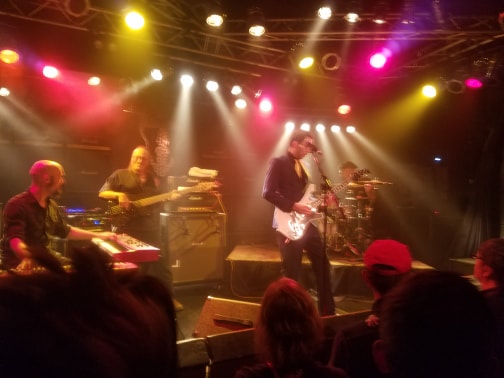 The set consisted primarily of instrumental tracks from Gilbert's solo career, though he did work in some instrumental versions of a handful of Mr. Big and Racer X pieces. However it should be stressed this is a Paul Gilbert SOLO show, not a Mr. Big show, so someone who wants a whole set of those songs sung by a vocalist should take their business elsewhere. However, anyone who's a fan of a virtuoso guitarist who knows what he's doing wasn't disappointed in the least. Gilbert drew out a huge crowd, packing the venue, and no one was let down in the least.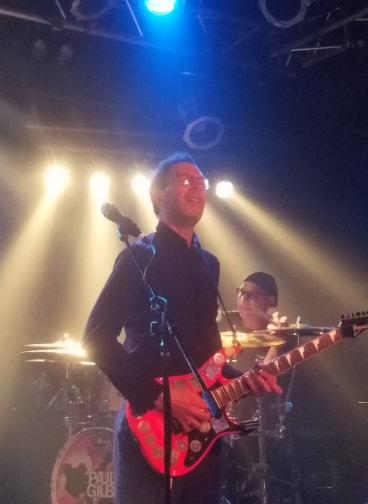 The surprises of the evening were some of the best parts, including the cover songs. Who would've thought someone could take a throwaway filler Beatles song like "The Continuing Story of Bungalow Bill" and actually make it fun to listen to? Even one of my Beatles favorites, "While My Guitar Gently Weeps," got the rework treatment with organ-style keyboard fills from Fulero in its verses. Other tracks we got instrumental covers of included Rush's "Fly By Night," Joe Walsh's "Life's Been Good," Rainbow's take on "Still I'm Sad," complete with tribute to Ronnie James Dio, and even a cover of "Gonna Fly Now," the training montage theme from the Rocky movies! It was an unexpected yet totally excellent setlist with something for everyone. Did I mention he and his band played for damn near two hours straight?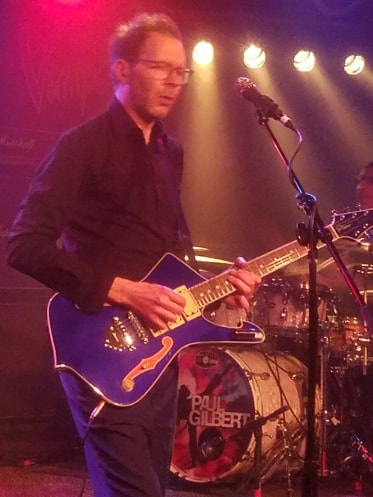 Paul Gilbert gave Vegas audiences one of the best rock and roll shows of the year with this killer mostly instrumental set, and the opening spot from Stoney Curtis only sweetened the deal. All these years later, in the form of Mr. Gilbert, rock is alive and well. Hands down, one of the best rock and roll shows I've seen all year, if not THE best. Don't pass up a Paul Gilbert show if he comes to your town.
Photos by David Childers. Used with permission.