It's been a decade since Mastodon released their storied masterpiece Crack the Skye. It's been even longer since Coheed and Cambria blew our minds with the start of a musical sci-fi adventure. That adventure has captured the hearts of so many fanatics.
The turn of the new millennium brought a perfect time for both of these bands to begin their epics that transformed a music genre into an art. They've created catalogs that could shadow most bands in the industry. Both have either been ignored completely or adamantly followed by everyone that's heard them.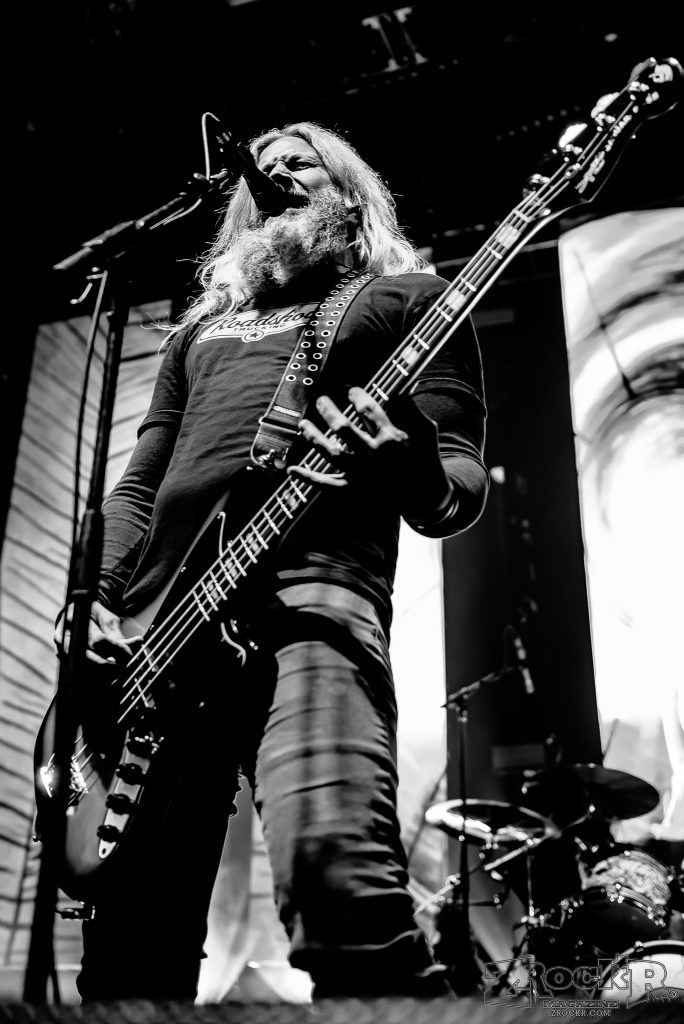 No matter if you're a fan of all, one, or none of these bands, The Unheavenly Sky Tour showed that each of these heavyweights deserves the respect they've worked so hard to earn. On this night, The Joint at Hard Rock in Las Vegas agreed.
Following that trend are one of the hardest working bands in Hardcore, Every Time I Die. While they have released album after album of solid gold, they continue to be The Godfathers that the young bloods need to learn to respect. 
Every Time I Die
There is no stopping Buffalo's finest. For a crowd that didn't know much of their work, it's guarantee some new fans were made in Vegas tonight. ETID can climb through their entire catalog and find a point for anyone to give them respect. With their stained glass church style background behind them, it was time to preach!
Setting the pace with the lead track from New Junk Aesthetic, "Roman Holiday". There's was no stop through "Glitches" from the latest Low Teens, and "Underwater Bimbos From Outer Space" off Ex Lives. 
To up the collective sum of it, follow that up with "We'rewolf" from The Big Dirty and "The New Black" from Gutter Phenomenon. Cap it off with a return to the latest release's "Map Change" that gives the perfect cap to their resume.
Every Time I Die is no stranger to Vegas with almost yearly stops. There's no doubt we'll be there with them next time. Stay tuned for later this year. ZRockR will be on their stomping grounds for their annual holiday fest TID The Season in Buffalo, NY. Joining them are Snapcase, Bouncing Souls, The Menzingers!!!, Knocked Loose, Turnstile, and more!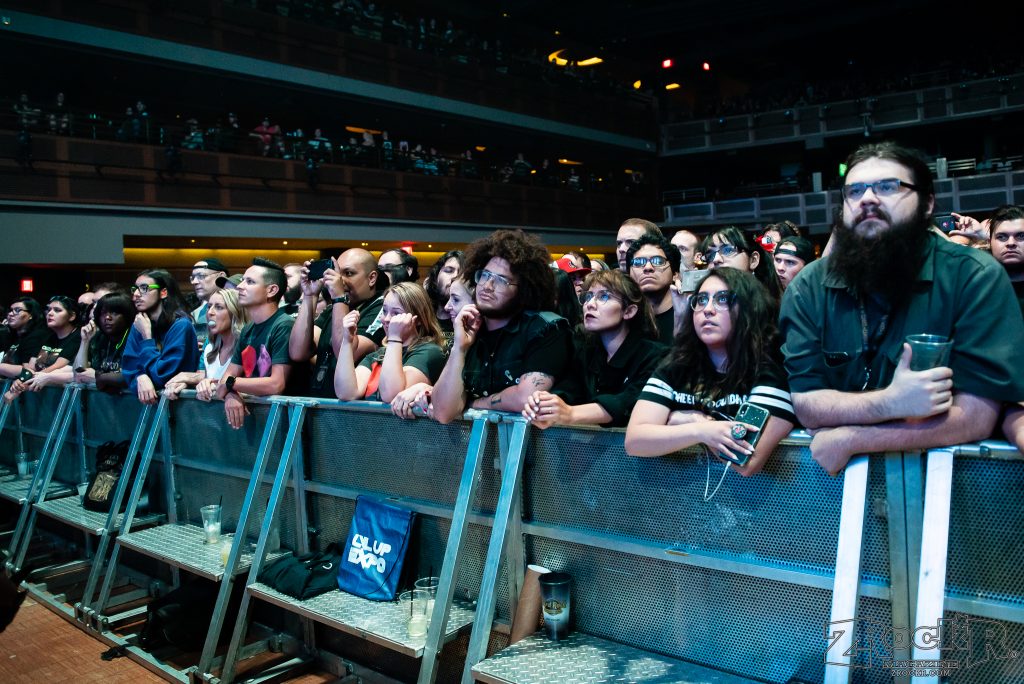 Mastodon
The spectacle that is a Mastodon live show have always been hailed as some of the best, but god damn you really need to be ready for this. If you're new to what these Grammy Award winning Metal Gods have been doing, then hop on the train for story time, young blood!
Mastodon's album Crack The Sky was released in 2009 and fucking broke everything! Metal standards, fans minds, the Billboard Charts; everything!
The transforming Progressive masterpiece tells a story of a withering paraplegic, who's projections travel the astral realm searching for an afterlife through wormholes, only to find out they aren't dead! So he travels to Rasputin in Russia (yeah, I said Rasputin!) to posses him and fight "The Czar". They both die, but then their souls fight the fucking devil to get the souls life back to its withering body. 
Yes, read that over a few times. It's all true.
The visuals were something that a 18th century Russian sheep herder would see if he discovered DMT, played behind some of the most mesmerizing Metal you've ever heard.
From "Oblivion" and through to "The Czar" saga that took us through the possession of Rasputin. With the closing "The Last Baron", it was a journey I'll never forget .
Gallery.
Coheed and Cambria
The epic that has been created around this band and their material is something of a masterpiece. Still to be completed, there's album after album and book after book that tells a story that Frank Herbert would have a hard time competing his Dune universe against.
In their latest Vaxis – Act I: The Unheavenly Creatures, we're taken back into their intergalactic journey after a five year commercial break. Without a beat are plunged right back into the tale.
Their live show plunges you right into the new album's story with its "Prologue" playing while lights flash the band's silhouettes over a white drape that covered the entire stage. All before the drums stomp and claps take over for "The Dark Sentencer" and dropped the curtain to the ground; revealing a robotic light setup that Skynet could take some pointers from!
The light shows that played behind them through the five panels of split screens and on the floor lights in front of them told their own story. They were somehow not enough to eclipse the voice that Claudio Sanchez can put through a microphone.
There's no way tracks like "A Favor House Atlantic" didn't rule your morning MTV video routine at one point. The amount of fun the crowd was having during it was like a mid-2000s teenage comedy party scene. Another classic "The Suffering" off of their famed Good Apollo, I'm Burning Star IV, Volume One: From Fear Through the Eyes of Madness led into the break that brought the encore.
In Conclusion:
Closing off the night with their anthem "Welcome Home" was a seal to a once in a lifetime lineup that took us on a Metal journey that few bands will ever accomplish. Individually, these bands headline festivals. Being able to enjoy each full hour set to blow your face off through The Unheavenly Sky Tour will linger in minds for a while.
Gallery.
Writer's Spotify:
Want to check out what Vinnie is listening to? Check out his playlist on the ZRockR Spotify below:
PHOTO CREDIT: All photos by Alex Zayas for ZRockR Magazine – All Rights Reserved.