If you paid attention to alternative music in the late 90s / early 2000s, then you have to remember Earshot. What I remember most about the band is their song "Headstrong", featured on the Queen of the Damned soundtrack.
Earshot seemed to disappear as quickly as they appeared. Even though they didn't have the same limelight on them as before, the band has remained pretty active.
We were very excited to get the opportunity to interview Earshot vocalist Wil Martin prior to their Vegas show.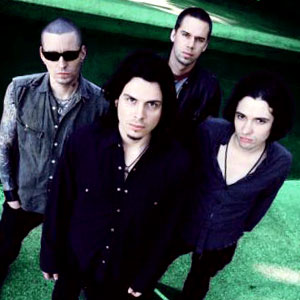 The Interview.
The public hasn't heard a lot about Earshot despite there being semi-regular released throughout the mid 2000s. Have you been doing things more independently?
We have. And we're still learning and trying to figure out how to do it better. There's a lot of moving parts to doing it independently. As many know, the way music is consumed and listened to today has changed a lot since our first album Letting Go was released.
Most everyone streams music now. I do. So, one of the biggest challenges doing it independently for us and for many other artist out there is how do you pay for and justify all the costs that come along with producing an album? AND the cost of marketing it, and promoting it? As I learned with the Aftermath EP that we released in 2015, it doesn't work to just throw music out there into the abyss and expect people to find it on their own. No matter how great it is.
Because people are constantly getting bombarded with music, some good but mostly bad, everyday, it takes a LOT of energy to fight through all the "noise" as it's referred to, to try and reach your fans. It's seemingly impossible unless you have a war-chest of money and an amazing team of talented people that have the skills and know how to break through. So while we've been trying to process it all to try to figure all that out, we've been patiently (slowly) writing music. It is the biggest driver in all of this. The music. You gotta have music that's important and matters to yourself first, and then hopefully to other people.
Have you begun writing, or can your fans expect, any new material soon?
Since the release of the Aftermath EP, I've been busy with other things and projects. I just decided to take my time with writing new Earshot material.
I had an epiphany one day that I don't need to rush. Why? For what? I want to experiment with different sounds and textures. And I wanna experiment with different approaches to melodies. I wanna focus on writing stuff that I absolutely love. And I wanna write songs that I want to listen to over and over and over again. I guess I haven't quite gotten there yet. But I feel like its getting closer.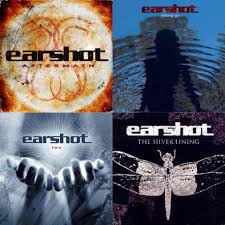 One little known fact is that on and off since about 2010, I've had the unique opportunity to work for some amazing artists and bands as a Tour Manager. Bands and Artists such as UFO, Peter Murphy, Misfits, they've all been inspiring to me in more ways than I could've ever imagined, and they all encourage and inspire me to keep going.
One example that will forever stand out to me is when Peter Murphy realized that I sang in a band. One day while he was on the bus getting ready, he asked if he could hear something from my band. So I played him 'Wait' from our second album TWO. He nearly kicked me off the tour because he thought I should really be out there touring with him as an artist and not as his trusted tour manager. He said to me, "You just need to keep doing what you're doing (writing really good songs), and the world will catch up to you. But you MUST keep going! You're too good!"
It was such a huge compliment to me coming from someone that I respect so much as an artist. I'm forever grateful for that moment. It was a shot in the arm for me. New music will happen. I just don't have a definitive timetable as to exactly when. But def. stay tuned.
What continues to inspire you to perform?
Every lyric I write is either from an experience that I've personally been through. Or it's an experience that someone I know has gone through, that I could in some way relate to. Having said that, I find that what inspires me to perform is two fold.
First, it seems like every time I sing a song it allows me to put that particular experience a little further behind me. I've always this found to be therapeutic. Secondly, I get to connect and relate with the people at our show, that have had the same or similar experiences as me. Which, is also therapeutic: realizing that you're not alone in the everyday struggles of life, and that really, we're ok. It's a connection.
When was the last time you played Las Vegas, and are you looking forward to the show?
You know, I'm not really sure when the last time we played Las Vegas was. I know that its been a long while. Too long.
I wanna say that maybe the last time we were out here was when we were out touring with Megadeth… So, 2004? It's possible we've come through there more recently, and that I just don't remember. But I love Las Vegas. There's such an energy there. It's always moving, and there's always something going on. And yes, I'm very much looking forward to our show there at Count's Vamp'd on the 9th of August. Hopefully all goes well, and we get asked back again soon there after.
What can fans expect on this mini-tour? How do you feel about any of your opening bands/locals that are added? Do you check them out at all prior to the gigs?
We'll be touching on select material from all 4 albums that we've released: Letting Go – Two – The Silver Lining – and our Aftermath EP.
As far as checking out the local opening support bands prior to our shows? The honest answer is not usually. I almost always catch at least 1 or 2 songs the day of show, or at the very least a song or 2 at sound check.
Since fans equally fuel the energy that adds to the stage performance, what do you expect from your fans at shows?
I think I speak for all bands and artists out there when I say that it's the energy and enthusiasm from the fans that keep us going. I can't tell you how many times that I've been sick or not feeling well in general, but the energy and excitement from our fans made me forget all about it. At least for that 40 – 60 minutes.
For me, the excitement and enthusiasm… the participation… signals an approval of sorts. It lets us know that they want us there. That they hear us. It's sort of like having a conversation with someone. Imagine having a 60 minute conversation with someone, that for the entire 60 minutes, the other person responded to very little of what you said, vs. someone who acknowledged you and engaged you every step of the way. We don't expect anything from out fans per say. We just hope and want everyone to have a good time while we're there with them. 
The Show.
I want to thank Wil Martin again for taking the time to answer my questions. You can catch Earshot at Count's Vamp'd on August 9th. The show is being put together by Vegas Rock Revolution, who continues to bring amazing and out of the norm shows to Vegas. Supporting Earshot are local favorites Words as Weapons and The Nocturnal Affair.
For more details on the show, including tickets and table reservations, check it HERE .