As the vocalist/guitarist for Cinderella, Tom Keifer has rocked audiences for over three decades. A few years ago, we got our first solo album from the iconic frontman; and he's back with this second solo release! How does Rise, his sophomore solo effort, measure up?
It's a shame we'll probably never see a Cinderella reunion; it seems like the group is on an indefinite hiatus; not to mention the members are all doing their own things these days. This fan wasn't overly impressed with Keifer's solo debut, The Way Life Goes; as despite a few decent tracks, it was too heavy on modern pop-style ballads; (this fan actually far preferred the solo debut from fellow Cinderella alum Jeff LaBar which followed it; which found disappointingly minimal fanfare). That said, knowing Mr. Keifer's talent and potential, I was still willing to give his second solo album a chance. The release is billed as "Tom Keifer Band;" and features Savannah Keifer (Tom's wife), Tony Higbee, Billy Mercer, Kendra Chantelle, Jarred Pope and Kory Myers.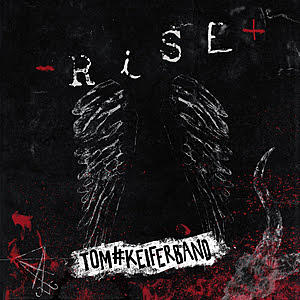 Right from the opening blues rock riffs of "Touching the Divine," the album's first cut; it's clear this album is largely a return to Keifer's classic bluesy hard rock sound from the Cinderella days; rather than being another ill-fated attempt at commercializing. I have a feeling if Cinderella was still around recording, performing, and touring; the results wouldn't sound much different than what we get on this record.
Put simply, this is the album The Way Life Goes should have been.
What's truly surprising is how well Mr. Keifer and his backing band get the job done here. Solo albums/projects from established musicians tends to be hit-and-miss affairs and no one knows how they'll turn out; but Rise is a killer record which is never boring. Even when it slows down for the more melodic ballads, it never veers into obnoxious overdone modern pop territory. It's likely "The Death of Me" will go down in history as the "hit" from the album; as it sounds like the spiritual successor to the title cut from Cinderella's classic 1986 debut, Night Songs. That said, there's not one weak song here.
Even throughout 11 tracks, the record still manages to stay fresh and appealing. Definitely not something everyone from the era can pull off! The record definitely feels rawer than Keifer's first solo record, and that's a good thing.
Recommended!
While it's unlikely we'll see a Cinderella reunion, Rise is a killer record which is sure to appeal to long-time fans of Mr. Keifer and his classic sound. Very highly recommended!

http://www.tomkeifer.com/

Check out some previous Tom Keifer coverage HERE!
Tom Keifer – Rise album below! Have a listen!