On September 26, 2019, Steel Panther debuted their new album, Heavy Metal Rules at The Whisky A Go-Go. Steel Panther's concert sold out in less than five minutes after tickets went live!
About the Band.
Steel Panther formed during the most iconic time, the year 2000. The year everyone talks about because it was the year of the biggest moments for the music industry and shift of pop culture.
Steel Panther is more of a staged comedic act on stage. They are not meant to be taken serious and if you're easily offended, this is not a show for you. They are known to be womanizers, pigs, rude, and pretty much egotistical divas on stage.
In reality, that's the characters they perform as on stage. Off stage, they are a bunch of rad dudes that just want to hang out and laugh. Some of the nicest guys I've ever met and pretty humble about who they are. Before I met the band, my first impression of the night was all the women walking around. Women wearing the sexist 80's attire with the crazy hair and tight animal print leggings.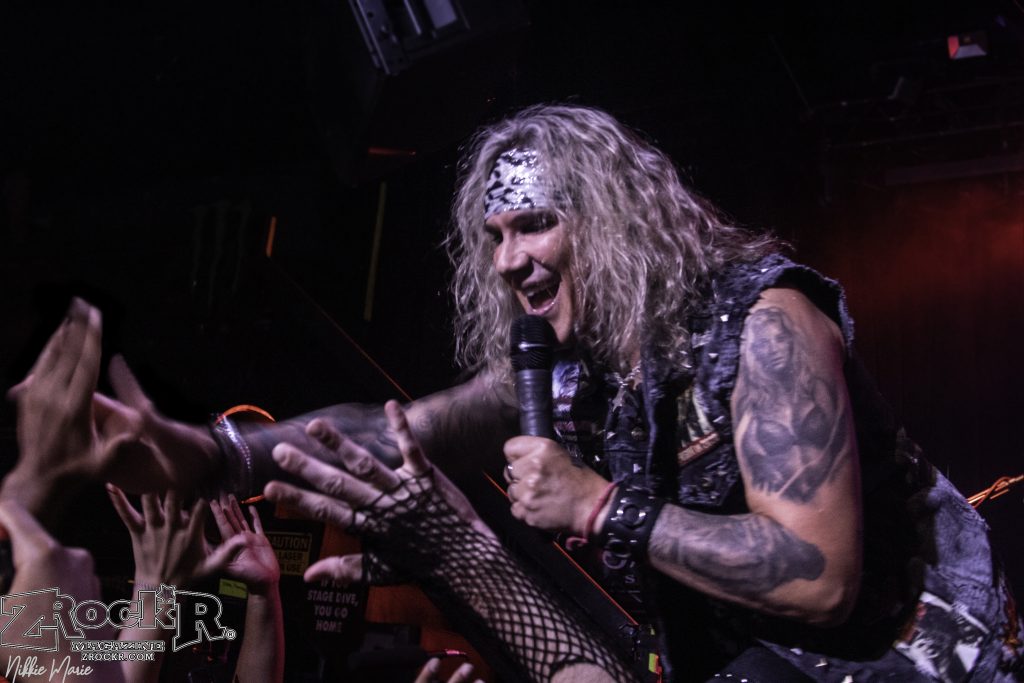 The Show.
The night for sure went back in time and was ready to party like it was 1980. I enjoyed the entire show and spent most of the night laughing my eyes out. Probably one of the best shows I've been to all year.
The band walked on stage after their opener, California, got done waking up the crowd. California was amazing and was more of a rock band that sounded like Tom Petty. They really wowed the crowd and staff of the whisky.
As the guys all walked down the famous stage stairs of, The Whisky A Go-Go, women went nuts. I couldn't believe at a Steel Panther show, I had to fight off the crowd from my back that was all shoving to be at the front of the stage.
The band jumped straight into gear and started performing their latest single, "All I wanna Do Is Fuck (Myself Tonight)". Very fitting for the divas of hair metal to come out to.
The Performance.
After each song they spent about five minutes in between songs talking to the crowd. Most of it was playful banter with one another calling each other names and really engaging with the crowd like saying, "I'd totally fuck your face, thanks for coming to my show". I couldn't help but laugh over how offensive they were, but yet it sounded so nice because everyone knew they didn't mean anything that was coming from their mouths.
Fans from all over the world came out to this show. Places like France, Asia, England, Brazil, New York, Texas, Florida, and much more. The ladies really loved these guys.
The sold out show of five hundred people went nuts. I thought I was going to be trampled by women at one point. Everyone knew the words from the opening song and shook the walls of The Whisky A Go-Go.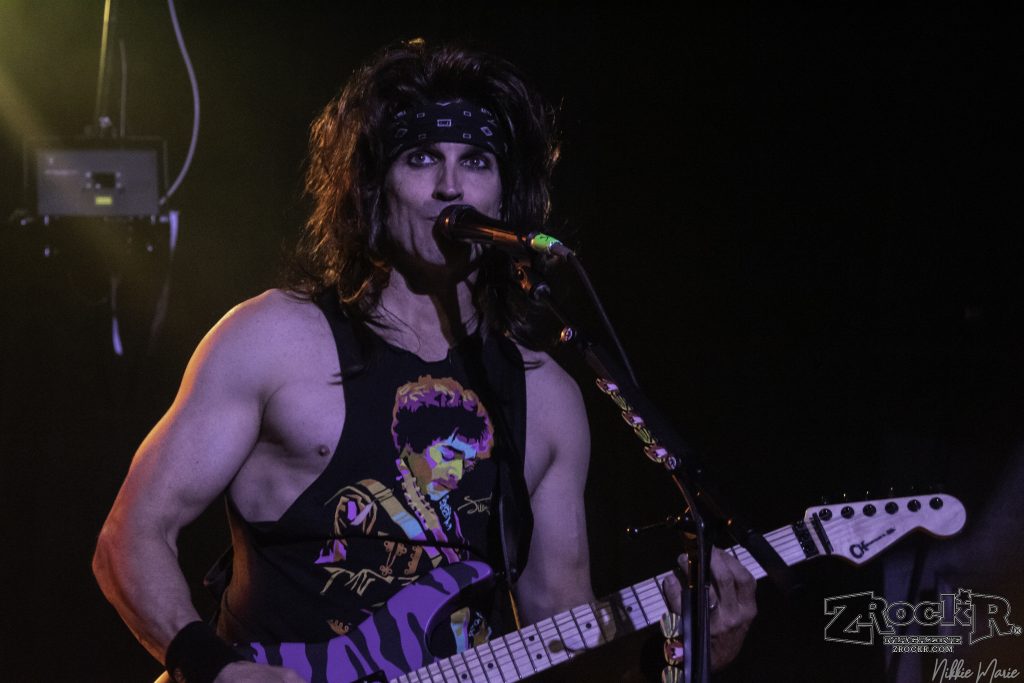 The Setlist.
Throughout the night, Steel Panther performed, "Let Me Cum In", "Asian Hooker", "Eyes of a Panther", "Always Gonna Be a Ho", "Fuck Everybody",
"Poontang Boomerang", "I'm Not Your Bitch", "I Ain't Buying What You're Selling", "Weenie Ride", "Party All Day (Fuck All Night)", "17 Girls in a Row", "Community Property", "Death to All But Metal", and "Glory Hole". 
All I can say was my virgin eyes were not ready for the night ahead of me that night.
Lexxi Foxx was for sure my favorite of the night. He pulled out his signature mirror and hair spray and went to town on his drag appearance on stage. For a first time viewer that's never seen them before, it had my dying. At first I thought he was being serious until I realized it was an act. Clearly had me fooled at first.
Asian Hooker.
The guys did a great job at introducing their next song with secret words inside of their commentary. The way they introduced, "Asian Hooker" was by pulling two beautiful Asian women on stage to dance with them. I'm putting it rather nice on how they got these women on stage.
It went something like this with Ralph Saenz saying, "Is that Asian woman with your arms crossed someones mom?" as Russ Parrish chips in, "Like somebody put on her oxygen mask back on and wake her up". Ralph Saenz repeats again, "I think her daughter brought her". The two women confirm they are mother and daughter as Russ Parrish responds in excitement, "Oh my god, your daughter brought you? I'd love to have a mother daughter threesome. Tha'td be fucking rad dude. Like fuck yeah bitch, that's your mom over there" as Russ is gesturing a sex position with his guitar as an example.
The crowd completely lost it and the woman went up on stage to be the "Asian hookers" for the night. I stated earlier that this is not the show for you if you're easily offended.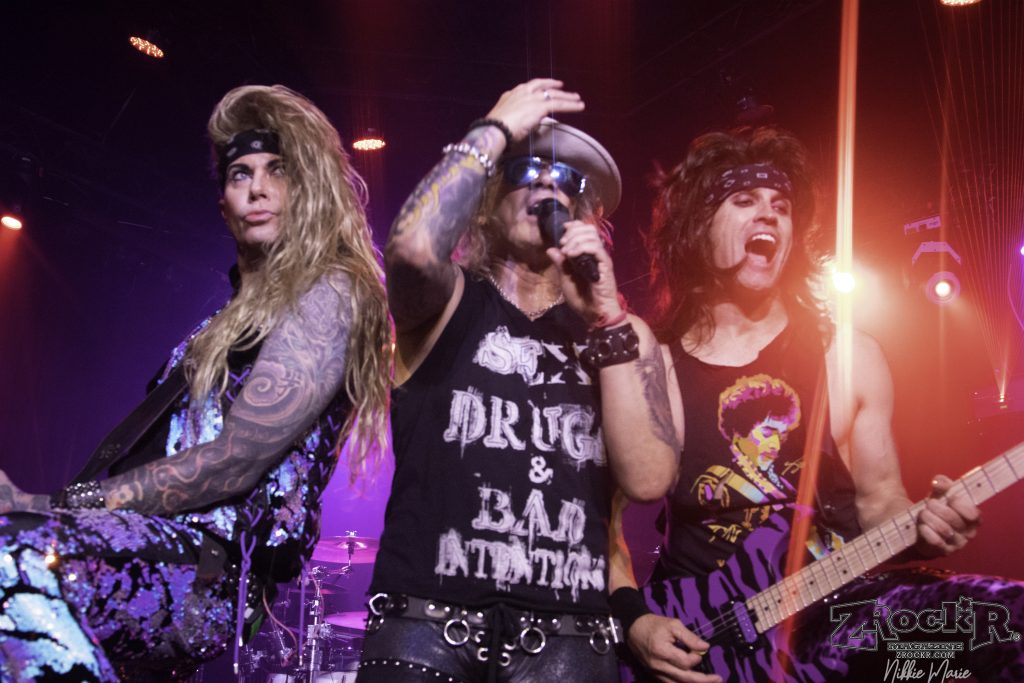 Performance.
I was honestly impressed by how well the guys performed on stage. For a band that is not meant to be taken seriously, they sounded great lyrically, vocally, and instrumentally.
Steel Panther performed, "Fuck Everybody", "I'm Not Your Bitch", and "I Ain't Buying What You're Selling" for the first time ever publicly.
The great thing about their music is that you'll know the words to the song before its even over. I caught myself numerous times singing along to songs that I've never heard before.
Ralph Saenz is seriously a wonderful performer to watch. Not sure if it's the Botox that's keeping him from frowning, but not once did I see him not have a smile on his face and twinkle in his eye. You can't hate a performance when someone is that happy on stage.
Attack of the Female Fans.
By "Seventeen Girls" the guys took a quick break to introduce their merch and throw out free Steel Panther Pop Sockets to the crowd. I was standing in the wrong spot during this time. I was mauled by a crowd of women all trying to fight for the pop sockets near me on the floor.
Now that the crowd was extra revved up, the band now granted access to any female to come on stage.
Let's take a minute to map out The Whisky A Go-Go. It's a small room with a stage and one set of stairs on the right hand side that anyone has access to. Not a single woman used the stairs to get up on stage. They all were flooding to the stage and climbing up the stage across speakers, wires, and other stage equipment. It was like a flood gate being opened up. They wouldn't stop coming to the stage and climbing up.
At one point the lead singer asked me to come up and even though I secretly wanted to, I knew that was the perfect time to get photos of the stage and stayed on the floor like a boring person. I politely declined and continued to help the band get these crazy fans up on stage for a once in a lifetime experience.
Off with Their… Clothes?
The band began to play, "Seventeen Girls" with at least thirty woman on stage all dancing and grinding on the band. The guys really loved the attention and still treated the woman super respectful on stage.
As the song built up the steamy room, the clothes came off. Bras were on stage and tops were off stage for all to see. Not one hand was laid on any female of the night with no clothes on by the band. They truly presented how to be rock n roll and still keep the night alive. While on stage, the band saw people they've known for a really long time and would take a moment to wave to them and say hi from on stage. They really made their crowd feel appreciated and wanted.
The Night Draws to a Close.
As the night came to an end, the band held a private VIP meet and greet up stairs of, The Whisky A Go-Go. Fans got to have their own photo ops with the band and exclusive time to buy merch. At one point, Lexxi Foxx came out and started handing fans VIP wristbands that way they could join the private party. It was amazing to see how much they really love their fans.
Check out their new album, Heavy Metal Rules in all stores now.
Gallery.
PHOTO CREDIT: All photos by Nikkie Marie Kephart for ZRockR Magazine, All Rights Reserved.