Greta Van Fleet. Possibly the most heavily hyped band in several years. Certainly the most hyped rock one since some of those garage rock acts of the early 2000s. To me anyway, unless I'm forgetting someone.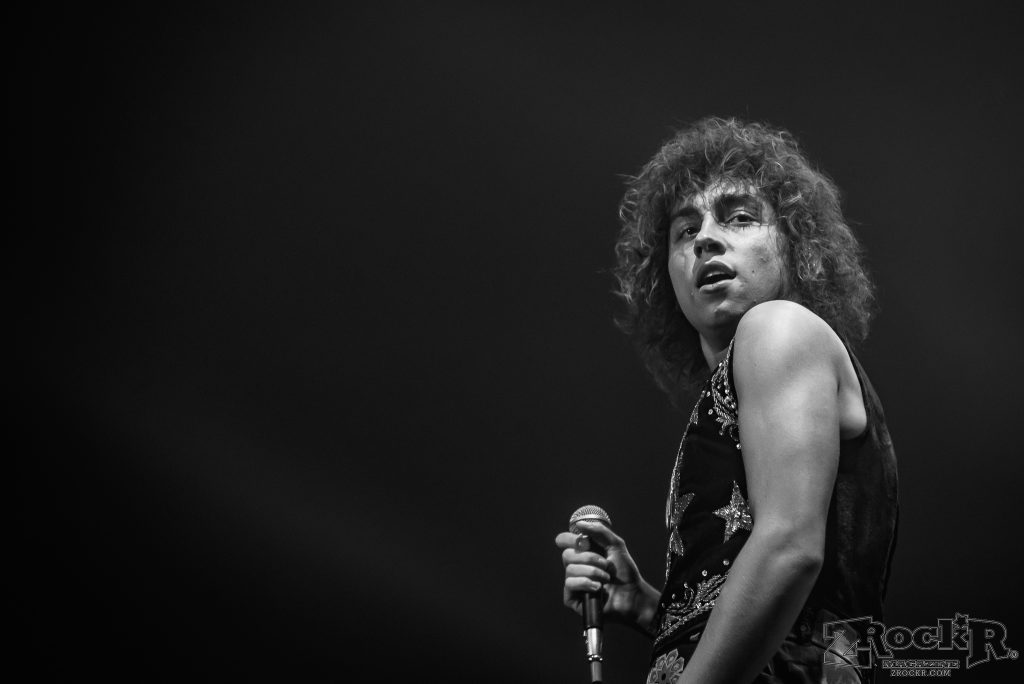 Oh, and let's not forget how many were dubbed the "new Led Zeppelin" since they quietly disbanded in late 1980 shortly after drummer John Bonham's untimely passing. Zebra, Fastway, Kingdom Come, and late 80s Whitesnake are the most prominent coming to mind. Even Billy Squier was accused of borrowing elements from them at his peak.
Hearing About the Show.

I have to say that when a good hometown friend of mine from Detroit messaged me on 9/3/17 raving about these guys from Frankenmuth, MI, I wasted no time in going to YouTube to check out all that was up so far.
Yeah, some reminded me of Zep, but also early Rush, which was another who was accused of being copycats. Clearly, they progressed into their own entity.
So, as a fan and musician myself, I have to chuckle when detractors simply write them off as clones. I say give them time. At least they aren't auto-tuned. They write their own material, sound great live, play their instruments well, are young, and have enthusiasm and energy.
I don't see it as simply rehashed Hammer of the Gods stuff. I see them as some of the latest torch bearers of a genre that in recent years has been proclaimed by many to be dying out. And for that alone I salute them.
I understand that they first played in Vegas a tad over a year ago. An abbreviated set at the iHeartRadio Music Festival. I missed that outing but only heard good things about it. I vowed to see them the next time they did a "proper" concert, which I took in tonight.
First Impressions.
I expected Plant-like mannerisms from Josh Kiszka, but instead I was reminded more of Roger Daltrey with a young Geddy Lee-like voice. And the young upstart sang high just about all of the way through, being faithful to the recorded versions. His star-spangled vest and pants didn't remind me of Robert either.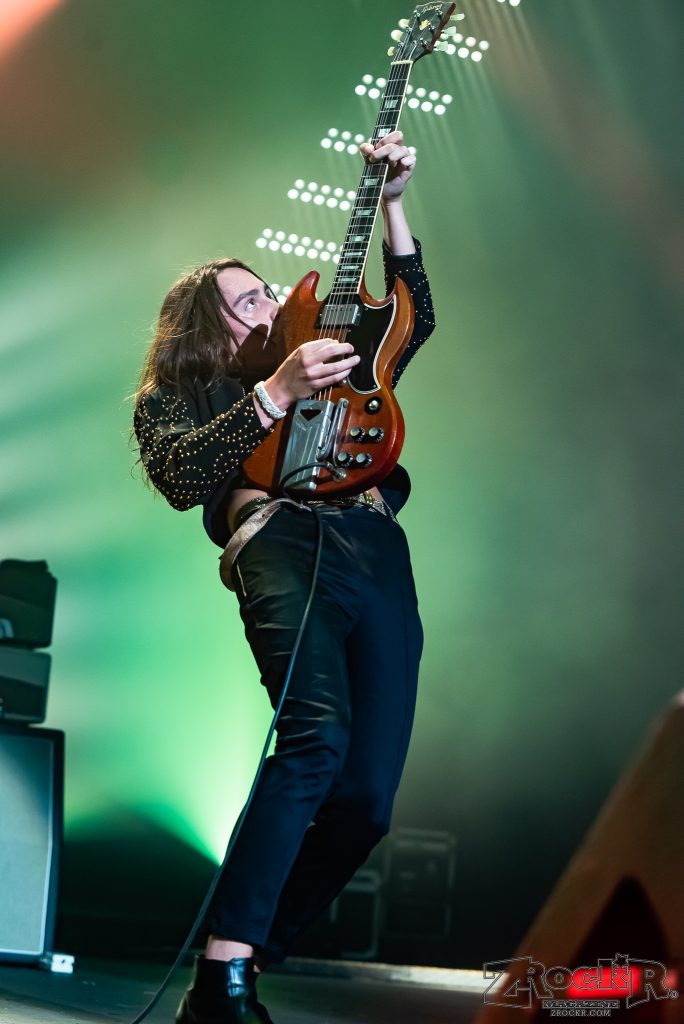 If anything, brothers Jake and Sam reminded me of Pagey and Jonesy more so. The former due to his jerking back and forth and playing (although he favors a Gibson SG like Angus Young), and the latter due to also being a bassist doubling on keys. Drummer Danny Wagner, with a swath of his hair pulled back down the middle into a pony tail was solid, but not too obviously Bonham to me.
The Show.
Anyway, onto the music and show now. Starting off the proceedings with a rousing version of "When the Curtain Falls" off their latest release and first full-length album, the crowd was at their feet, hanging on every syllable and note.
If there was any doubt Greta Van Fleet could pull it off live, the flames of that doubt were extinguished by a downpour of raw instrumental talent and balls-out vocalizing.
"Highway Tune" and "Black Smoke Rising" followed. An acoustic guitar introduced "Flower Power" and two covers followed, the latter being notable as a John Denver cover. Who does that? These guys, that's who.
Without giving away too much of the exact set list (I've seen online that they vary a bit), let's just say that they performed a good percentage of their recorded output.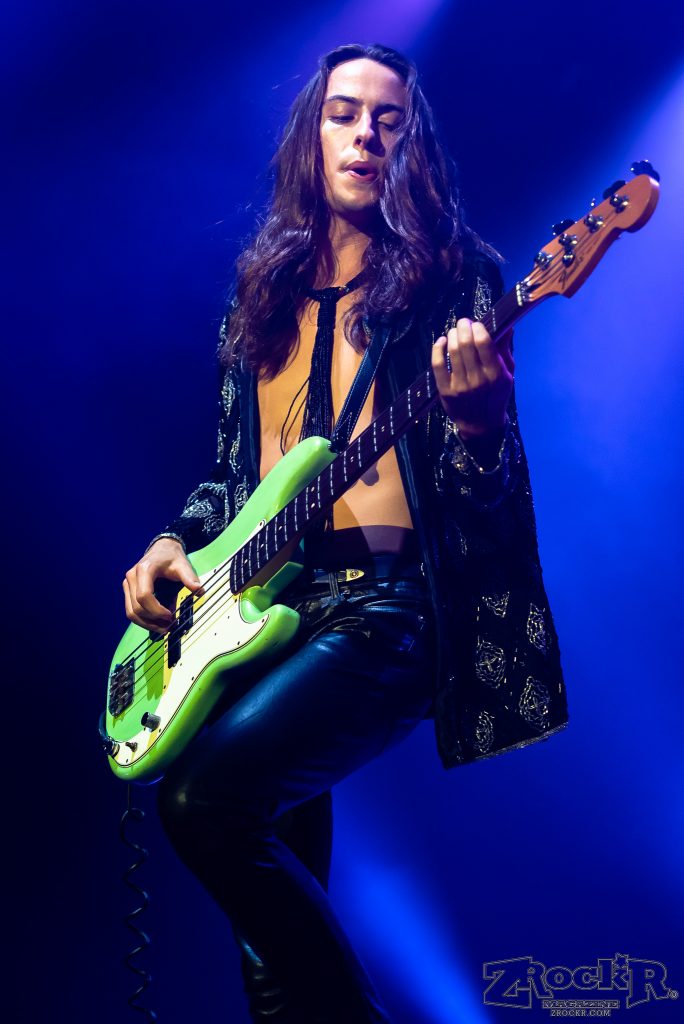 Although they had cool lighting, fog, and incense, I'd say that it was largely the music that did the talking. Jake did a guitar solo playing behind his back, Sam did some soloing on his seafoam green four-string, and Danny had a tasty-yet-brief skin fest after set-ender "Safari Song." The encore was an extended "Lover, Leaver (Taker, Believer)."
So...
Verdict: Why exactly are we supposed to hate Greta Van Fleet again? I, for one, got nothing. Perhaps the only minor complaint might be a lack so far of more uptempo songs that made the middle of the show drag a tad for some who expressed that, but that's really reaching. I think the best is yet to come. Plenty of gas left in this tank, I'd bet.
Gallery.
PHOTO CREDIT: All photos by Alex Zayas for ZRockR Magazine, All Rights Reserved.