In the middle of the week, October 9th, we saw Motionless in White bring their Trick Or Treat tour to the House of Blues, Las Vegas. With them, they brought the dynamic duo, Twiztid; technical metalcore act, After the Burial; and traditional metalcore heavyweights, We Came as Romans.

I'll be honest, I was seriously expecting this to be a much bigger show. But I guess since it was all ages and dead center of the week, those factors alone likely are why we didn't see the crowd we were expecting.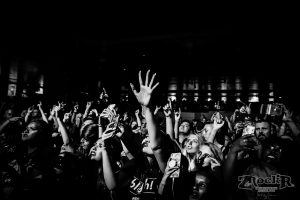 I could barely see Motionless in White's set at Warped Tour because of all the people who had flocked to their stage; that's where my expectation came from really. Besides the fact, it didn't take away from the evening one bit. The energy stayed high, and the dedicated fans able to come out were in full force.
Twiztid
Detroit's 'Dynamic Duo' kicked off the first set of the night. I'll be honest, it's sometimes strange to see some of the bills these guys end up on. And the crowd seemed a little dismissive at first. When you get to actually listen to the music, as well as listen to (ex Davey Suicide) Drayven Davidson's drumming, it's almost a guarantee you'll end up nodding your head from enjoyment. I've been fortunate enough to see these guys a good number of times, and I've never walked away disappointed. Their blend of hip hop, punk and hard rock is completely unique to them, and they've always got my respect!
Gallery:

After the Burial
Minneapolis based heavyweights, After the Burial were up next! This is another band that I have lost track of how many times I've actually seen… I really want to say the first time (maybe?) was on the Summer Slaughter 2009 tour, where they were on this same stage; House of Blues, Las Vegas. At any rate though, the intensity these guys pull through the venues they play is fantastic. I saw them at Backstage Bar earlier this year, and I think I can safely say that the level of energy was the same in that small venue that it was this night. The mosh pits were in full force during their set, and I loved watching them. (I cannot get into the pits anymore, so I'm seriously living through you guys who can!) Also- how can you NOT want to just let loose in a pit while they're killing it with all those pinch harmonics on stage!? This band is a must see in my book.
Gallery:
We Came as Romans
Aside from their cover of "Glad You Came" from Punk Goes Pop V.5, I never kept up with this band and I'm not really sure why. They hold up to all the metalcore elements that I enjoy. I absolutely remember when they broke out onto the scene. However, I'm just going to blame my ignorant 20 year old self for not paying more attention. The band; with constant continued support from the fans, are pushing through the hardships of losing their vocalist, Kyle Pavone. It's heartwarming to see the guys express their gratitude to the fans. Hopefully I'll catch them again in the future, they had a very high energy set that really got the crowd going.
Gallery:
Motionless in White
Alas! The main attraction! I first off need to mention that I was happy to finally see a full performance from these guys; seeing as the last time I actually saw a full set was over 10 years ago. And as much as I love Warped, 30 minutes just sometimes is not enough. The stage was set up in a festive Halloween- like fashion, which we are always thrilled to see. Who doesn't fucking love Halloween themed anything!? This set was full of high energy! Crowd surfers were greeted with handshakes and fist bumps from vocalist, Chris Motionless. I applaud this man for his ability to keep the entire crowd fixiated on the stage. The set was made up of a number of both old and new songs; so whichever stage of fandom you happen to be at, you got something that you were definitely going to appreciate.
Gallery
Take a look at the setlist below!
Undead Ahead 2: The Tale of the Midnight Ride
Reincarnate
Necessary Evil
Disguise
Abigail
Death March
Voices
Immaculate Misconception
Not My Type: Dead as Fuck 2
Broadcasting From Beyond the Grave: Death Inc.
Headache
Brand New Numb
Catharsis
The Trick or Treat tour goes on through the end of October, so go check it out! Head on over to Motionless in White's official website HERE for more details!

Also check out Motionless in White's video for their most recent single, "Disguise."
All live photos by Courtney Ware for ZrockR Magazine 2019, ALL RIGHTS RESERVED.