Jeff Duncan continues to rock the world as one of the most in-demand rock guitarists there is. Remembered in the 80s for his role in the band Odin; (remember them from the second Decline of Western Civilization movie?) and for the past three decades as the guitarist in Armored Saint. He's a man who never fails to please; playing in a number of other bands and side projects as well.
Needless to say; this fan of Duncan's was ecstatic to hear he'd be releasing a solo record consisting entirely of instrumental tracks. Long have we seen many guitar virtuosos from the rock and metal world doing this; but to see and hear Mr. Duncan trying his hand at such a project is something which definitely got this fan excited. The album is currently only available digitally/for streaming, with physical releases slated for the end of November.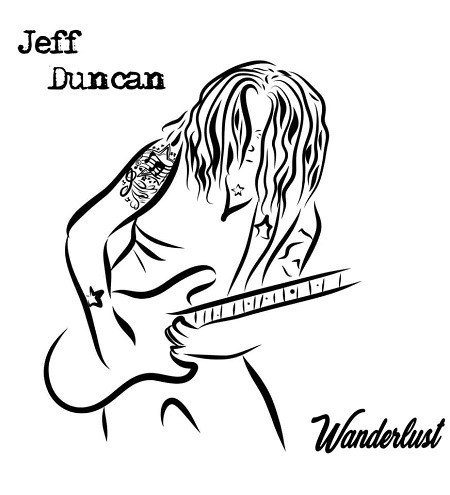 The release is produced by Jason Constantine, who also plays keyboards on it. Other musicians on the release include Barry Barnes, Joey Vera, Fritz O'Hara, Alex Papa, and Michael Maysonet.
I've enjoyed the music of Jeff Duncan for years; be it with Odin, Armored Saint, The Bones, or alongside his brothers Shawn and Matt in DC4. But getting a true solo album (and an instrumental one, nonetheless!) from Mr. Duncan is an unexpected surprise. How does it actually fare?
Wanderlust
What's truly impressive about Wanderlust is the album features a little bit of everything. You're used to seeing Duncan shred away with plenty of lightning-fast riffs for plenty of hard rock and heavy metal albums; and you certainly get that here; in tracks like the opener "The Body Electric." But what's most impressive is the album isn't limited to that. Tracks like "Siempre Tu" show off a more melodic sound, while something like "Mr. Allen" combines rock with more jazzy sounds and horns, and it works surprisingly well! Throughout its duration it's an eclectic mixture of sounds, rarely settling on a single one; and best of all, it's never boring. The surprise cover of Santo and Johnny's "Sleep Walk"; (AKA the instrumental prominently featured in the movie La Bamba) is a damn good finisher as well.
Conclusion:
Jeff Duncan doesn't fail to satisfy on Wanderlust, offering the listener a surprising mixture of instrumental cuts. Will this be a one-off release, or can we look forward to additional instrumental albums from the Armored Saint axeman? Only time will tell. In the meantime, add Wanderlust to your collection. Highly recommended!