1978 was a pivotal year for punk rock and the beginnings of what would become "goth". Bauhaus was no exception. The streets of Northampton, England would soon know their sound. Just a year later, the world would know them thanks to probably their best known song "Bela Lugosi's Dead".
Bauhaus would break up just five years later, but would go on to play a reunion show here and there.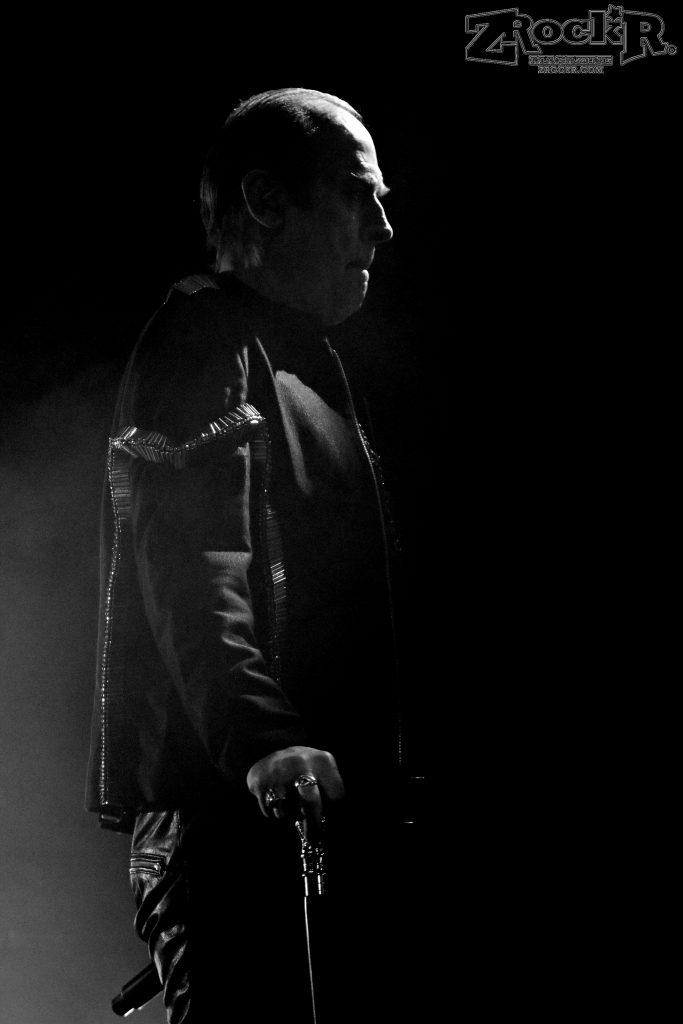 2019 Reunion Announcement.
In September of 2019, the news broke that Bauhaus would be reuniting for a one off show in Hollywood. Needless to say, my editor Sylvia Lee and I jumped at the news and sprung for our tickets.
I am elated that we did.
November 3rd at the Hollywood Palladium.
After spending the day in the Hollywood Forever Cemetery (how fitting for our inner goths), it was time to head to the show.
The Hollywood Palladium was crawling with people. Most of the time, I am in shock at the diversity of the crowds, but in the case of Bauhaus, it was mainly a niche fanbase. Elder goths and baby bats adorned the hallways and the general area; waiting for four dudes from England to take the stage.
The lights went down as Bauhaus kicked into the first song of the evening; "Rosegarden Funeral of Sores".
The crowd sang along with every word, and all eyes were fixated on vocalist Peter Murphy.
It's rare as a photographer for me to put my camera down. I'm always focused on capturing the moments. In this case though, I was just as enthralled as the rest of the crowd. Sometimes, it's just as important to pause and mentally capture the moment as it is to do so digitally.
The photo pit was jammed with photographers from around the world trying to memorialize what was happening before us.
The Sound.
The band sounded phenomenal. Whoever was mixing that night knew exactly what to do. Everything from the vocals to Daniel Ash's wailing guitar, Kevin Haskins' snare heavy drums, and David J's billowing bass was perfect.
Side note; I actually got to interview Daniel Ash in 2017. You can read that interview here.
What was most amazing were Peter Murphy's vocals. Having had a heart attack in August of this year, I was shocked at his presence and sound.
Shame on me for doubting his abilities at all. He danced about the stage, not missing a single note. Not one did his voice shake or fall short. With all of this, his captivating energy took effect on all of us in the crowd. As he shook his prop cane with force, much like a conductor with a baton, the crowd followed every direction.
Of course, the captivation was at its peak during "Bela Lugosi's Dead". However, personal favorite songs for me were "She's in Parties" and "Dark Entries", which closed out the set for the night.
The Night Comes to A Close.
However, it was not really the end. The band emerged with 4 encores; the first of which was "The Three Shadows, Part II", which had not been performed since 1983 when Bauhaus split. Following this were 3 covers; the final cover (and final song of the night), being 1982's cover of David Bowie's "Ziggy Stardust".
Overall, the show was one to remember for sure. Bauhaus went on to perform two more nights in Los Angeles, but have since announced two reunion shows in 2020. You have two more chances to see these guys; April 8th in London or April 26th in New York City.
Whether you're a fan or not, Bauhaus is one of the most revolutionary and influential bands to come out of the late 1970s, and they are four of the most underrated musicians of our lifetime. If you have the chance, don't miss it.
Setlist.
Rosegarden Funeral of Sores (John Cale Cover)
Double Dare
In the Flat Field
A God in an Alcove
In Fear of Fear
Spy in the Cab
Terror Couple Kill Colonel
Swing the Heartache
She's in Parties
Bela Lugosi's Dead
Kick in the Eye
The Man with the X-Ray Eyes
Stigmata Martyr
Silent Hedges
Dark Entries

Encores.
The Three Shadows, Part II
Sister Midnight (Iggy Pop Cover)
Telegram Sam (T. Rex Cover)
Ziggy Stardust (David Bowie Cover)
Gallery.
PHOTO CREDIT: All photos by Stephy Hayward for ZRockR Magazine, All Rights Reserved.