Linda Ronstadt: The Sound of My Voice is directed by Rob Epstein and Jeffrey Friedman. The film features interviews with Linda Ronstadt, Peter Asher, Jackson Browne, John Boylan, Karla Bonoff, Patricia Casado Lucy's El Adobe, Ry Cooder, Cameron Crowe, David Geffen, Emmylou Harris, Don Henley, Kevin Kline, Dolly Parton, Aaron Neville, Bonnie Raitt, Petie Ronstadt, JD Southern, Joe Smith, and Waddy Wachtel, with many others appearing in archival footage.
The Sound of My Voice is a documentary spanning the life and career of iconic singer/songwriter Linda Ronstadt, who rose above the odds in the late 60s, launching a career that made her one of the first widely successful female "rock stars." The doc looks at her early life, her initial entry into the music scene with the Stone Poneys and their classic hit song "Different Drum," her solo career alongside musicians who would depart to form The Eagles, recording some of the biggest hits of the 70s, as well as experimenting with different musical styles, often against the wishes of her record company superiors, only to continue expanding her own fame despite their objections, also collaborating with other artists, and even embarking upon a whirlwind romance with a California governor! Unfortunately, an illness forced her into an early retirement, but her passion for music and all she does never dwindled along the way.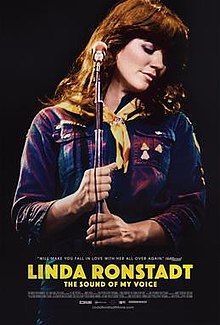 Linda Ronstadt has been long overdue for the rock and roll documentary treatment, and I'm glad to see her done justice with a quality film which assembles a who's who of industry personnel, family members, and everyone in between to share their stories. With a career that included countless hit songs, many of which are still played on the radio to this day, there's plenty to appreciate about this film.
Perhaps one of the biggest surprises and best features of this documentary is the sheer amount of rare archival footage assembled. From TV appearances to candid home videos, there's plenty to like about what's included. Understandably, the quality of said footage is of hit and miss quality, but just having it all assembled in one place is worth the price of admission alone.
Even if you're already a die-hard fan of Ronstadt, you're bound to find something here you didn't know about before. It was an eye-opener for this fan; I was exposed to many recordings and phases of her career I now want to go hunt down and listen to. It'll inform you of all kinds of obscure facts and occurrences, and it'll make you fall for her music all over again. I also appreciated how the film kept the political content a comfortable minimum, instead opting to focus primarily on Ronstadt's music and career. A scene near the end featuring the current, inflicted Ronstadt attempting to perform alongside her family in an intimate home setting is equal parts beautiful and heartbreaking.
The Sound of My Voice is a fantastic documentary, and any fan of Linda Ronstadt owes it to themselves to watch this one. Very highly recommended!
DISCLAIMER: All images in this review are the property of their respective holders, including Greenwich Entertainment, CNN Films, and Kino Lorber. For promotional use only. All rights reserved.