Bad Boys for Life is directed by Adil El Arbi and Bilall Fallah. It stars Martin Lawrence, Will Smith, Vanessa Hudgens, Joe Pantoliano, DJ Khaled, Kate del Castillo, Jacob Scipio, and Paola Nunez. It's the third film in the Bad Boys franchise, following Bad Boys in 1995 and Bad Boys II in 2003.
The years have taken a toll on police partners Mike Lowrey and Marcus Burnett. With the birth of Burnett's grandchild, he more than ever wants to retire, while Lowrey is content to keep chasing criminals and solving crimes, much to the dismay and worry of those around him. Following an attempt on Lowrey's life, the twosome must once again unite, hunting down a mysterious killer who may have ties to Lowrey's past.
Produced by Jerry Bruckheimer (Beverly Hills Cop, Top Gun, Pirates of the Caribbean), the Bad Boys franchise has always been a hit-and-miss affair. No one can deny the chemistry of Will Smith and Martin Lawrence; there's an endless fountain of (often horribly inappropriate in the best way) one-liners, but overlong running times, excessive violence and plotting, and cop cliches usually rear their ugly heads. Does Bad Boys for Life reinvigorate the franchise?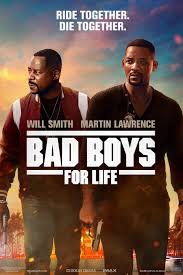 It's a step up from the dragged-out and overplotted second installment, but isn't quite as good as the original.
One oddity here is the opening credits feature a credit for Don Simpson/Jerry Bruckheimer Films, even though Don Simpson died in 1996. Did he get a work visa from the afterlife for a few months to help create this film? If that's the case, he probably would have been better off staying behind the pearly gates.
Smith and Lawrence own the show, and seeing how they interact with one another and everyone around them is, as is expected, the highlight of the show. These are definitely career-defining roles for the twosome, even if other aspects of the movie feel less than adequate. You'll come for these two, and you won't be disappointed by what they say, do, and resort to in order to get your attention, although you may cringe a lot along the way (in both good and bad ways).
One of the best performances in the movie comes from Joe Pantoliano, another returning actor from the previous movies who plays Lawrence and Smith's police supervisor. He plays "straight man" to their over-the-top destructive antics, and once again, the results are hilarious. It's just a shame he gets underused here, and never quite finds the proper appreciation.
The remainder of the cast ranges from adequate to good. The remaining hero characters are largely the one-dimensional stock characters we've seen in a million other cop movies, though it was admittedly refreshing getting to see Vanessa Hudgens shedding her former Disney Channel image and starring in more mainstream content for older audiences; here's hoping she'll get a chance to play more roles like this in the years ahead.
While the Bad Boys franchise has never managed to create any compelling villains, they come closest the third time around in the form of Jacob Scipio's character, who may have past ties to Smith's character. The end result is of questionable quality, but I at least appreciate the screenwriters trying to do something better than the generic warring drug pushers from the previous two movies, even if a lot of those tropes still reign true here.
Sadly, much of the flaws of the earlier films rear their ugly heads here. There's way too much going on. The excessive violence and body count wear thin after a while (believe me, I lost count). Explosive car chases are the norm and practically become routine by the movie's end, even if there are some exciting moments along the way. The usual cliches and one-dimensional side characters continue to surface, though the movie admittedly has some decent moments along the way which save it from a less-than-stellar reception. Michael Bay didn't direct this time around, but you'll swear he did if you didn't know better.
I admire Bad Boys for Life for trying a few new things and actually managing to make a decent villain while giving us the usual Smith and Lawrence back-and-forth banter, but it can't escape being a collection of cliches and stock characters with too many subplots and unnecessary tertiary elements. Rent it when it gets a home release.
Rating: Two stars out of four.
DISCLAIMER: All images here are the property of their respective copyright holders, including Sony, Columbia, 2.0, Overtime, and Jerry Bruckheimer. For promotional use only. All rights reserved.