Tsunami Bomb
For over a decade we've been without new music from Warped Tour vets Tsunami Bomb, but fear not, for they have dug through the trenches of Alternative Tentacle Records to release The Spine That Binds, giving us a look into new material without their original front-woman Agent M, and with the amazingly talented new head Kate Jacobi.
Along with the latest release comes a tour that'll be stopping at Dive Bar on January 26th, and when you throw in the almighty Death By Stereo, O.C.'s Toxic Energy, and the local Hardcore outfit Hard Pipe Hitters, it's no doubt that this will be a rowdy night to write down in the history books.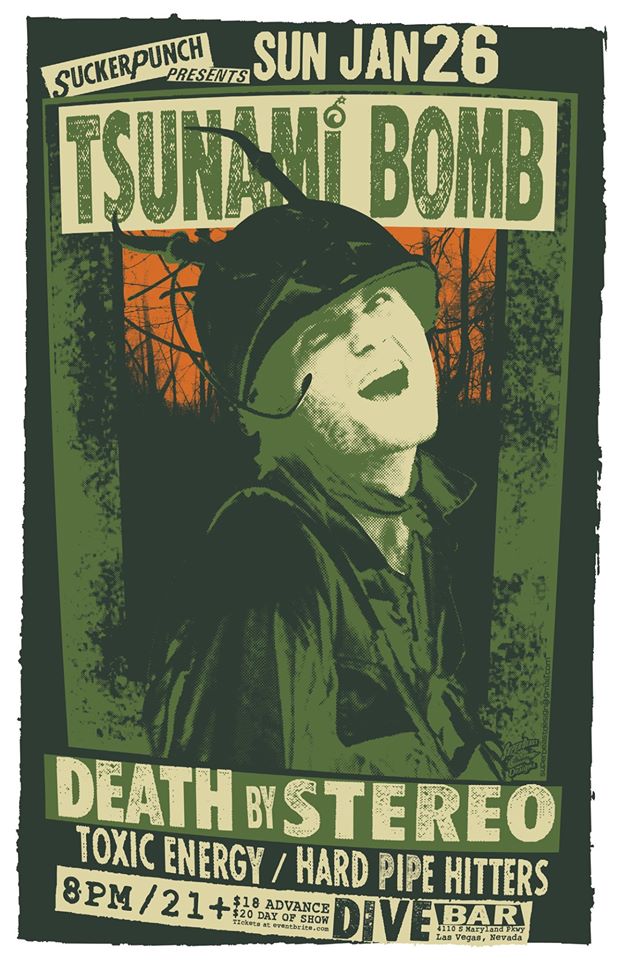 Death By Stereo
Death By Stereo May as well be Vegas locals with how much they play here, and we can't wait to see them again. Fronted by Efrem Schulz who has filled the enormous shoes for the lost legend Gabby in Manic Hispanic, and also heads the almighty Voodoo Glow Skulls, he brings an energy that can't be matched.
Toxic Energy
Toxic Energy is the epitome of a SoCal sound and almost goes against what there name states because they sound like a good ol' fashion Punk Rock time. They deserve this spot with the headliners on their tour and, like every SoCal Punk Outfit, probably can't wait to play a Vegas crowd at the legendary Dive Bar.
Hard Pipe Hitters
Hard Pipe Hitters are here to take you on an addicted journey from the gutter and up as high as that pitiful noose can hang you. Their latest release This Is Rock Bottom gave Vegas an anarchistic look into a bleak future that wasn't far ahead of it, and their shows have been a rarity since, so be sure not to miss this. Come out early for the only locals on the bill, and don't forget to pop a couple Black Rhinos, raise those middle fingers in the air and pump those elbows up way high from your skankin' asses.
See You at the Show!
If this hasn't stoked you enough on what's to come, check out our review from the last time we saw Tsunami Bomb here!