Do I need to tell you how awesome Testament is? Oh well. That's what I'm going to be doing anyway. In the midst of the Testament ad Exodus guys testing positive for COVID-19, they still felt it was right to release 'TITANS OF CREATION' via Nuclear Blast Records.

THRASH LOVERS REJOICE!

I still think bands like Testament are severely underrated and overshadowed by The Big 4. (Metallica, Megadeth, Slayer, Anthrax.) At any rate, TITANS OF CREATION is yet another thrash masterpiece. They stay true to their Bay Area thrash roots, without turning it into some boring cliche'. This album is their thirteenth release, and there's both evident traces of their early style, mixed in with some of their sounds developed over releases prior to this one.

Check out the opening track to Titans of Creation; Children of the Next Level below!
This album absolutely reminds me of a combination of Dark Roots of Earth or Formation of Damnation blended with some of the sounds of Practice What You Preach and Souls of Black. Regardless of anything, you can tell it's a Testament record. But these blending of older and newer styles are exactly what keeps my head banging while listening.

Favorites
Tracks like 'Night of the Witch' have a tinge of groove in the guitars and I swear if I have to keep mentioning my love for groove metal… ha! There's a riff there that reminds me of Pantera's "A New Level" from Vulgar Display of Power. I dig that shit. There's a bit more of a creativity spark in 'City of Angels'; which lyrically is about The Nightstalker, Richard Ramirez. Interesting choice to draw from but it definitely works in their favor.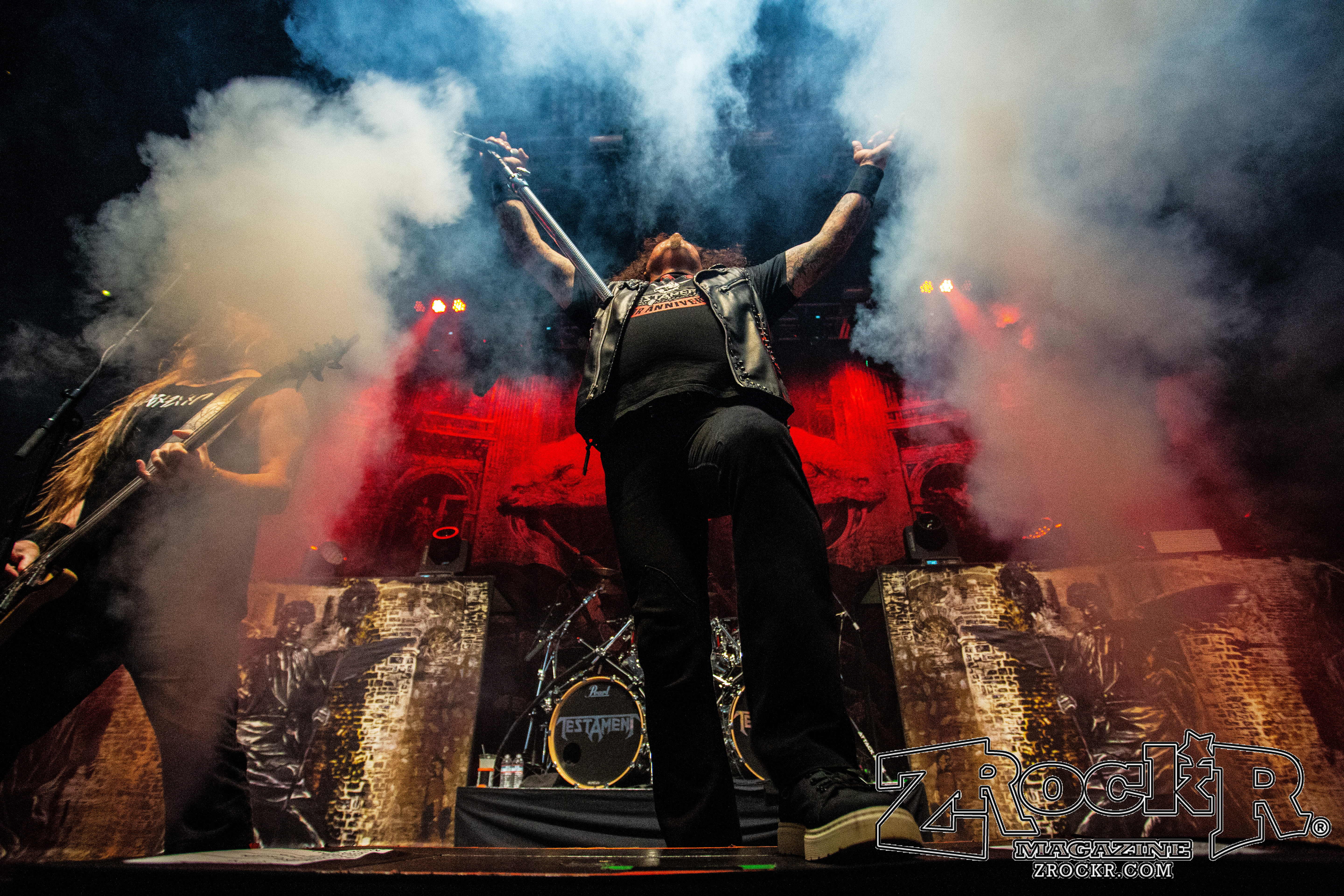 I can't even talk about Testament without mentioning the ways Alex Skolnick and Eric Peterson compliment each other via their respective guitar parts. Skolnick's playing always makes me think of Joe Satriani's work in some ways. Add in Steve Di Giorgio's bass skills, Gene Hoglan's intense drumming, and Chuck Billy's landmarked and memorable voice… I don't think I've ever truly been or will be disappointed with anything these guys put out. (Note: This is coming from a fan, I'm by no means a critic!) I'll give this album a 10 all day long. It has all the elements that I appreciate from Thrash, and I'm sure most of the Testament fans I know could say the same.

The songs mentioned above are just a couple of my favorites, but here's a look at the complete track listing for Titans of Creation below!

1 – Chidren Of The Next Level
2 – WWIII
3 – Dream Deceiver
4 – Night Of The Witch
5 – City Of Angels
6 – Ishtar's Gate
7 – Symptoms
8 – False Prophet
9 – The Healers
10 – Code Of Hammurabi
11 – Curse Of Osiris
12 – Catacombs
Listen to 'Titans of Creation' below!
In closing, it has been reported that the Testament and Exodus guys have recovered from COVID-19 (Check out the coverage from The San Francisco Examiner HERE), and I can't wait to see these guys tear up the stages again in the future!
Check out previous coverage of the last time TESTAMENT was in Vegas HERE!
Head on over to NUCLEAR BLAST to pick up your copy of TITANS OF CREATION!