Punching the Sky was released in October 2020. It's the first Armored Saint studio album since 2015's Win Hands Down. Bassist Joey Vera produced the album, with additional work handled by Jason Constantine.
Armored Saint has long been one of the greatest names in the world of heavy metal. Aside from a hiatus in the 1990s, the band has been going strong for decades, having released their debut EP way back in 1983. The band is also known for their long association with Brian Slagel's Metal Blade Records label, although their first three LPs were released on Chrysalis. The group's sound hasn't diminished over the years, and they're as hungry as ever when it comes to rocking the world.
2020 has seen the release of Punching the Sky, Armored Saint's latest studio album, the follow-up to 2015's Win Hands Down and 2017's Carpe Noctum live release. The band's lineup consists of vocalist John Bush (himself a member of Anthrax on two separate occasions), bassist Joey Vera, drummer Gonzo Sandoval, and guitarists Phil Sandoval and Jeff Duncan (Duncan formerly of classic 80s Sunset Strip band Odin). This has been the band's lineup on every studio album since 1990's Symbol of Salvation, following the death of original guitarist Dave Prichard.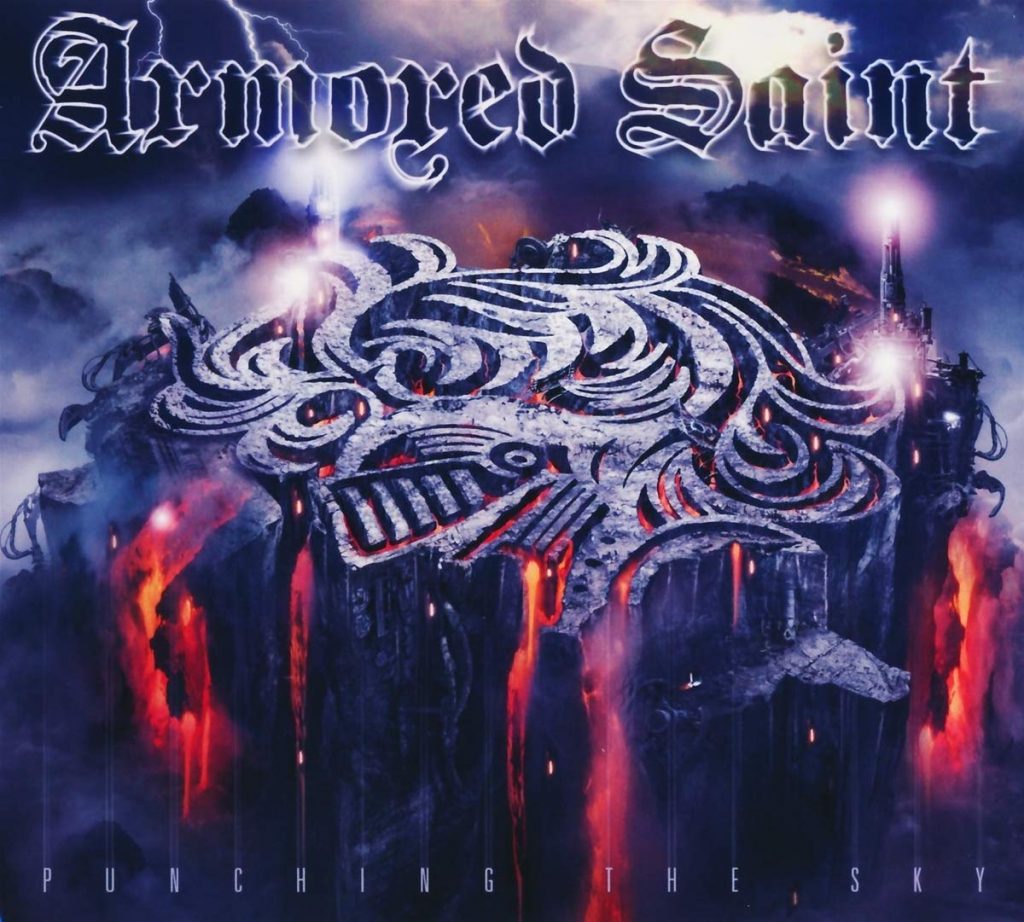 New release studio albums from bands over the last few decades or so have been far more infrequent than they once were, largely due the changing nature of the business. Case in point, this is Armored Saint's first studio effort in five years. Their last release was certainly nothing to scoff at, and was easily one of my favorite of 2015. At long last, the Saints are back, and they've got a brand new record ready for their legions of headbangers all around the globe. How does Punching the Sky hold up?
Punching the Sky not only delivers… it's one of the best rock/metal releases of 2020. And this headbanger doesn't use those words lightly.
When it comes to heavy metal frontmen, John Bush's name doesn't get thrown around enough. Even though he also played with Anthrax, no one ever seems to give this guy the proper credit. From start to finish on this album, Bush's booming vocals dominate. It's been four decades since Armored Saint started, but this guy doesn't care. He's still got the energy and vigor of his youth, and he lets the audience know it throughout this record.
You can tell these guys still have a damn good chemistry together. The guitar team of Jeff Duncan and Phil Sandoval is top notch. Hell, we even get a few Thin Lizzy-ish riffs, beautifully demonstrating how Armored Saint is that band that perfectly combines the old and the new. And the rhythm section of Joey Vera and Gonzo Sandoval is as solid as ever, carrying the low end like no others. No one in Armored Saint is too old to rock and roll. Age is just a number for these heavy metal heroes, and anyone who listens to the album will agree.
From the opening one-two punch of "Standing on the Shoulders of Giants" and "End of the Attention Span" to the album's latter moments, there's not a weak moment to be had. Many heavy metal bands from the past struggle to survive and adapt in the modern music climate, with many clinging too safely to the glory days to take any risks, to those who desperately try to modernize and adapt, only to come crashing back down. But Armored Saint is one of the few bands that got it right. The production and certain elements of their sound are certainly more modern than the band's classic 80s records, but their classic influences still shine through. Maybe a little has changed over the years, but it's all for the best. These guys are one of my favorite heavy metal bands, and that's one thing I doubt will ever change.
Personally, I can't wait to see Armored Saint bringing these songs to life on the live stage, so here's hoping to a swift return of live music around the world. Punching the Sky does not disappoint, and may very well be the band's strongest and most consistent record since 1990's Symbol of Salvation. If you're at all a heavy metal fan, Punching the Sky is not to be missed.