Dance Gavin Dance will FINALLY be making their way back to Vegas! After all thr setbacks and craziness of the last year and a half, the guys return to a SOLD OUT show on October 20th at Brooklyn Bowl, Las Vegas. They come with support from: Animals as Leaders, Veil of Maya, Eidola and Wolf & Bear. The rescheduled fall date is listed on the official flier as the FINAL date of the tour. Dance Gavin Dance has been known to PACK the venues! (They did so the last time they were at Brooklyn Bowl, and also when they toured with Underoath in 2019).

I've seen Dance Gavin Dance many times through the years. I can't say I've ever been disappointed by their stage show. The guys bring incredible dynamics and play off of the crowd so well. Having seen them go through their vocalist changes, this lineup is probably the best. (I say that as a pretty big fan of Jonny Craig, too. Tillian Pearson just completes the sound these guys produce.)

Openers:
I can't recall off the top of my head if I've seen Animals as Leaders, but seeing as how they've toured with some pretty big names in metal and post hardcore; (Summer Slaughter tours, Meshuggah, Underoath, Periphery, etc.), I wouldn't be surprised if I had seen them at some point. At any rate, I've only heard good things, and that always counts for something in my book!

Veil of Maya is another longtime favorite and gem of my own personal music collection. While I have missed them the last couple times they have come to Vegas, I'm excited to see what they will add to this tour. (This is ANOTHER fucking band that I haven't seen since 2008 and I'm upset at that a little bit to be honest…) They are likely the most metal based on this bill, and it'll be interesting to see how the post hardcore fans in the crowd react to some good ole metalcore!
The newly added openers to replace Issues and Royal Coda are names I've personally never heard of. But that's okay. Check out some of their stuff below!
Eidola's top hit on YouTube via Rise Records:
Wolf & Bear's top hit on YouTube via Blue Swan Records
What's new with DGD:
In 2019 Dance Gavin Dance released "Acceptance Speech 2.0", which is a remastered version of the fifth album minus the 2.0 in the name. Also released was an instrumental version of this album; AND an instrumental version of the most recent album, "Artificial Selection." Busy busy these guys are!
In October the guys released the track "Blood Wolf". This landed them at the 24th spot of the Billboard Hot Rock Songs chart! This is amazing, considering the amount of time these guys have been dominating in the underground.
The last couple times I've seen them perform, they were near sold out shows. So it's not surprising to see these guys FINALLY get some real attention for their unique and revolutionary post hardcore sound. As a long time fan, I'm proud of their success. (It looks like the guys have a few spots on the top 200 chart as well. You can see that here!)

Tour Info:
The 2020 tour kicks off in Los Angeles on March 12th, and heads directly to Vegas the very next day. The run continues across the states and ends back in Sacramento on April 25th for their newly solidified festival, Swanfest. These guys are definitely a top live band for me personally. If you're interested in checking something out that's a little less traditional, this will be an amazing watch!

See you in the pit, Vegas!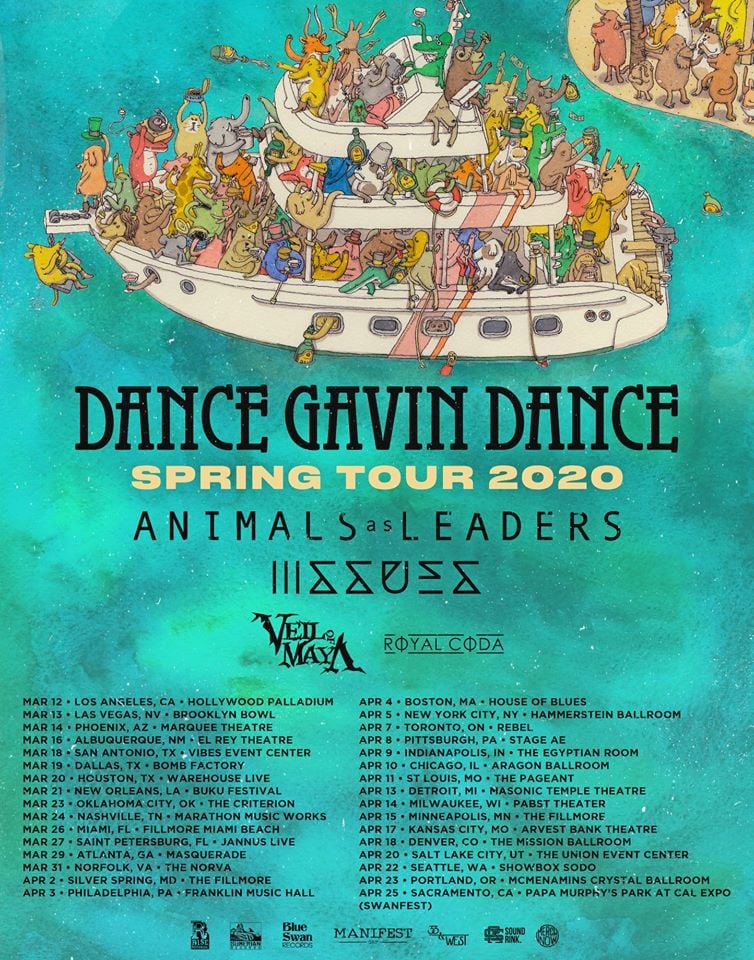 To see our previous coverage of Dance Gavin Dance, check out the links below!

The Artificial Selection Tour takes over Brooklyn Bowl

The Year of the Bowl: Vinnie's Top 5 Brooklyn Bowl Shows: 2018