At this point it is no secret that thrash metal is my end all favorite genre of music. THE BAY AREA STRIKES BACK tour featuring Death Angel, Exodus and Testament sent me spiraling back into the thought process that I really should have been born AT LEAST 10 years earlier than I was. While not having been able to live the come up of the Bay Area scene, the music has been on playlists and in my CD collections for years (and in my husband's vinyl collection!), and will continue to be years to come.
The night was filled with high energy, and many fans in the crowd were also still coming off the high that The Metal Tour of the Year gave them just a few days prior, in the venue just down the way from the House of Blues inside the Mandalay Bay. It was definitely a week FULL of thrash metal and many were clearly not complaining about it!
We all should know The Big Four… however there are also four more (at least) key bands in the come up of the thrash metal scene in general. Overkill, Death Angel, Exodus, and Testament. In this piece we highlight three of those four, for THE BAY AREA STRIKES BACK!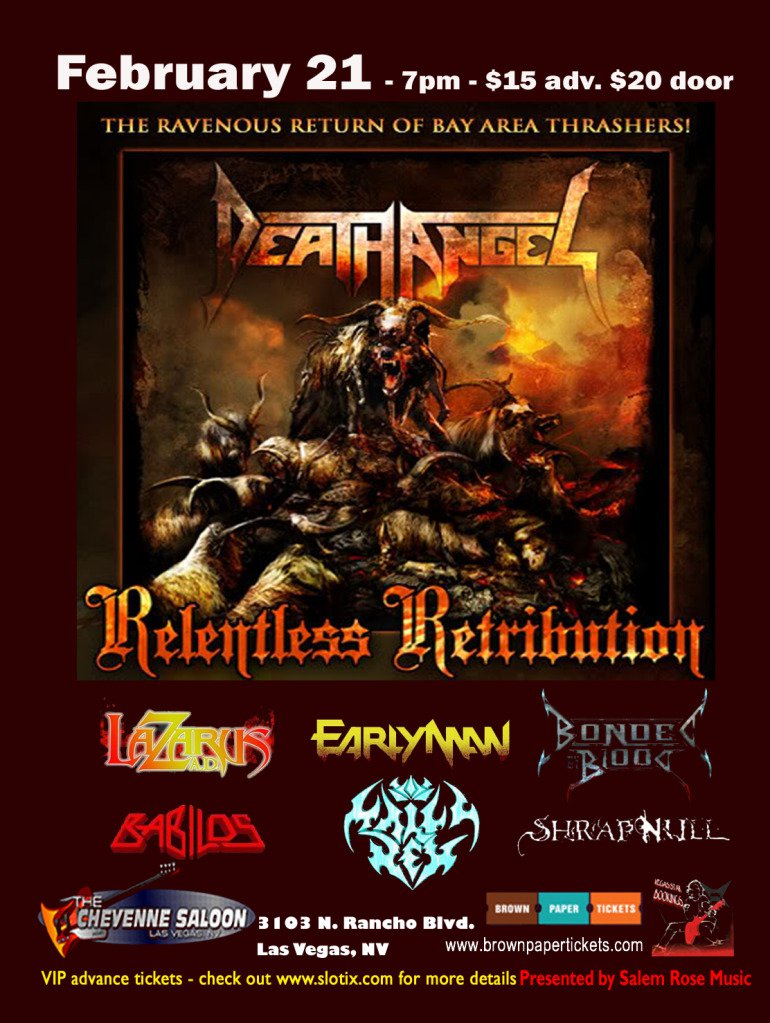 DEATH ANGEL
My introduction to Death Angel had to have come from my friends in Babilos years and years ago. They had so fortunately had been able to open up for these guys back in 2011 I believe at the (now gone) Cheyenne Saloon here in Las Vegas. I'll never forget the excitement that they expressed when they were added to that bill. It definitely was a night to remember for them!
Death Angel kicked off this night and BOY did they get things started right! The tone was set right with The Ultra-Violence as their intro to the stage; followed with a varied set of killer songs throughout their discography. They closed out their set with Thrown to the Wolves from their 2004 release, The Art of Dying. The pit was in full swing and we really didn't see it let up too much for the rest of the evening.
Full Setlist:
The Ultra-Violence
Evil Priest
Voracious Souls
Seemingly Endless Time
Claws in So Deep
The Dream Calls for Blood
The Moth
Humanicide
Thrown to the Wolves
EXODUS
Exodus was on my husband's bucket list, but neither of us had been able to see these guys until tonight. The last time we caught GARY HOLT was with Slayer on their Final Campaign Tour in 2019. (You can check out that piece and gallery HERE!) With Slayer reaching their end, it was inevitable I think that Gary would reunite with Exodus full time. There's no doubt in my mind that Gary is anywhere near being done with what he does. He was incredible with this group and he also looked pretty happy for the majority of his time on stage.
I very much enjoyed the diversity, yet expectable favorites of this set. I would have been very surprised if we hadn't heard Black List off of 2004's Tempo of the Damned; and of course near the end of their time on stage we heard classics The Toxic Waltz (1989), Bonded by Blood and Strike of the Beast. (1985)
Exodus has quite a history of members, but if you didn't know, Kirk Hammett (Metallica) was an original member of the band before joing Metallica. Apparently he named the band as well! So there's some fun facts for you guys. I also very much recommend anyone who is interested in some more backstories about Exodus to check out the documentary, MURDER IN THE FRONT ROW. It is a really awesome watch!
Full Setlist:
The Beatings Will Continue (Until Morale Improves)
A Lesson in Violence
Blood In, Blood Out
The Years of Death and Dying
Deathamphetamine
Blacklist
Only Death Decides
Prescribing Horror
Bonded by Blood
The Toxic Waltz
Strike of the Beast
TESTAMENT
I really never have anything bad to say about Testament. They are easily one of my favorite bands these days. I don't ever find myself bored with anything from their catalogue. And I really never have walked away disappointed from any of their live shows that I've been able to see.
This time around, like many others, we got a pretty diverse set. As Catacombs begins to play on the overhead, we see Dave Lombardo take his place on the drum kit. (It was announced not that long ago that Lombardo would be taking the throne in place of Gene Hoglan.) This was an exciting moment in the show, a lot of us were eager to see Lombardo. I personally hadn't seen him since he performed with Dead Cross at Brooklyn Bowl (2017), and I also caught him with Suicidal Tendencies at Punk Rock Bowling (2018).
Throughout the entire set we could see Alex Skolnick shredding all over the place and on the dedicated platforms, he really got the crowd going! And the same can be said for Eric Peterson. Those two really have a great dynamic. With Chuck Billy and Steve DiGiorgio added in there you have an absolutely stellar amount of power oand energy on the stage.
(Every time we see Testament, my husband and I always have a little moment because we really like DEATH (the band) and it's just really awesome to see Steve, who played with them back in the day.)
Oops…
A moment of realness was seen on the stage during their little goof during True Believer. I will not fault them for this. Shit happens and they are human. They picked it right back up and we all shared a funny little chuckle because of how silly Chuck Billy sounded after he realized they messed up.
I would say literally the only thing I found myself bummed over during their set was that the lighting was super sporadic and crazy for my first three songs in the photo pit, and then afterwards the lighting was perfect. It's not the first time I've seen this before and it won't be my last, but that's okay I suppose.
Full Setlist:
Children of the Next Level
The Pale King Play Video
Practice What You Preach
The New Order
WWIII
Low
D.N.R. (Do Not Resuscitate)
Electric Crown
Souls of Black
Night of the Witch
Eyes of Wrath
Legions of the Dead
True Believer
Encore:
Over the Wall
Into the Pit
Disciples of the Watch
ALL LIVE PHOTOS BY COURTNEY WARE FOR ZROCKR MAGAZINE 2022. ALL RIGHTS RESERVED.