July 28, 2022- ANTHRAX brought their 40 year celebration to Brooklyn Bowl, Las Vegas on Thursday July 28, 2022 and boy, was it glorious! With them they brought another longtime fan favorite, BLACK LABEL SOCIETY, as well as some hardcore goodness, HATEBREED.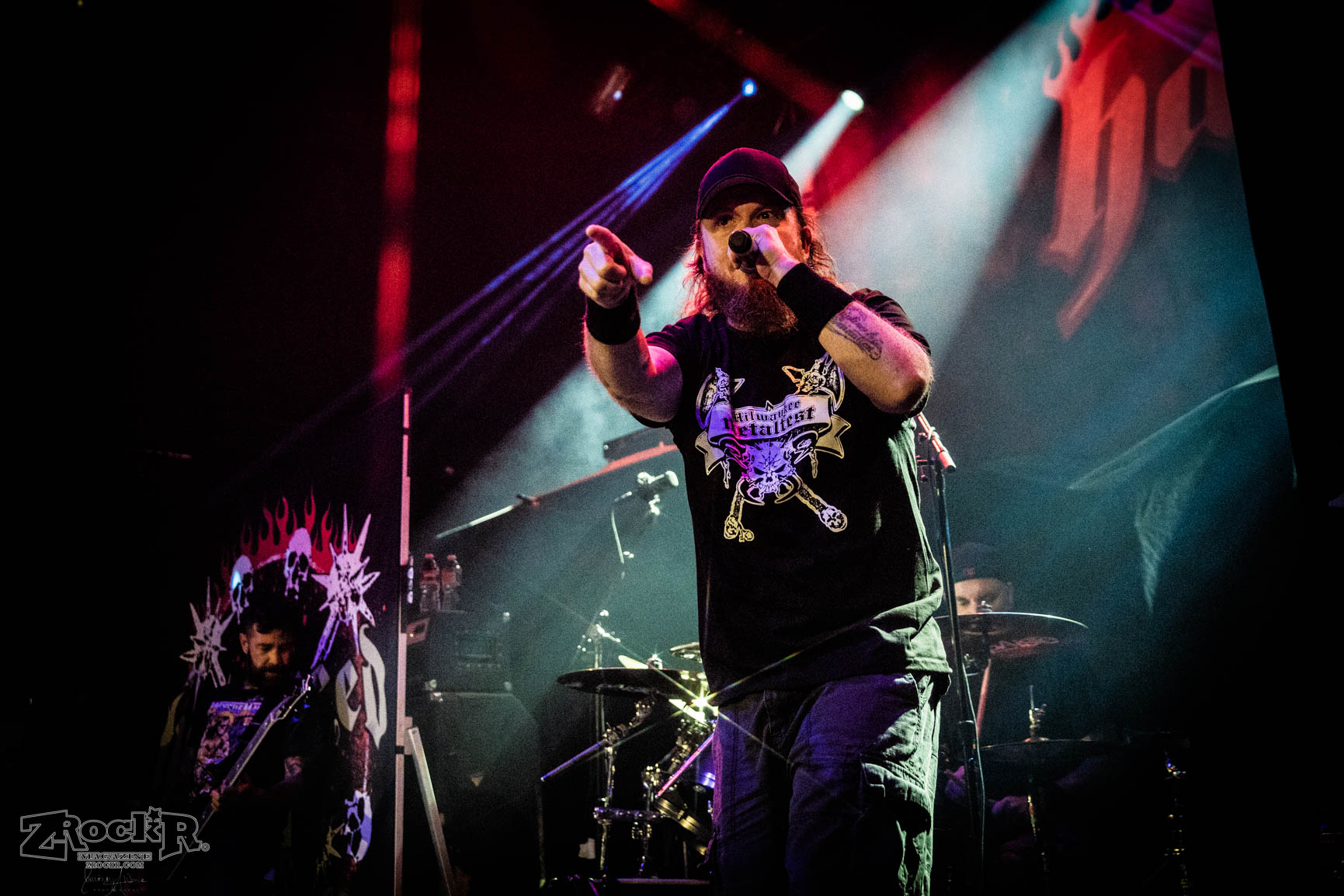 Hatebreed
Sometimes it's hard to be objective on my end, especially when it comes to HATEBREED. I have been seeing these guys perform for most of my show-going life at this point and I don't think I've ever walked away disappointed. They always deliver a level of aggression and passion that really gets me pumped up and I love that about them.
For years I've explained to people that you'll find some of the most positivity from this band, despite their name.
I've seen Hatebreed headline, and co headline. I've never seen them as a first band opener on any bill until this night. While I wasn't disappointed in their set, I do feel like these guys do better when there isn't as much stuff on the stage behind them. Both Black Label Society and Anthrax had MASSIVE stage props that took up what seemed like about 85% of the stage. Other than that, no real complaints from me for this favorite of mine!
Black Label Society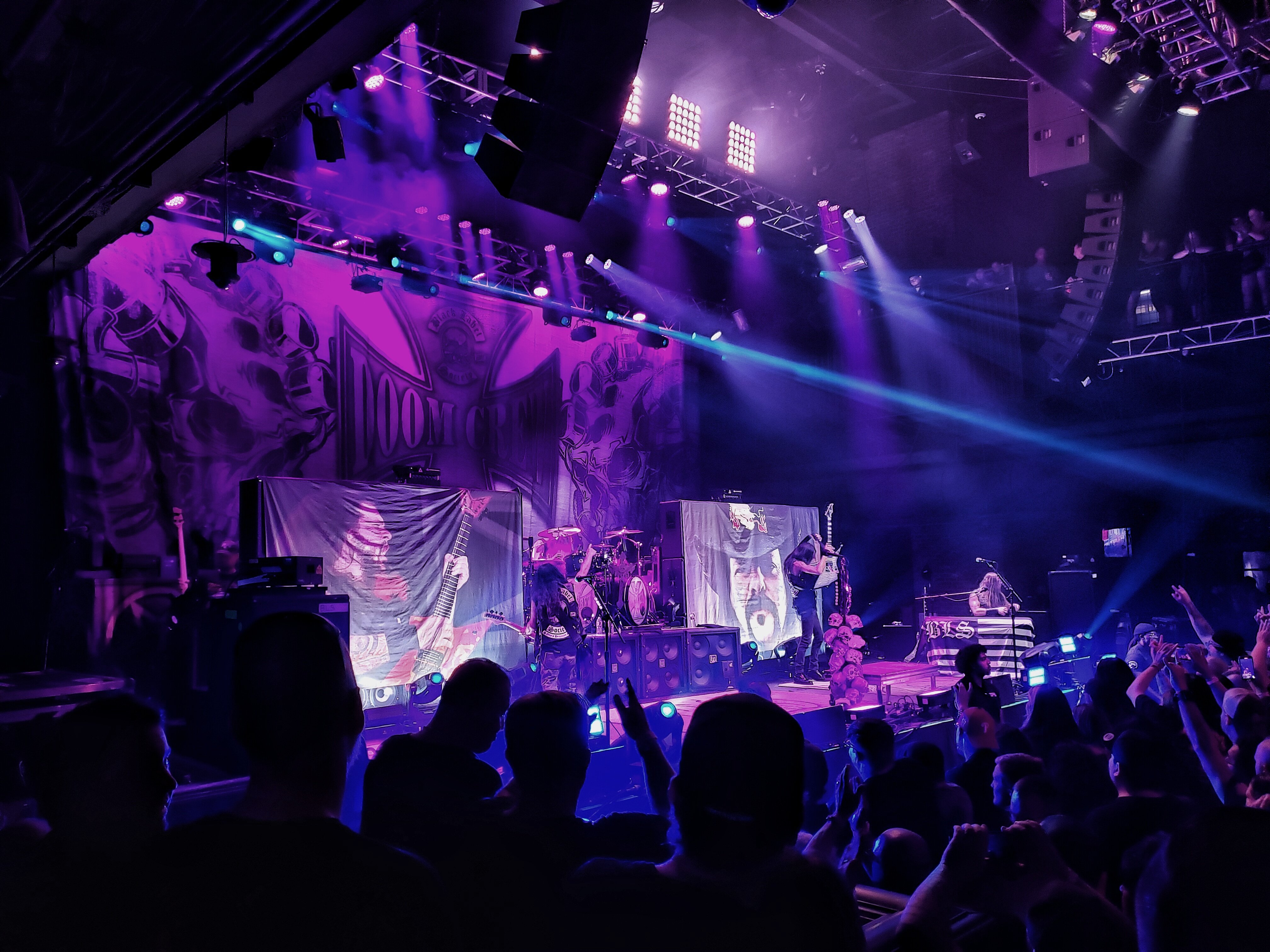 We were unable to actually photograph the guys in Black Label Society, and that's okay. I was able to snag some photos from my phone. I'm admittedly not really the biggest fan of BLS. I have nothing against them at all really, I think I just like some thrashier riffage for my tastes.
Big, big highlight from this set included a performance of "In This River" in which Zakk could be seen playing the piano, while two big dropdowns of Dimebag Darrell and Vinnie Paul hang from what looked like massive amp stacks. As a HUGE Pantera fan, it was hard to fight back tears during this song. I had never seen this from him in recent years, but I can only guess that this was done to pay tribute; as there has been a recent resurgence of Pantera talk via Phil Anselmo and Rex Brown announcing a reunion/tribute tour of sorts featuring Zakk Wylde and Anthrax drummer Charlie Benante. (I do think this is pretty cool, and I love that there is still an interest and love for that music. It SHOULD be played, and even if it's a cash grab, I'd still go to see it)
Anthrax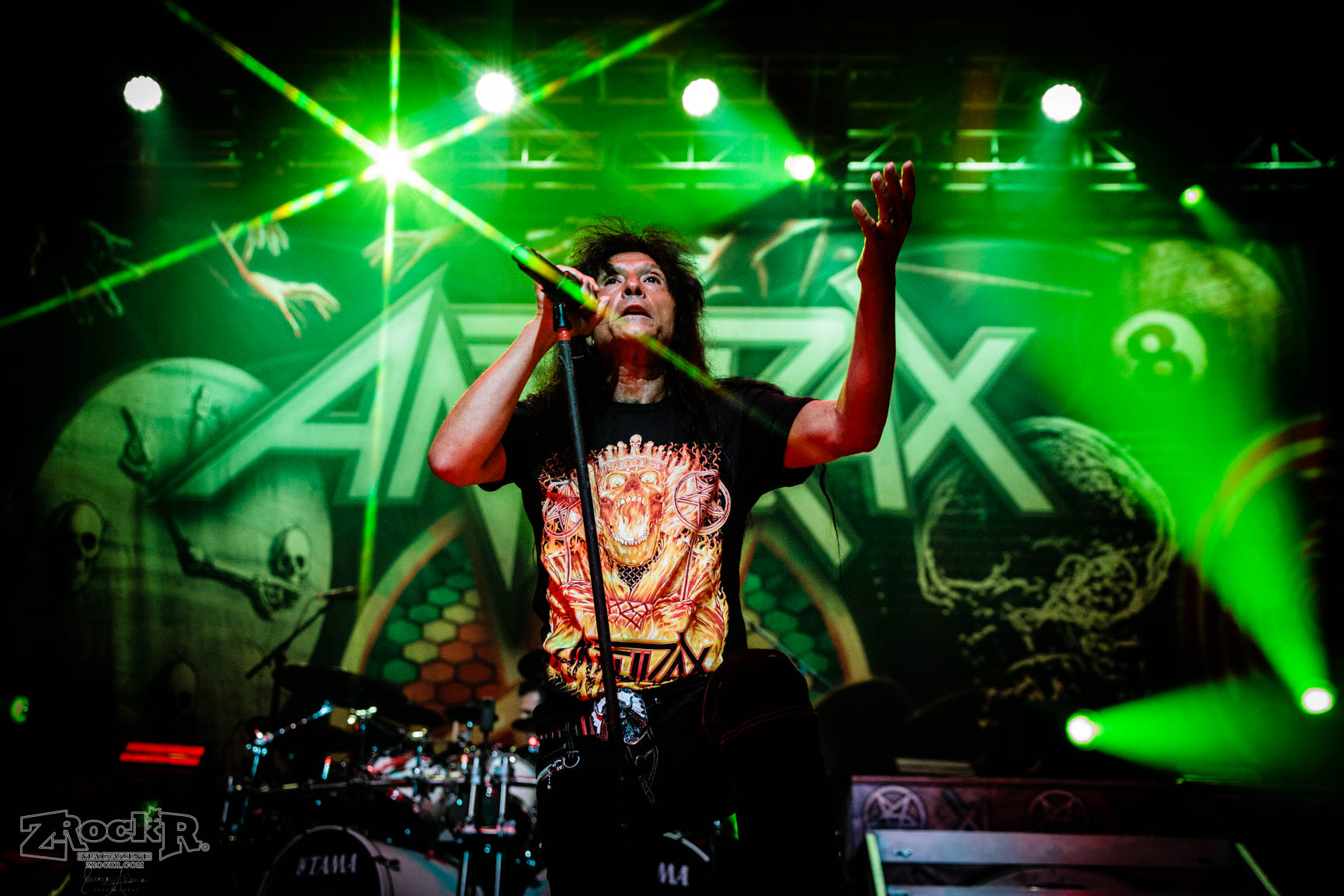 The final band, and who we were all there for, the mighty ANTHRAX. Prior to their set, we saw a projector curtain draped in front of the stage. An uncountable amount of big names from the metal community could be seen giving their thoughts on ANTHRAX and their impact. (There was also one non musician that stuck out to me, Norman Reedus. But, did you know that Scott Ian played walkers on The Walking Dead a few times? I'm pretty sure that's why he was dropped in there. Very cool nonetheless! Anyway…)
This was my third time seeing these thrash heavyweights. I had somehow forgot that I saw them in 2010 when they were the first on the bill of "American Carnage" tour dates alongside Megadeth and Slayer. Joey Belladonna has to be one of my favorite frontmen to watch live. He is easily THE most happy dude in metal, and it shows. It's almost perfectly complimented by Scott Ian generally looking a bit more mean on stage. I loved watching Frank Bello and Jonathan Donais roam the stage freely. Up and down the massive steps and risers on the sides of where Charlie Benante sat on his drum throne. I will also point out that it was fantastic to see Jonathan roam this time. The last time we caught Anthrax, he stayed off to the side for most of the set.
Anthrax's set contained ALL of the goodies for their 40 year celebration. Smashing hits including "Caught in a Mosh" and "Madhouse" along with the necessary cuts of "I am the Law", and "Bring the Noise" before closing out with their regular finale, "Indians."
Endgame:
The Vegas date of Anthrax's 40 year celebration was just the second show of the tour. If this hits your city, GO SEE IT. It's a no brainer, especially if you are a thrash or general metal fan. All three bands are absolutely on FIRE this tour, and we are here for it. AS SHOULD YOU! For tickets and more information, head on over to Anthrax's official website, HERE.
Until next time!
ALL LIVE PHOTOS BY COURTNEY WARE FOR ZROCKR MAGAZINE 2022. ALL RIGHTS RESERVED.