WASP played House of Blues at Mandalay Bay with support act Armored Saint on Friday, October 28, 2022.

Rocking hard and controversial as hell, WASP remains the fan-favorite band of many an 80s headbanger. Eccentric, no-nonsense frontman Blackie Lawless remains the group's one constant member and the face of the band, having rocked on stage and in the studio for over four decades, and famously having been one of many acts to offend and shock the PMRC back in the Decade of Decadence, ironically only making the band more popular. It's been years since WASP toured the United States, so this rock and roll fan was ecstatic to hear that they'd be coming back to the States… and to Sin City, no less! Hearing that fellow rockers Armored Saint would be opening the gig had me even more pleased.

It's been a long and interesting story for WASP, with Blackie Lawless being the band's one constant. Unlike a great deal of their contemporaries, WASP experimented with many sounds and concepts, having even recorded at least one concept album. In addition to this tour being the 40th anniversary of the band, it also marked the 30th anniversary of THE CRIMSON IDOL, their classic concept album about an ill-fated rock star. In radio interviews, Mr. Lawless claimed that he wanted to put a big level of production for their tour into a smaller venue. I was curious to see if he'd succeed at this.

One of the first things I noticed when I first arrived at House of Blues and got my ticket was how long the admission line to the venue was. I've seen long lines to get into HOB before, but I'd never seen it so long that it curved around the corner! Apparently audiences missed WASP that much. And in this day and age of everything being overly woke and politically correct, can you blame people for wanting to return to the days when a controversial personality rocked the stage, the studio, and the MTV airwaves?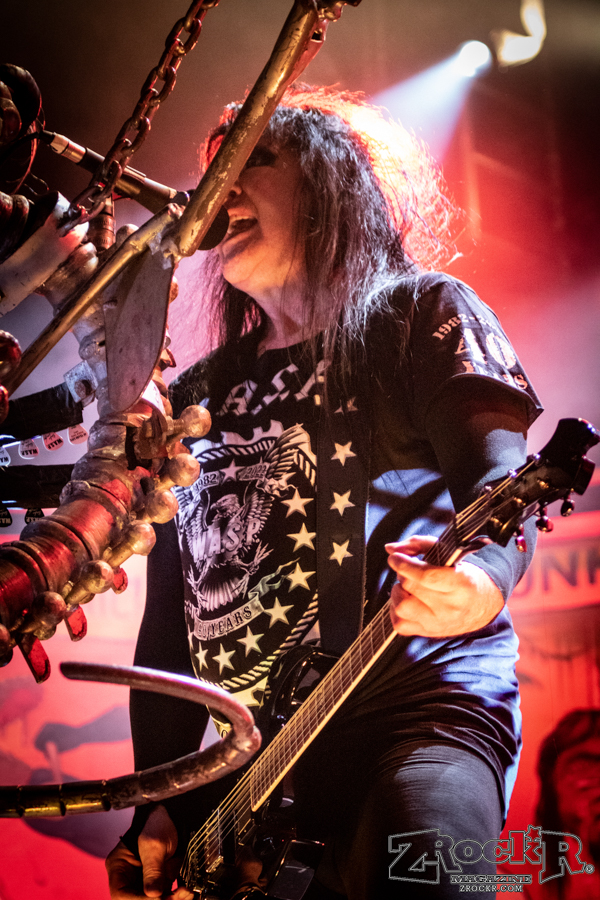 Unsurprisingly, the venue was packed. This was probably the busiest I'd seen it since Korn played the venue back in 2015. Metal Blade Records alumni Armored Saint took the stage first, and I was certainly eager to see these guys again. Fronted by John Bush, who had also previously fronted Anthrax, these guys know good riffs and how to keep them coming relentlessly. PUNCHING THE SKY, the newest release from Armored Saint, came out in 2020, and ranked as one of my best albums of that year. I'm pleased to say that not only did Saint's opening set get this audience fired up; they gave audiences a setlist spanning their full career of four decades, kicking things off with the classic cut "Reign of Fire" from 1990's SYMBOL OF SALVATION, which was their first release to feature ex-Odin guitarist Jeff Duncan, who has become a regular fixture of the Vegas scene over the past several years. Other highlights of the set included the title cut from 2015's WIN HANDS DOWN, and of course, the closing duo of tracks from 1984's debut LP, MARCH OF THE SAINT, featuring "Can U Deliver" and the title cut. John Bush is certainly one of the most animated and underrated frontmen out there, and he didn't have a dull moment in the whole set. Neither did anyone else.

I was eager to see what WASP would bring audiences with Blackie's promises of a bigger-scale show in a smaller building. Knowing changes in regard to health code practices and standards, I was assuming we wouldn't have a flame-blasting codpiece or raw meat being thrown into the crowd. These assumptions were right. What did we get instead?

Well, I'll say this much. It's certainly the most elaborate setup I've ever seen on the House of Blues stage! Circling the back of the stage, from the floor to the ceiling, were old-fashioned circus posters for sideshow attractions, giving the set an interesting atmosphere. Additionally, the front of the stage had a strange podium that looked like the cross of a human skull, a (very) crooked spine, and possible motorcycle parts. I didn't know what to make of this thing! Throughout the gig, some of the circus posters would fall away, revealing video screens that would utilize elements that included clips from classic WASP videos, as well as some other elements, but more on that later.

WASP's current lineup teams vocalist/guitarist Blackie Lawless up with bass guitarist Mike Duda, guitarist Doug Blair, and drummer Aquiles Priester. While Blackie seldom kept a consistent and steady WASP lineup going in the band's past heyday, one thing no one can deny is that he always surrounded himself with great musicians. Duda has been the bassist for the band since 1995, making him the longest-lasting member of the band outside of Lawless. Blair joined in 2006, and Priester in 2017. I quickly noticed these guys had a great stage chemistry, and age is only a number for the always entertaining Lawless, who was regularly energetic on the stage, also spending plenty of time on/gripping the strange skull contraption/podium that was front and center. The other members of the band were as energetic and spirited, seldom staying in one place. Priester, of course, was hidden behind a massive drum kit, but he had one hell of a sound that could be felt in every single song.

The setlist, despite a few minor omissions, was quite impressive. The group had the daunting task of celebrating their 40th anniversary, in addition to the 30th anniversary of THE CRIMSON IDOL. With an extensive discography and a ton of classics, hits and deep cuts alike, to cram into the set, the group had to choose this setlist well. This fan feels that, for the most part, they succeeded. An opening medley was a great way to fit in several songs including "The Flame and "On Your Knees," with classics like "LOVE Machine" and Wild Child" following. The celebration of THE CRIMSON IDOL obviously got the attention it needed, with a mini-set of several cuts from that underrated 1992 classic.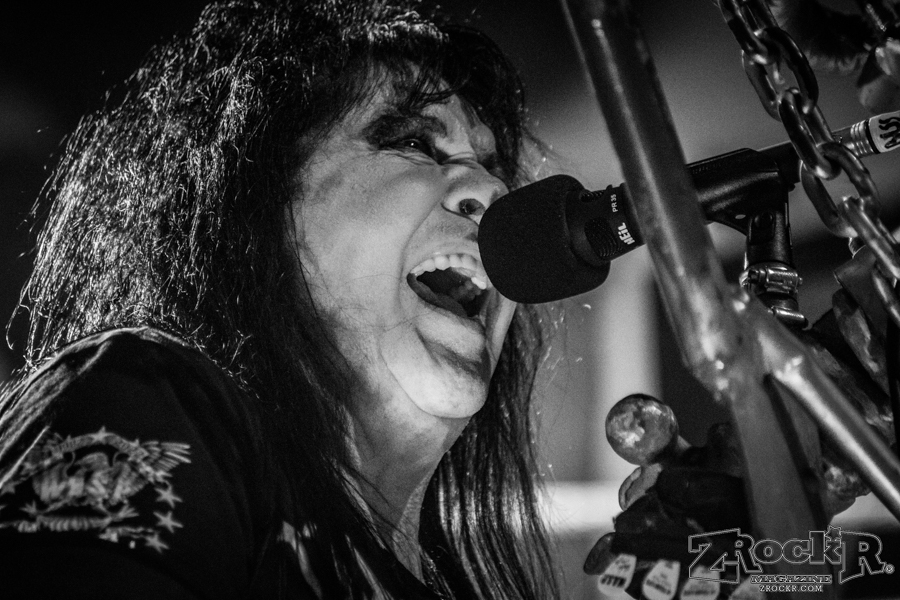 The first set of encores featured minor classic "Chainsaw Charlie," as well as "Blind in Texas," a classic hit from the band's legendary 1985 sophomore effort, THE LAST COMMAND, with the band losing nothing along the way. Following the killer renditions of these cuts, would the band return to the stage for a second set of encores, and if so, what songs?

Oh, they came back indeed. The video screens began recapping audio and visual clips of the band's dealing with the PMRC and their attempts at forced censorship, complete with clips from artists like Dee Snider and John Denver defending their right to First Amendment-protected free speech. The video screens then revealed the name of the song that landed the band on the PMRC's list of the most reviled songs…

…a song called "Animal (Fuck Like a Beast.)" One that WASP hadn't played live in well over a decade because of Blackie Lawless' status as a born-again Christian. And, for the first time in a very long time, it got played live on a rock and roll stage! This was a landmark event for WASP that got more loud cheers and applause than any other moment of the night, and was played as part of a medley with "The Real Me," a cover of The Who which the band had recorded for 1989's THE HEADLESS CHILDREN. Following that gem, the set was closed with one final song, "I Wanna Be Somebody," the opener from the band's 1984 self-titled debut album, with the video screens showing images of past WASP band members who played on albums, including Chris Holmes, Randy Piper, Tony Richards, Steve Riley, Johnny Rod, Frankie Banali (RIP), and several others. This was an epic outro song and a killer tribute to so many men who made this band one of the best of its era.

I only had a few minor issues with the setlist. When you've got so many tracks in a discography, it can be hard to fit everything in. A few of the cuts I would liked to have heard that weren't played here were "Tormentor," "Sleeping in the Fire," "95 Nasty," "Easy Livin'," "Mean Man," "For Whom the Bell Tolls," and the title cut from THE HEADLESS CHILDREN. Still, I'm certainly not complaining about the set we got. Could there have maybe been a few more theatrics on the stage? Perhaps, but I think Blackie and company made good use of what was available to them.

Blackie Lawless and company brought their WASP show to Vegas, and for me, it was a truly epic night with a packed house and many classics brought to life on a live stage. The opening set from Armored Saint was impressive as well, and it was fantastic to see both bands united in one place, doing what they do best. The show is highly recommended if you get the chance to go see it and you're a fan.
Gallery.
PHOTO CREDIT: All photos by Stephy Hayward (Muzio) for ZRockR Magazine – ALL RIGHTS RESERVED