Winger played Westgate on Saturday, March, 4, 2023, with support act Lita Ford.

Winger were one of the best bands of their era during the 1980s heyday before the music industry was radically transformed amid changing trends in the following decade. The band's 1988 debut and its follow-up, IN THE HEART OF THE YOUNG, spawned plenty of classic hits. When I heard they were playing Westgate and that ex-Runaways guitarist Lita Ford would be their opening act, I knew this would be a gig I wouldn't want to miss. The best of 80s rock in one place? Sign me up!

Lita Ford started the evening with a 10-track set consisting mostly of her classic 80s hit. While she first rose to prominence in the late 1970s as a member of The Runaways, she's perhaps best known for her 80s solo hits that include "Kiss Me Deadly" and "Close My Eyes Forever," the latter of which being a duet with Ozzy Osbourne. Lita's still going strong today, continuing to do what she does best.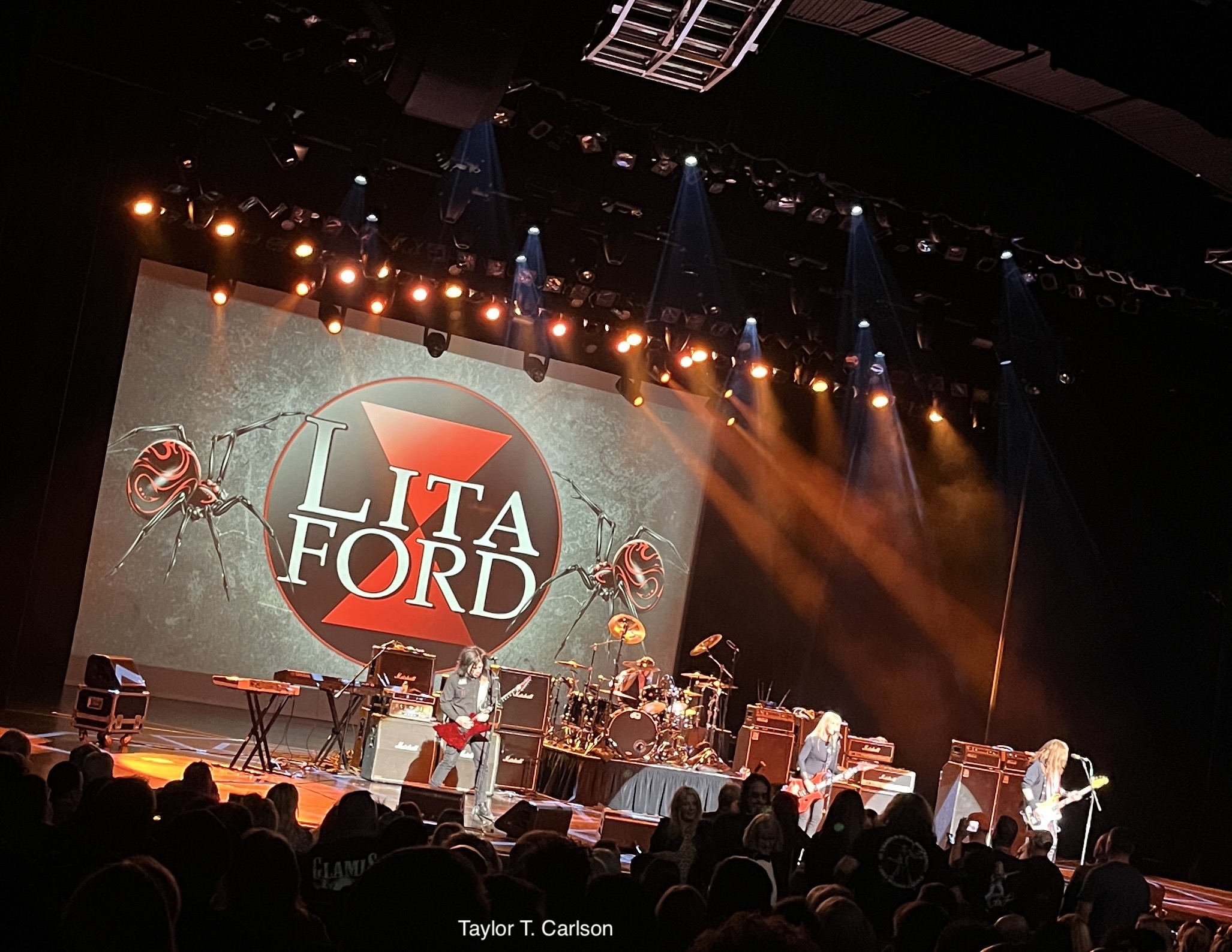 Lita always manages to surround herself with great musicians, and this gig was no exception. Her backing band consisted of drummer Bobby Rock (Vinnie Vincent Invasion, Hardline, Nelson), guitarist Patrick Kennison, and bassist Marten Andersson. Guesting for a few tracks toward the latter portion of her set was keyboardist Michael T. Ross, whom she has played with many times for the years, but he's probably best known in the Vegas Valley for having been the keyboardist in RAIDING THE ROCK VAULT, a show that has played in Sin City for a decade and in which he's the sole remaining original musician.

Ms. Ford is always pretty good at choosing a setlist, and despite being limited to 10 tracks, she did a pretty solid job of it here. The set opened with one of my all-time favorite Lita Ford songs, "Gotta Let Go," taken from her solo sophomore album, 1984's DANCIN' ON THE EDGE. She revisited The Runaways by covering that band's biggest hit, "Cherry Bomb," and also gave the audiences her cover of Alice Cooper's "Only Women Bleed." We got the hit "Hungry" from the STILETTO album, and four tracks from her best-known work, 1988's LITA album. Those include two deeper cuts, "Back to the Cave" and "Can't Catch Me" (the latter of which co-written by Lemmy of Motorhead), plus the two big hits, "Kiss Me Deadly" and "Close My Eyes Forever," the latter featuring guitarist Patrick Kennison singing the male parts. Lita also gave her band members a chance to show off, including some epic drum work from Bobby Rock. It was also nice to hear the track "Relentless," which came from Lita's LIVING LIKE A RUNAWAY album about a decade back.

Perhaps the only weakness of Lita's set was its brevity; this is the curse of being the support act. I would loved to have heard Lita's cover of "The Bitch is Back," plus "Living Live a Runaway" and "Playin' With Fire." But she did what she could with this 10-song set and rocked the house. Fans were enthusiastic, this one included. Lita still delivers in concert as this evening proved and then some.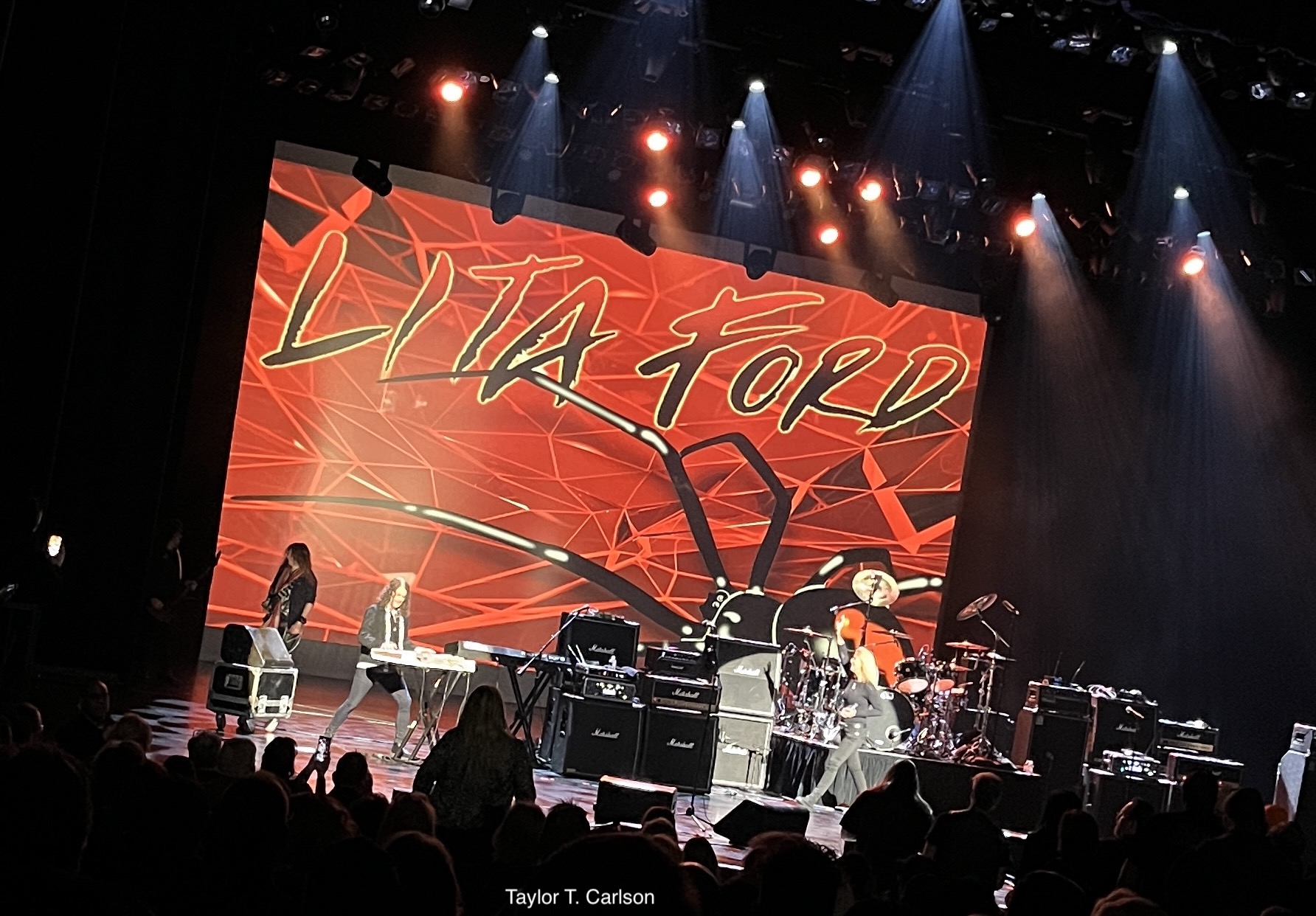 Winger was headlining on this evening, with mostly their classic lineup, featuring Kip Winger on bass, Reb Beach on guitar (who missed the Vegas gig last summer on account of a Whitesnake Tour), Paul Taylor on guitar/keyboards, and Ron Morgenstein on drums. Howie Simon was filling in for John Roth at this particular gig. Kip Winger and Paul Taylor had previously played with Alice Cooper during The Coop's comeback in the mid-late 80s. Winger is best known for their first two albums; a self-titled debut and IN THE HEART OF THE YOUNG.

Winger were the subject of much ridicule in the early 1990s when musical trends changed, but these guys were some of the most proficient and talented artists of their era. Hits from the band's first album included "Hungry" (not to be confused with the song of the same name Lita Ford performed earlier in the evening), "Seventeen," "Madalaine," and "Headed for a Heartbreak," while the sophomore album continued the band's streak of hits with tunes like "Miles Away," "Easy Come Easy Go," and "Can't Get Enuff." Third album PULL was released as the music industry was changing and didn't get the same amount of recognition as the previous two albums, but did still manage to spawn the hit "Down Incognito." Several Winger releases have followed, with a new album planned for release later this year.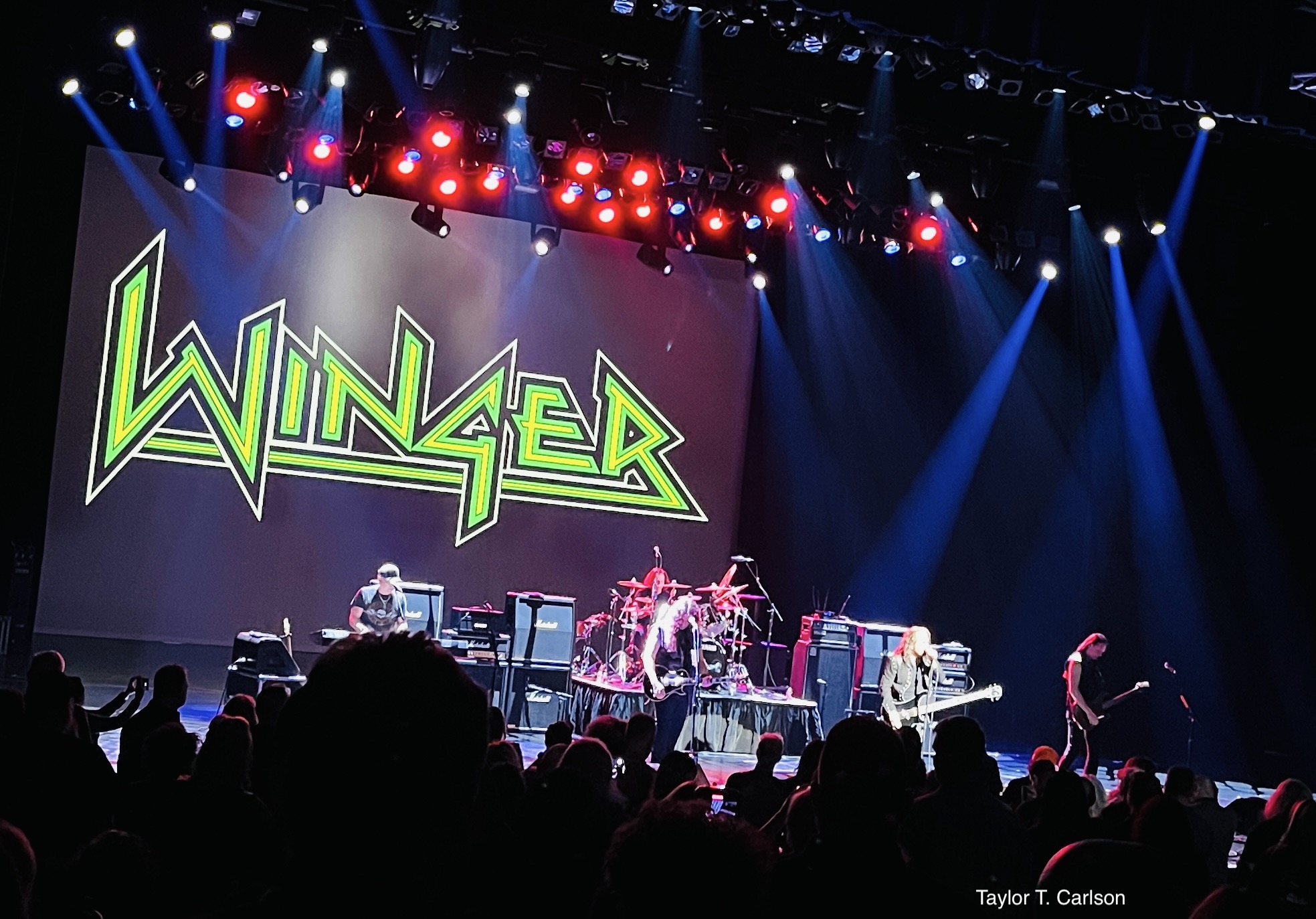 Kip and the boys weren't shy about digging into the deep cuts for their setlist, and bless them for that. Unsurprisingly, the set included every one of those hits I mentioned in the previous paragraph, but there were some major surprises, including one song each from the BETTER DAYS COMIN' album and even two from KARMA; two additional releases that don't get talked about enough. We even got a deep cut a piece from the first two albums, including "Time to Surrender" from the debut and "Rainbow in the Rose" from its follow-up effort IN THE HEART OF THE YOUNG. This was a great setlist that balanced the classic anthems and deep cuts alike. It would've been nice to hear the band's cover of "Purple Haze," "Blind Revolution Mad," or maybe an 80s Alice Cooper song given Kip and Paul's previous gig, but no complaints.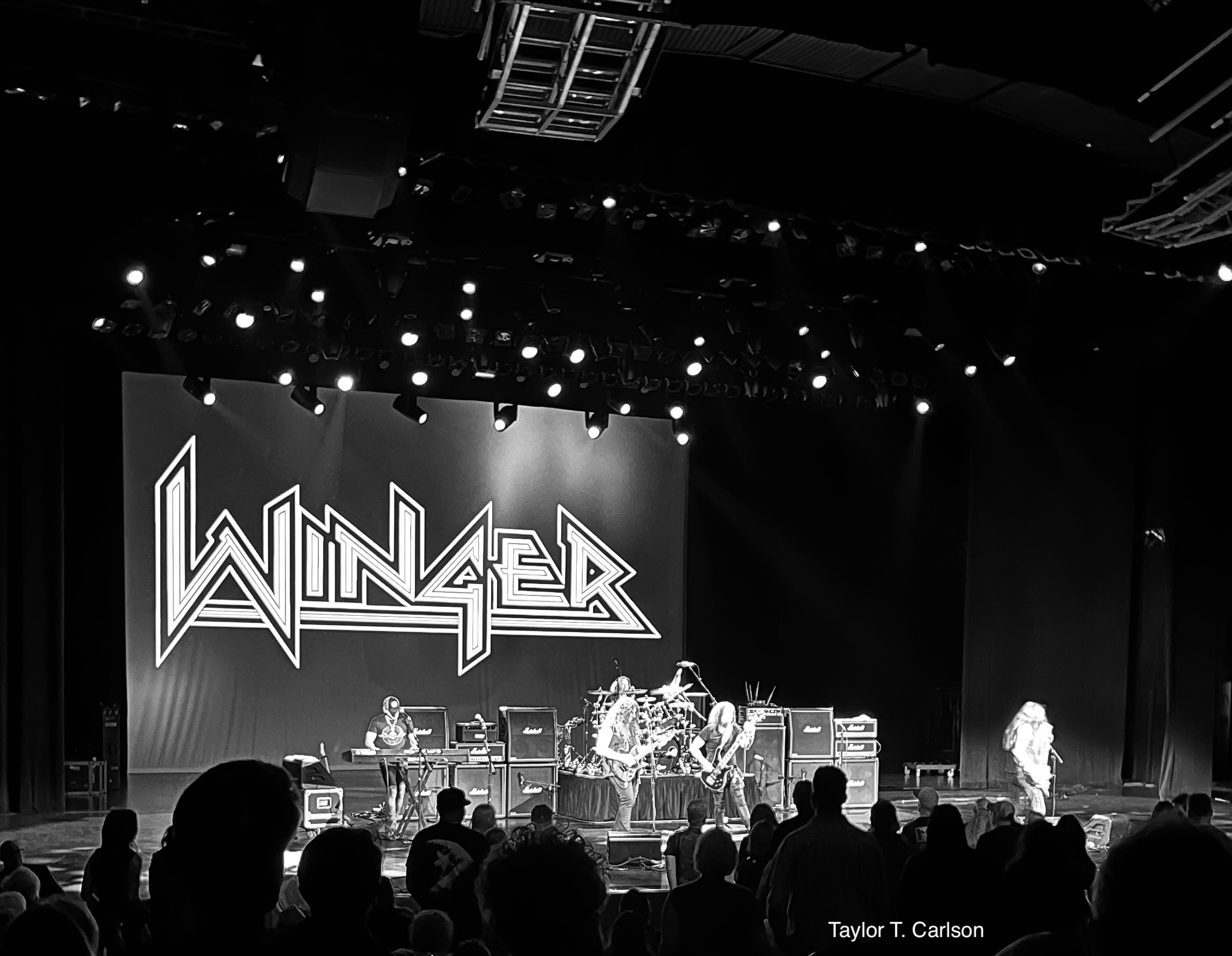 The musicianship was on full display here. Reb Beach is one of the most criminally underrated axemen of all time, and he was sorely missed when he wasn't present at the Vegas gig last summer at Sunset Station. Did I mention Rod Morgenstein is underrated as a drummer? These guys got lengthy solos to showcase their chops, and the enthusiastic audience was all on their feet from start to finish. The total set consisted of 13 songs, or 16 if solos are counted as additional songs.

This was a killer evening of rock on the stage that Elvis Presley once so famously played, with not one but two killer 80s artists doing what they do best, sounding as good as ever. Should either band come to your city, don't pass up a chance to see them live in their element.