August 12th at T-Mobile Arena in Las Vegas became an interesting night, as the beloved Frankenmuth, MI boys Greta Van Fleet brought multiple generations of music lovers out to enjoy the sounds of the night.
Opening the show was Teddy Swims, which I will be honest, was not my cup of tea. His vocals were fine, but I felt like I was watching something I'd seen many times before. Just because it wasn't for me doesn't mean the band is without talent, but I was definitely looking forward to what would come next.
Around 8:40 pm the mood in the venue began to change as ethereal music filled the arena. I felt like a wizard was going to pop up and ask me along a journey to Mordor any second. The lights went out and the music began to crescendo along with the screams of the audience. The only light being from the tons of cell phones pointed at the curtain, waiting for it to drop. I do wish people would put away their phones and just enjoy the moment for what it is…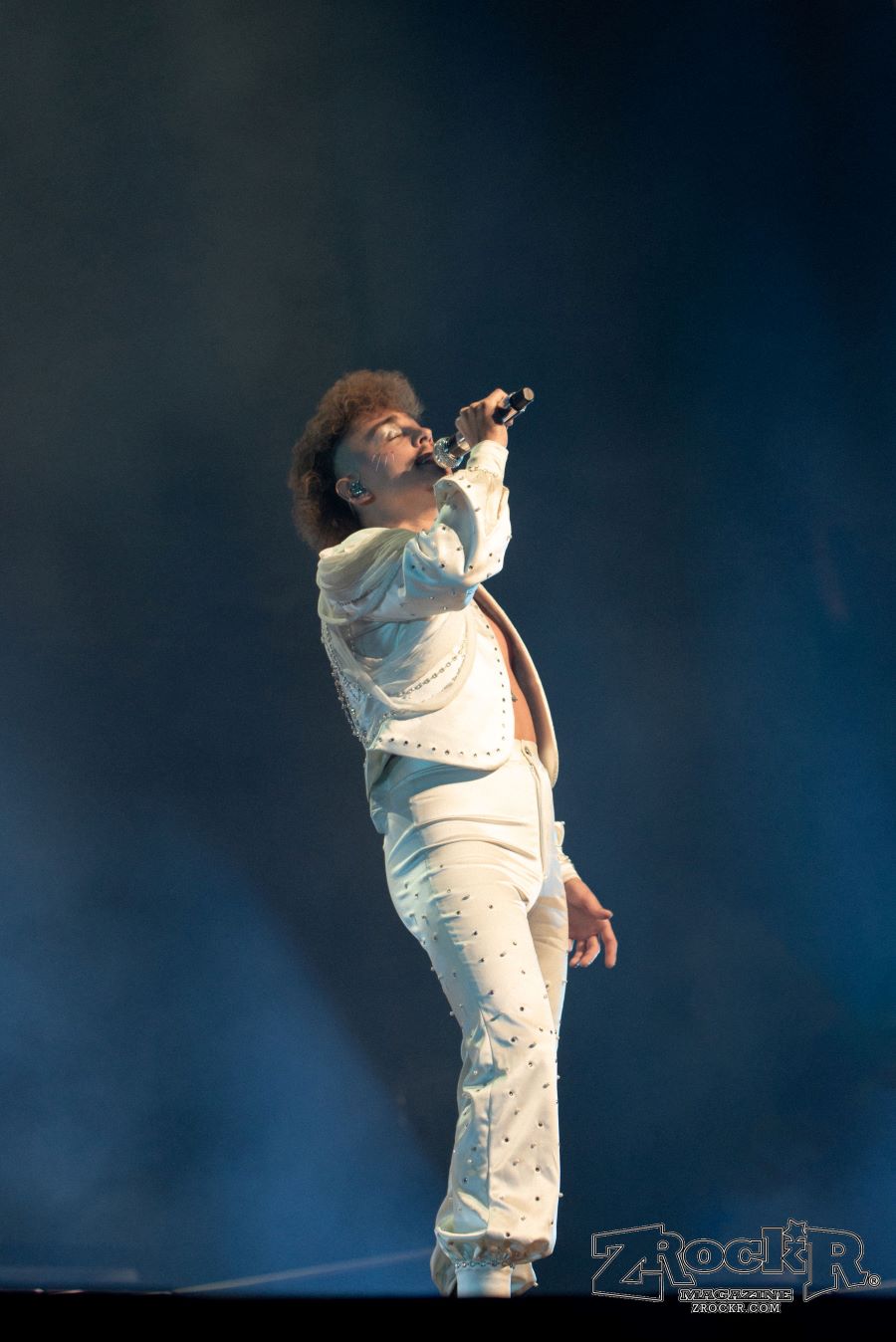 Vocalist Josh Kiszka, clad all in white with the rest of the band, greeted the crowd saying "I hear there's a show tonight and I hope it's good!" Immediately the pyro sparks went off and GVF broke into "The Falling Sky" off of their newest album Starcatcher, which definitely inspired some folks around me to live their best life as the smell of pot filled my head. The band acknowledged it as well, and how it must be good shit; spoiler alert – it's not. If you want good pot, go to Washington because what we have in Vegas is skunky and gross.
I appreciated the simplicity of the stage set up. Most bands you see nowadays have a very "go big or go home" mentality with their visuals, which sometimes takes away from the performance itself. They had very simple pyrotechnics going off on the rare occasion and a simple backdrop. Greta Van Fleet definitely let their music and energy do the talking for them.
Since the band hit the mainstream in 2017 (even though they've been around since 2012), they've often been compared to Led Zeppelin. Are there some similarities? Sure. However, it is insanely refreshing to hear a young band with legitimate talent not relying on backing tracks and auto tune. You could hear when a mistake was made (although they were few) or when a note fell short, and that in itself was a magical breath of fresh air you just don't hear anymore.
After an extended guitar solo jam by guitarist Jake Kiszka during "Lover, Leaver (Taker, Believer)" off of 2018's Anthem of the Peaceful Army, he traded his Gibson SG for an acoustic while bassist Sam Kiszka hopped on the keyboard. After a tease of The Beatles' "Norwegian Wood" they went into their own "Meeting the Master". Josh reappeared on the stage right cat walk, trading in his white ensemble for a blue velvet jumpsuit embroidered with silver stars as they performed "Heat Above" off of The Battle at Garden's Gate.
I was impressed the entire night with how each member had their own way of commanding the crowd, but during this small acoustic bit (there would be a treat of more later in the show), I found myself also in awe. It seemed as though with each song, the crowd grew louder and louder. Again, this is something I haven't seen in a long time.
Greta Van Fleet brought the tempo down a bit for "Frozen Light", which gave me some RUSH vibes. I was highly impressed with Josh's vocal abilities. The dude talks in a low tenor/high baritone voice, but what he can do with his singing voice without being in a light and airy head voice or throwing out his throat was pretty fucking incredible. He sings majorly from his chest and even when he flips into head voice, there's a power there you often don't get. Josh found his sound by having to use his voice to be heard over instruments in practice, much like Chris Cornell (Soundgarden/Audioslave/Temple of the Dog) and Layne Staley (Alice in Chains/Mad Season), and thank goodness he did, because in my opinion his vocal abilities fall amongst some of the greatest in music history.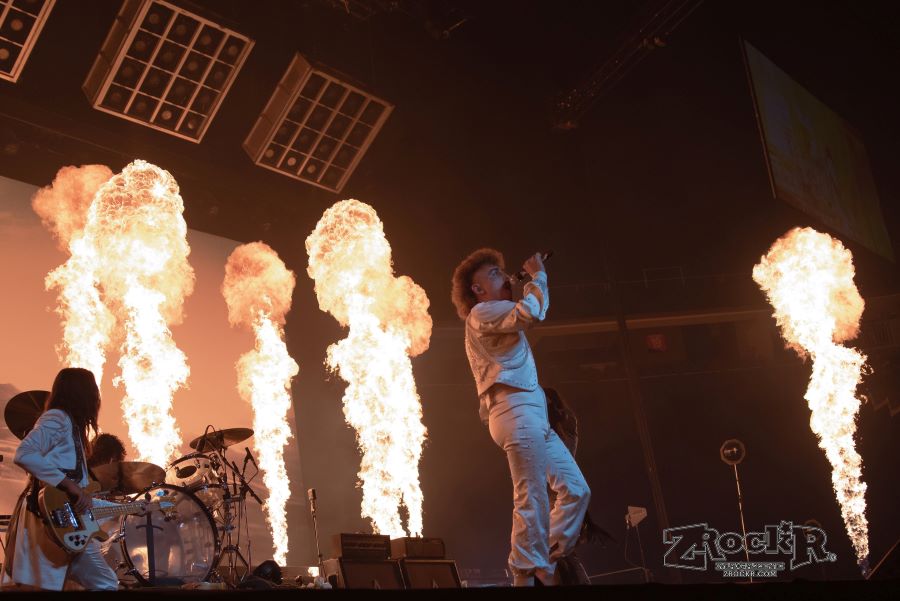 Drummer Danny Wagner took over the stage, as the rest of the band departed, with a drum solo to close out "Frozen Light" that embodied everything a great rock n roll drummer should be. You felt hints of John Bonham (Led Zeppelin), dashes of Roger Taylor (Queen), energy like Dave Grohl (Nirvana/Foo Fighters), and swing like Ginger Baker (Cream). I was glued watching him and haven't heard screams like that during a drum solo since Tommy Lee brought out the drum coaster during Motley Crue's "final" 2015 tour. Danny took a bow and left the stage, which then went dark. There was no way the show was over, right? It had only been 6 songs!
A small stage at the back of the arena lit up, shocking everyone in the crowd. Josh and Sam went into a simple piano cover of The Righteous Brothers' "Unchained Melody" before Jake and Danny (hopping on mandolin) joined them to perform "Waited All Your Life" off Starcatcher and "Black Smoke Rising", the closing track off of the band's first album From the Fires.
What was more incredible than the guys hurrying off to another stage unannounced was the fact it gave them a chance to interact with the fans at the back of the arena. I always give mad credit to a band who takes the time to interact with the people who took them from clubs to arenas, and Greta Van Fleet definitely does that.
The love from the crowd was felt hard during this small acoustic set. I was convinced the voices would blow the band off of that little back stage, as you could at times hear the crowd louder than the band.
They finished out their set on the main stage with a few more songs before closing out with "Farewell for Now", which is the final track off of Starcatcher.
I'm not going to lie to you. I went into T-Mobile Arena knowing two, maybe three songs. When Greta Van Fleet hit the airwaves, I was very much a "Oh, cool. A wannabe Zeppelin" person. I walked out of the arena not only with respect and appreciation for this quartet, but I walked out as a fan. I got in my car and immediately added their entire catalog to my Apple Music and listened to them the entire 30 something minute drive home. I plan on seeing what vinyl they have available at my local record store, because I feel like this is a band where the compressed sounds of the virtual media does them no justice, and this deserves good ol' analog and vinyl pops.
I look forward to seeing Greta Van Fleet again if and when they come back around, this time with a brand new perspective on the band. I've seen multiple legends in my short lifetime, and these guys have what it takes in their performance being on par with those greats that likely influenced them someday.
Rock n roll isn't dead, folks. It's just a little younger.
Setlist.
Main Stage Set 1
The Falling Sky
The Indigo Streak
Lover, Leaver (Taker, Believer)
Meeting the Master (Norwegian Wood Intro)
Heat Above
Frozen Light
Drum Solo
Acoustic Set Stage B
Unchained Melody
Waited All Your Life
Black Smoke Rising
Main Stage Set 2
Fate of the Faithful
Sacred The Thread
The Archer
Encore
Light My Love
Farewell for Now
Gallery.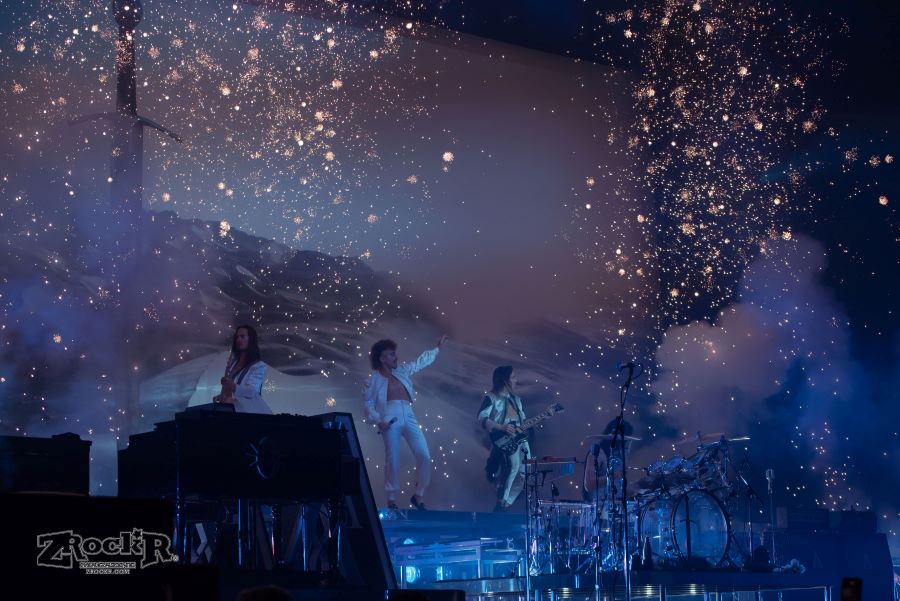 PHOTO CREDIT: All photos by Nikkita Christine for ZRockR Magazine – All Rights Reserved.