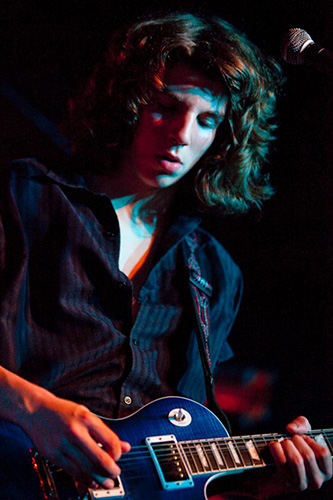 New York musician Jesse Kinch may be young in years, but he is definitely not young in talent and mind! At the ripe young age of just 19, Jesse has already done some major things in his music career, including being a headliner at the "Rock for Haiti" benefit concert. It is obvious that this amazing young music man was influenced by some of the greats in classic rock n' roll. From The Beatles to Chuck Berry, you can hear the greats in his voice and guitar skills. We got to talk to Jesse about his career! Here's what he had to say:
ZR:  You picked up a guitar at the young age of 6. What drew you to the guitar as opposed to a piano or violin?
Jesse: It's strange…I always felt like the guitar chose me. I have this memory of playing around in my boiler room one day when I was six years old and discovering this old, beat up, acoustic guitar that belonged to my father way back in the day… and when I brought it up stairs, my dad explained to me that what I was holding was a guitar and it's what I hear on almost every song I listen to. When I held the guitar in my hand and learned my first chords that day, I was completely amazed at how natural it felt for me. Ever since then, the guitar has always and will always be a part of my soul, expression and being
ZR:  Do you ever have days where you think "Man, I can't do this!"?
Jesse: I have never had a day where I thought "man this isn't for me" or said "you're dreaming Jesse". Ever since I played and sang my first note…I have lived and breathed music…and knew in my heart that I really had something. I think self-doubt can only hold you back as a musician.
ZR:  Your influences definitely reflect in your music. Do they come from your parents, or was it a matter of discovering them on your own over time?
Jesse:I have a really wide variety of influences. Even before I picked up a guitar I loved listening to music. My parents were always very open minded when it came to music which was great for me being exposed to so many different artists at such a young age. I remember when I was four years old, my parents would blast Andrea Bocelli  and Sarah Brightman in the car and the next CD would be some heavy rock from the nineties band "LIVE". ..and I would memorize and sing those songs. I even remember around that time Fleetwood Mac came out with their live album "The Dance" and I would listen that over and over as well…especially the song "The Chain". Then when I picked up the guitar, my father introduced me into the 60's rock artists such as the Beatles… the Doors , the rolling stones and Jimi Hendrix. Yeah…Jimi was one of my first major influences. Hearing Purple haze, All Along the Watchtower, and Foxy lady for the first time blew me away. I was so enamored with Hendrix, my dad went out and bought me a VHS tape of Hendrix playing Monterey. That's when I knew I was going to be a performer as well…you know the whole package…Singing, playing and putting on a hell of a show. I would watch that concert over and over and pay close attention to all his nuances and dynamic flair on stage. Along with Hendrix, I was in love with The Beatles, especially Lennon. The first Beatles songs I listened to were anything from "Please Please me" to "Rubber Soul". Those melodic songs really moved my soul at such a young age. Between Hendrix and The Beatles…I knew at only six years old that my sound was going to be driving rock with melodic melodies. The rolling stones really moved me at that age also. The first song I ever learned to play on an electric was "The Last Time" and also I think I learned the riff for "Satisfaction".  Then came "The Doors"…they were dark, heavy and melodic. A very unique sound. My dad and I would listen to their first album in the car all the time. Jim's passionate voice blew my mind at that age. Break on through, light my fire, and whiskey bar were the first songs I got into. When I was maybe eight, I even started listening to some more modern rock like the Foo Fighters and The White Stripes. Between Dave Grohl belting out "All my Life" and Jack White singing a song like "seven nation army", I was confident that rock lived in the 2000's. By the time I reached age 12, I was well immersed in the grunge scene of the 90's. Nirvana and Pearl Jam, to this day, are still two of my favorite bands. I discovered those bands right around the time I began to sing and play on stage, also forming my first band.  At that time, I also began to write my first songs, so along with all the 60's music I loved, I also had new influences from the grunge era which helped me mold my sound. What I have always loved about the grunge era, is how "Real" those artists were. The scope of the 80's music scene was more about gimmicks than being true to yourself. You had mostly over produced pop and glam rock…then came these nobodies from Seattle, with incredible songs, who completely invigorated the rock scene in late 91, early 92 with songs like Smells like teen spirit, Come as you are, and Lithium by Nirvana or songs like Jeremy, Black, Alive, and Once by Pearl Jam.  I was so attracted to their passion, intensity, and soul as artists. So incredible! Another band I was influenced by at that time was Living Colour (Cult of personality). One of my favorite's by them was an album called "Collideoscope". Way cool band! Underrated too! At the age of 15, I inherited my father's record collection and received my first record player. Through those records, I discovered some of the slightly more obscure artists of the 60's and great poets of that era like Donovan, The Byrds, The Animals, Bob Dylan, Procol Harum, Fever Tree, Simon and Garfunkel, The Rascals, The Jefferson Airplane, The Chambers Brothers, Three Dog Night, The Mamas and Papas, and even some of the early Bee Gees Songs. When I first heard all those artists, I was so taken by the depth and sensitivity of their music and lyrics. Especially Paul Simon and Donovan. Hearing songs like The Boxer and The Dangling Conversation (Simon and Garfunkel) or songs like Lalena and Atlantis (Donovan) really changed my thought process when writing a lyric. The heavier bands like the Animals and Chambers brothers really blew my mind too. Eric Burdon's belting voice is incredible on songs like House of the rising sun or we got to get out of this place. I also love his original songs like "When I was young" or even the song he did with War called "Spill the Wine". Around that time of discovering those records I was also heavily influenced by many of John Lennon's solo songs. What a soul and imagination he has! Instant karma, Mind games, Love, Happy x-mas(war is over), Gimmie some truth, and anything off the Walls and Bridges album are some of my favorites by John. Truly classics! Bruce Springsteen has also had an influence on me. Such a dynamic performer and song writer! Cover me, Born in the U.S.A, Murder Incorporated, Streets of Philadelphia are some of my favorites!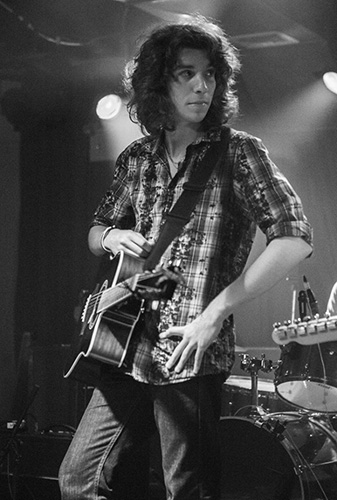 ZR: What kind of gear would you recommend to a young guitarist trying to learn?
Jesse: When it comes to buying gear, I don't think it's necessarily what I recommend that matters. If you are a musician, it is important to buy equipment that suits the sound you are looking for and hearing in your head. Take me for instance, I have two fender Stratocasters, a Gibson Les Paul and a Black star amp. Those instruments felt and sounded right for the sound I heard in my head and for songs I was writing and playing. I believe there is a unique and distinct tone in all types of instruments and somehow when you find the right one, there is an undeniable connection between the instrument and the artist.
 ZR: If you got to share the stage or collaborate with any one of your influences, who would you pick, and why? 
Jesse: Wow…it is truly hard to pick just one artist to collaborate with. It is also sad because a lot of my favorite artists are not alive today. One artist I would love to share the stage with one day is Bruce Springsteen. That would be something. He is so dynamic and full of energy on stage and I feel that we both have that same passion and intensity when we perform. We'd be great together! If I were to do any song with him on stage, it would be "Murder incorporated". What a song! Such a brilliant lyric too! I'd Also love to perform with Eddie Vedder and maybe sing something off of pearl jam's first album. That would be intense! I think we definitely have a similar style in writing and performing…especially when he belts out a song like Black or Once. So my style!
 ZR:  What do you think of the music industry today, and how has it affected your career?
Jesse: The music industry today is an extremely hard business to break into if you are a real artist singing songs from the heart with no gimmicks at all. The majority of music played on main stream radio is always manufactured, over-produced pop. It's all you hear. I feel that the industry literally spoon feeds my generation the music that is played on mainstream stations. The business really takes advantage of the technology they possess. Once you start smothering a song in unnecessary electronic production…I think a song losses its soul and even identity. Sometimes I can't even tell some songs apart on the Hot 100 because they all have seemed to be given the same electronic, auto tuned production. Sooner or later something has to change. The music business is definitely in a different stage than it was 15 years ago…now that the digital age has emerged, but there is one thing that hasn't changed. It has and will always be one of the most brutal industries in the world. Since the industry was created, the major record companies have always seemed to reign over the artists. It is in the very design of the industry that the artist has the least amount of the pie. Every time I read a rock n roll biography, my heart breaks for those artists in the past who have been neglected, ripped off, cheated, stolen from, dehumanized…you name it! Those injustices artists endured back then, still happen to this day. I have heard many second hand accounts and even me myself have experienced the harsh realities of the industry. All in all, it is an extremely tough business and if you can't handle it, it's not for you. I have learned that the industry is not meant for the weak. Every single artist who has ever existed, star or not, has gone through a struggle. It's just the way it is…Many fall through the cracks of the industry…Some get back up…some don't. I mean…I have days where I am down and out about having high hopes for something that just doesn't pan out the way I assumed it would, but no matter what, I never let that glimmer of hope inside of me die. When that is gone…the dream goes with it. I personally have received 100's of messages and e-mails to facebook and elsewhere telling me how "real" music is needed and for me not to give up…that me and my music is so needed and wanted… people are screaming out loud for it. I really think record labels and the powers that be have lost touch with a powerful market. People are just so sick of all the over produced garbage out there. Just look at all these contest shows like Idol and The X Factor…these contestants come out during the later stages of the show and perform and it's like everything around them is set up to divert from them performing for "real"…Gaudy and tacky sets , dancers all around them,  jumping and spinning on the floor… for God's sake just sing and play the song!!  I believe that the only true way to make it in this modern day music industry, is if you have tunnel vision. One goal…one focus. Maybe that is just me…But I have heard it from others as well. To make it…I don't believe that half of your focus can be on music and the other half towards something else.
ZR: Lastly, words of advice to youngsters across the world? 
Jesse: If you are a young aspiring musician and say… starting your first band, try your best to play with musicians who are better and more experienced than you if possible! When I was twelve and I started performing…I was playing with musicians twice my age. It can definitely make you a tighter and more solid player and performer rather than playing down to other players in your band. If I have any more advice to give, it would be to never compromise your integrity as an artist and don't ever let anyone tell you who you are or who you should be as an artist. The moment you give in to the pressure of being something you are not, you are no longer an artist. Be true to yourself…sure…it may be a longer road…but in the long run, it will pay off being who you truly are and not a gimmick somebody else has created for you.
We want to thank Jesse for taking the time to do this with us! Check him out on Facebook, Twitter, and YouTube. We promise you won't be disappointed!
~Stephy Hayward
Photo Credit: © 2013 Jesse Kinch- Courtesy of Jesse Kinch- All Rights Reserved