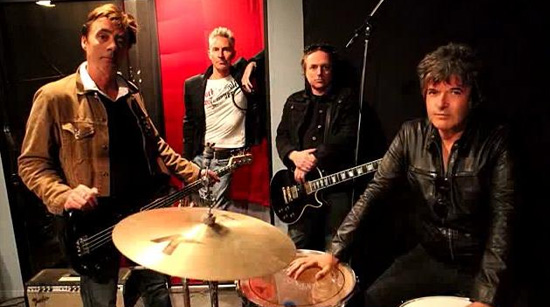 The International Swingers could easily be called a Supergroup. Members Glen Matlock (full-bellied but playful bass of ex- Sex Pistol), Clem Burke (easy, sophisticated kick in the drums from Blondie), James Stevenson (dynamic lead guitar played with lots of enjoyment formerly of Generation X and Gene loves Jezebel ) and Gary Twinn (intelligent, sarcastic, hand-grabbing vocals and rhythm guitar ex Supernaut and Twenty Flight Rockers) are armed with enough musical talent to sweep The Grammys and more than enough musical experience to fill a fistful of festival stages. But, more about these guys later. This is all about the show…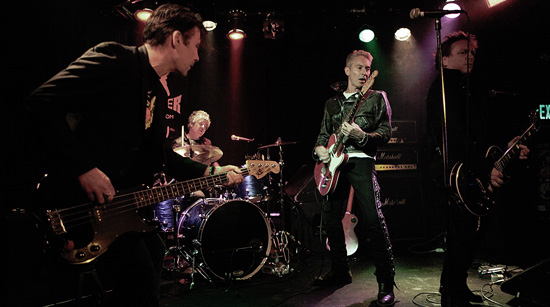 The International Swingers have brewed up a show balancing a fistful of original tunes with the massive catalogue of songs from their respective bands. It was easy to see that the audience didn't know what to expect. What they got was pure Rock N Roll lightening in a bottle!
They opened with original tune "Outta Control", my favourite of theirs, ushering in an electric performance. Hits by Blondie, The Monkees, David Bowie (All the Young Dudes – "The first record I ever stole", said Gary with a cheeky grin), Billy Idol, The Sex Pistols and The Romantics, among others, were peppered with "Swingers" tunes. Gary gracefully stepped aside to make room for Clem and Glen to take turns at the mic but, all four gents shared the spotlight.
Originals, "Gun Control" – (awesome driving tune!), "FBI" – (energetic, playful party rock), "Sweet Sweet Love" – (sexy, pop-rock), and "Live Wire" – (romantic but with that Rock N Roll edge) received as many cheers as the familiar hits, these songs rocked the house! Before they could exit the stage, the audience demanded more. Thankfully, The International Swingers gave us an encore of Eddie Cochran's "Come On Everybody" and Billy Idol's "Dancing With Myself", provoking a spontaneous outbreak of dancing from members of the audience.  Brilliant!
~ Lu Frith
For more band info free song downloads and more: www.theinternationalswingers.com
Photo Credit: photos by Dawn Laureen- All Rights Reserved