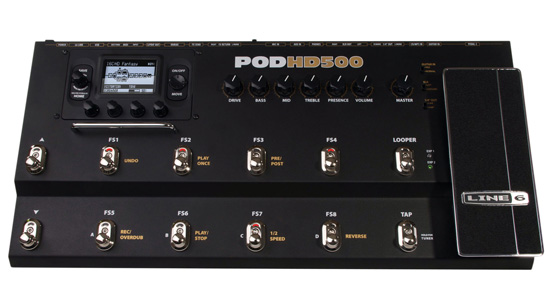 After a bit of contemplating, I decided to go with something closer to home for my first review! I've been using the Line6 POD HD500 for about 6 months now and while I always swore off digital products I don't think I will be looking back from this one! There's nothing I find myself wanting when using it – Live, studio, anything. For the price, there's nothing that comes close to what this tone factory
What if I told you there's a pedalboard that has any effect you can imagine and then some, more amps with cabinet and microphone options than you can shake a guitar at and more combos between the two than most average single pedalboards let alone most functional MIDI boards? You'd call me crazy! Well, I may be, but in this case, the Line6 POD delivers all of this and more!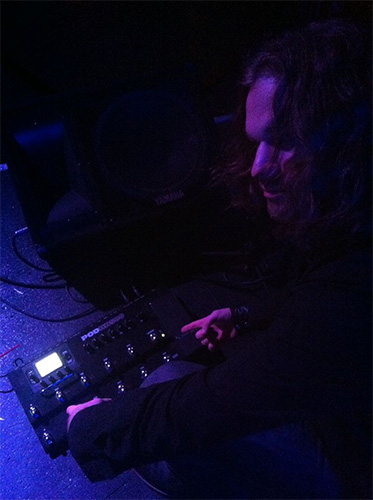 Lets kick it off with effects, shall we? There's at least 100 different effects and tricks. You can run up to 8 simultaneous effects of any type and even pick where and how they effect the chain! The expression pedal has a click for two settings – I use one as volume almost always, with the second as a wah or whammy effect. You can use it to control ANY effect parameter though, for example.. Playing live and the tempo is different than the record? Use a time parameter on your delay to keep it in time with the song! Cool, huh?
AMPS!! Oh man. I'm a Marshall fan, always have been and always will be. When I played with the Marshall JCM800 style sounds in the POD, with the right cab and mic tweaks (Which are BUILT in!!) I got a sound closer to what I wanted than any amp I've played besides the real thing. Everything down to the tube sag and voltage is modeled – It's not your average amp model with digitized sounds and thin waves.. This thing gets BIG.
Now, why use a digital board? Particularly here in Vegas, casino and lounge gigs are a popular and common way of making some cash while having a bit of fun doing cover tunes, however, a majority of these places can't have blaring Marshall stacks in there – There's a decibel limit! Nothing is more frustrating than your 50+ watt stack being turned to ½ of the first volume notch! With the POD, you go directly into the sound board and control how you want it to sound in your monitor YOUR way. The tone that comes through direct is just as warm as it would be through an amp, and you won't get yelled at by your soundguy! Recording at home? Do it at 3AM. No one will know, and not many will know you didn't record with an amp either! I've gotten many people thinking I recorded some tunes with a fully miked amp! Take it ANYwhere with some headphones for fun and easy practice. On your bus, backstage, in the bathroom. . .
So, you never play casinos, just rockin' shows at the local clubs and you've got your big wall of amp.. Run the POD in front of it. While I use the amp modeling portion myself through an Epiphone All-tube BC30 2x12 combo, you can run the POD solely as an effects processor in front of an amp. It's simple, no cables and daisy chains, no lights you might not get to see when that bright light faces down onto your board, and you can run it in any fashion – Guitar in and out to the amp or as a loop – Either way it is killer. I get a massive tube sound that rivals my old stack amp without the headache and hassle of heavy equipment. It's a new era in guitar tone – Some will fight it like I did but it really is a blessing. Things are going the right direction in the digital world and Line6 is really making it happen.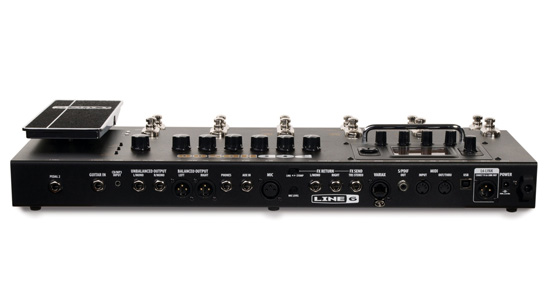 The short version? I'm gonna give star ratings for different categories (out of 5) and make an overall rating based on that, and the same for future reviews!
Sound Quality – 5/5
Functionality – 4.5/5
Ease of use – 3/5
Authenticity – 4.5/5
Fun Factor – 5/5
OVERALL – 4.4!
I personally give it a full 5/5, however, I've had 6 months to learn the unit. The ONLY downside to this BEAST is that it can take a little while to fully get down writing patches. Luckily there's AWESOME computer software that goes with it that makes it easy to work with!
Price-
You can get the POD HD500 at your favorite music stores for $499 usually. The other models (HD300 and HD400) are $299 and $399, respectively. For this price, this is a steal. I would expect something of this quality to be well over $1000 – Especially when you hear it! Go try one out! It might change your whole guitar world!
~ Jon Mills
*Editor's Note: You can catch Jon playing around the SouthWest with Roxy Gunn Project! Watch for dates in YOUR town! ~SL