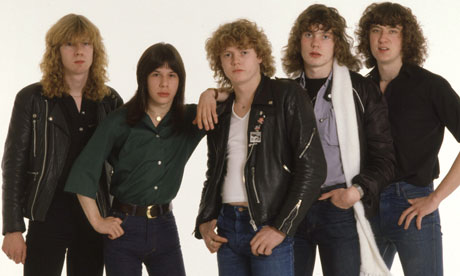 I can tell you right now. Without a doubt. By far. I have not listened to an album in my life as much as I have this one. It's my #1 favorite cd of all time. And I've had my copy since '94 when I was just 7. Last year I bought a 2nd copy off of Amazon, the 12 track re-release with the bonus tracks of Me and My Wine and the remix of Bringin' On the Heartbreak.
Now there's many different kinds of Def Leppard fans. Some only like the hits. Some only like Hysteria. Some only like the 1st 3 albums. Some like only Pyromania and Hysteria. And then there's a select group of fans like me who love everything they've done, or atleast 98% of it. I've loved them my entire life. Def Leppard's music is literally some of my very first memories. Def Leppard is the reason why I love music. And Def Leppard is what started my venture into singing when I was a wee lad.
Before I loved "heavy metal" or liked any heavy bands, something about High 'n Dry stood out to me instantly over Hysteria andAdrenalize. And it all begins with the #1 song of my life.
Let it Go.
Counting Me and my Wine, there are 11 tracks on High 'n Dry. And all 11 are absolutely everything they are and were supposed to be. All are perfect hard rock songs right at the height of the New Wave of British Heavy Metal, and the rock dominating the new decade (the much loved and adored, 1980's). Following Def Lep's 1st album, On Through the Night, and AC/DC's hugely massively successful Back in Black, Mutt Lange and Def Leppard were about to begin a marriage that was completely more than meant to be.
Mutt helped refine and strengthen these young little brits into a songwriting powerhouse and it starts on this album. Now listen. I am an AC/DC fan. And I very much believe Back in Black is a standard in rock n roll and certainly an essential in any music collection, and IS my favorite album by them. But what I truly believe, is that High 'n Dry took the Back in Black formula and gave it something that much better. Joe Elliot's voice is top notch. The band were still hungry and had something to prove after their debut not really making a dent the way they'd hoped. The riffs are outstanding. The solos are blazing and memorable. The drums are doing everything they should be. There's no overabundance of anything. The songs never get boring or are too long. They are all catchy in their own ways while never being too poppy, including Heartbreak.
I see this album to be the most consistent, solid, perfectly written and produced, hard rock borderline heavy metal album that has ever been made. Pyromania has forever overshadowed it as the "classic rock/metal album", but take that step back intoHigh 'n Dry. Especially if you're an Iron Maiden and AC/DC lover. At that time, Def Leppard took what those 2 bands were doing and made themselves fit directly in the middle and somehow seemingly got lost in the shuffle until they made Pyro. But they blended the elements of hard rock and heavy melodic metal and made an album that blows the roof off and can be compared to ANYthing put out in the 80's and stand directly with it. It's so severely underrated and undersold, and if you're somehow not familiar with it. You won't regret getting it. I'm not picking standout songs because the whole thing is a standout. Every song needs to be listened to and by the time it's over, it's ready to start back again and you'll be ready to hear it again.
Just before Def Leppard became known for pop production for hard rock and set the standard for bands to follow ( Scorpions,Motley Crue, Poison, etc)… there's this very raw but well written album that shouldn't be forgotten about. 32 years after the fact, it stands very strong and firm.

10/10
~  Marcus Miller