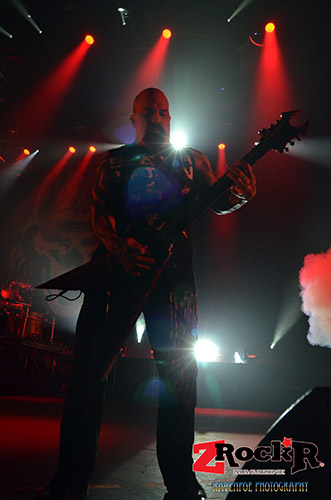 "Slayer! Slayer! Slayer!" you hear, with phones out, devil horns high, and the intensity of the air building up as you hear the marching drum intro of World Painted Blood and a giant curtain blocking the stage with Slayer's logo all over it.
And then... the riff... followed by Tom Araya screaming out: DISEASE SPREADING DEATH - ENTIRE POPULATION DIES! DEAD BEFORE YOU'RE BORN, MASSIVE SUICIDE! and the war begins with hundreds of bodies colliding into eachother; sweat, blood, and beer splattering everywhere. The drums from the returning Paul Bostaph blasting their way (into the boundaries of hell, hehe) like canon balls and machine guns with each snap of the classic "Slayer beat" and Gary Holt and Kerry King shredding everybody's god damn faces off, taking the "axe" literally.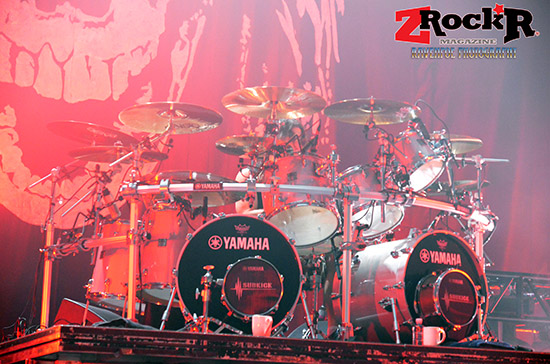 Song by song, Slayer annihilates menacingly with euphoric ease. I've seen it before, but it never gets old. When Tom Araya knows he's doing the devil's work and running this puppet show... and he looks at everybody with a great big smile. Knowing the devastation his music is causing, and how much his minions looking back at him are begging for more. And he gives it to them, every single time.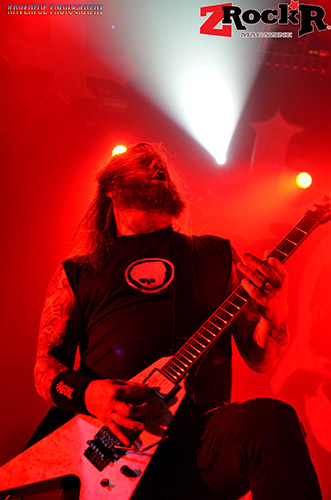 Most of the setlist was centered around the classics that are normally played. But I'd say the biggest surprise song of the night was Threshold (off of God Hates Us All). I'm a LITTLE shocked they didn't play Cult or anything off of the Christ Illusion album. And the omission of Hell Awaits.
The last 2 songs of the night, South of Heaven and Angel of Death, featured on the screens a video/picture collage tribute to Jeff Hanneman with a monster backdrop dedicated to him in the style of a Heineken label. The band said nothing relating to Jeff. They let the music do all the talking, and that's exactly all that needed to be done. Let the songs represent Jeff, because that IS who he was, and what he was about. That's his legacy. And that's what we will remember. The songs he wrote that changed the entire course of Metal history.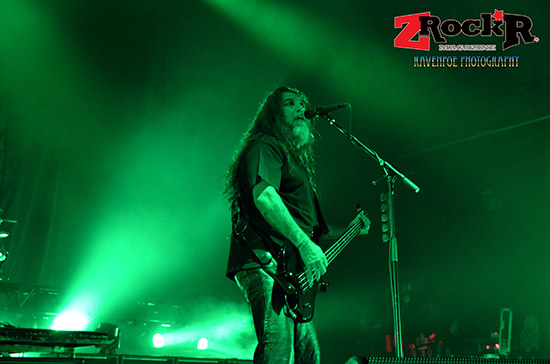 My 4th time seeing Slayer, and if it happens to be the last time I ever see them (I truly hope not)... I'm satisfied with what I saw. This was by far my most memorable experience and I loved every minute of it. There is nothing like a Slayer show, or Slayer fans. And I'm very proud to be a part of that. This is a legendary band who loves what they do, and they're the only ones that do it like they do. Period.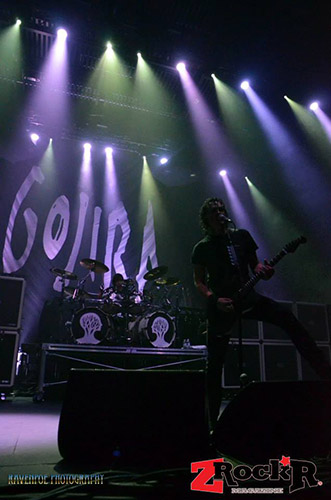 As for Gojira. Them being chosen as an opening band for Slayer is an EXCELLENT choice. Gojira, 5 albums in, are still growing and making waves with each album. They're an impressive band, and extremely heavy. Not death metal heavy. They're just... heavy as all fuck. I love their style. Love their vocals. Love the technicality within the heavy simplicity's that they do so very well. They are one of the few original bands in the scene right now and with each album they release, they're always a top 10-20 contender for the year. Amazing on record, and double amazing live.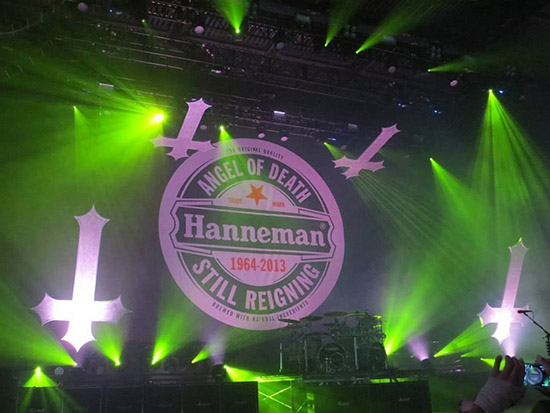 ~  Marcus Miller
PHOTO CREDIT:  Jason Fedor  ©2013 ZRockR Magazine/ Run For Cover Publications, LLC  also © Ravenpoe Photography  ALSO-   Hanneman Tribute pic by Marcus Miller  ©2013 ZRockR Magazine/ Run For Cover Publications, LLC