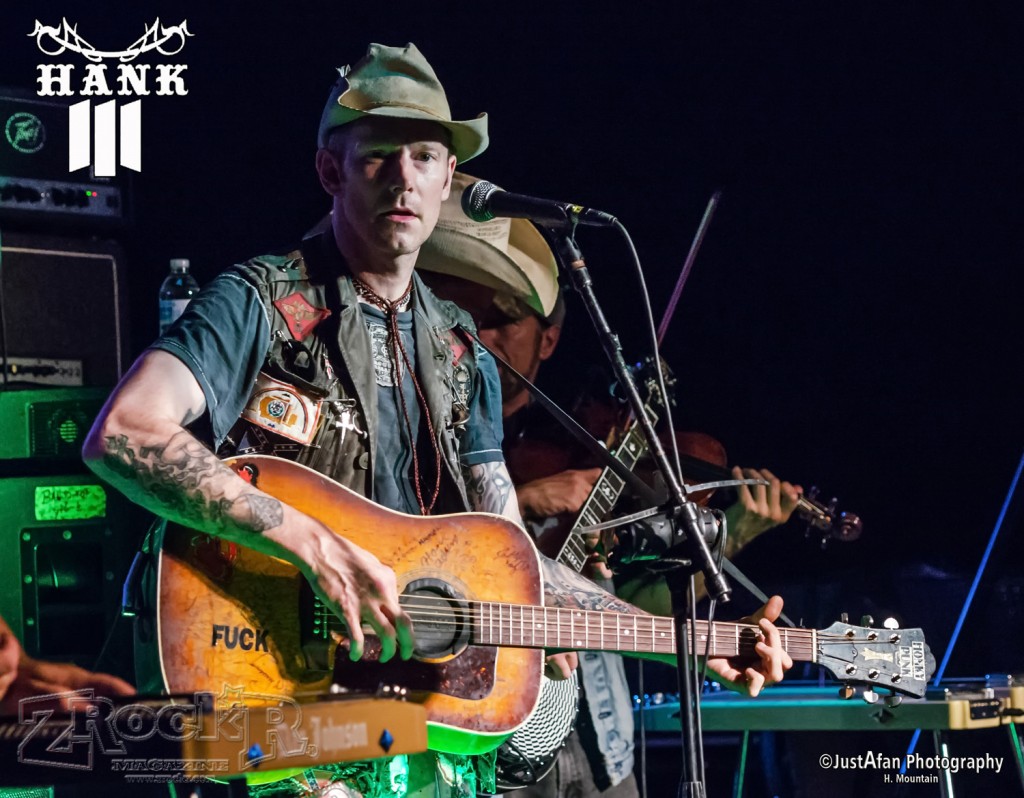 Not too many people physically represent a legacy of not just entertainment, but an icon of the entire 20th century.
Hank Williams the 3rd (aka Hank 3) literally carries on the tradition his grandfather, Hank Sr., began in the 1940's. Unfortunately his time was cut very short when he passed at age 29… but that's when the legendary status began. Hank Jr. picked back up and himself also became engraved in the culture of country music. But then came along Hank 3, who looks nearly identical to his grandpappy (like I said, he physically represents a legacy). And while Hank 3 doesn't seem to have as strong of a presence in the world of (country) music, that's most definitely been his decision.
Mr. Hellbilly Rebel himself, Hank 3 dabbles in various genres and does a fantastic job representing himself within all of them. He doesn't play by the rules at all and that's what makes him that much more respectable.
At LVCS, he packed this venue like I've NEVER seen it. From front to back and side to side, it was shoulder to shoulder. But over the progress of his 4 1/2 hour marathon show, you'd see less and less people; Until the end of the set, there were less than 30 people. But it's my job to tell you what happened between the shoulder to shoulder cattle farm to the vast desert emptiness.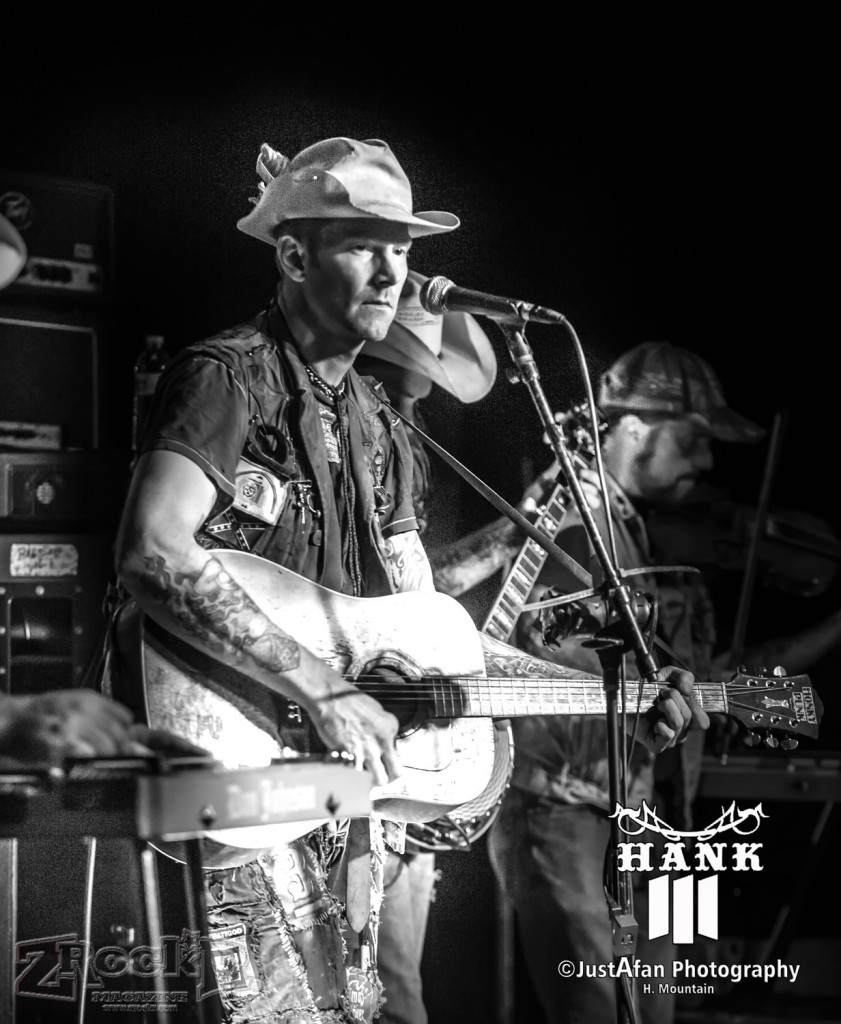 For a good 2 hours, Hank 3 performed much of his hokey pokey redneck country bumpkin good time ho-down selection, complete with banjos! Now clearly, that's what most of the crowd came for. I myself am not exactly a country music fan, but I do appreciate Hank Sr., and Hank 3's style of it. I wasn't at this show for the hell of it! But I was aware that there'd be some stuff more "my style" later on in the night. But aside from that, the country stuff… these fans knew these songs, and were most definitely into it; which made for a good time!
From there, Mr. Williams transitioned into his country-punk set. It was somewhat unusual to see punk done on an acoustic, but you never questioned the integrity of it because it was as punk as could be. And even more interesting with a classic stand up bass! This set only lasted around 30-45 minutes. Or seemed like it anyway.
Then… it got dark. It got eerie. The vibe changed. And at this point, more than half the crowd had left. Next thing you know, some of the doomiest, dirtiest, slow southern Sabbath-y riffs destroyed the venue for the next hour. I mean you could put this stuff up against ANY doom metal band, and then happen to mention to someone that it's Hank Williams the 3rd doing this and no way would they believe you. But it was, and is. It was awesome, and very memorable.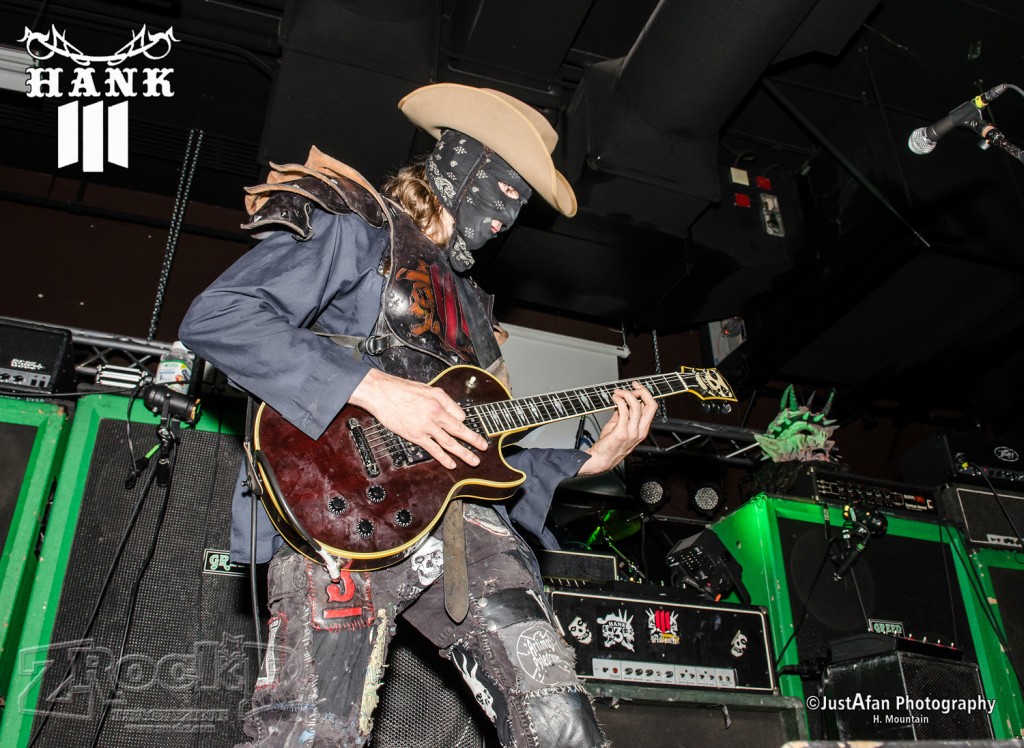 1 more set change. For the last hour of the show. I thought the last set was his metal part. I thought that was as heavy as it was going to get. But I was VERY wrong. For this last round, this is where the patient and brave stuck around for. We proceeded to get ripped apart, violently, by some ridiculously mostly instrumental technical death metal that would EASILY get confused with, AND give Gojira a run for their money. I joked that there's no longer a need to have a band anymore. Hank 3 has written all the riffs there is to write. There's no reason to create bands anymore because he's done it all. WELL. Including breakdowns. I mean this was by far the most interesting section of the night and it was well worth the wait. SO HEAVY!!!!!!!!!
What would a country-punk-metal show be without some rowdiness? You better believe there was a fight in the pit. And I almost joined in after watching this MORON act like an idiot, on complete purpose, for a good 30 minutes until finally someone had enough and did something about it. Which was a cherry on top in my book.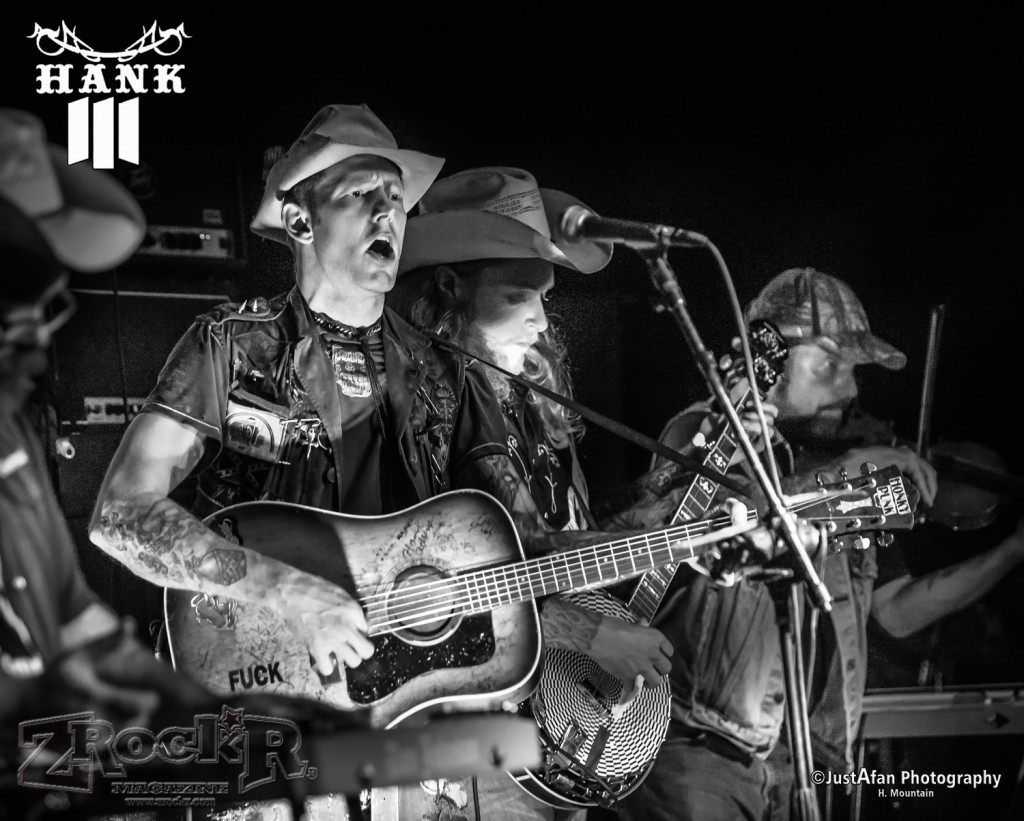 So let's break it down: Super Country, Acoustic Country Punk, Ultra Doom Metal, and Extreme Technical Death Metal. By 1 guy (and his awesome band), for 4 1/2 hours, with no breaks. It's an experience you need to experience. It needs to be had.
After the show was finally done and we were all picking up our brain matter and ears off the floor… he came down, and to the souls who had dared stay to the end (again, there wasn't much left at the end), and had a meet and greet. He listened to everybody and talked. He shook hands. took pictures. Signed autographs. A man of legacy, and respect. Ultimate. Who plays for 4 1/2 hours and STILL takes the time to talk to every single last person who wants to meet with him?
Hank 3.
PHOTO CREDITS:  Concert Photos by and  Courtesy of Harold Mountain of JustAfan Photography- used with permission © 2014 JustaFan Photography- all rights reserved
Photo of Marcus with Hank 3 courtesy of Marcus Miller and photographed by Justin Case