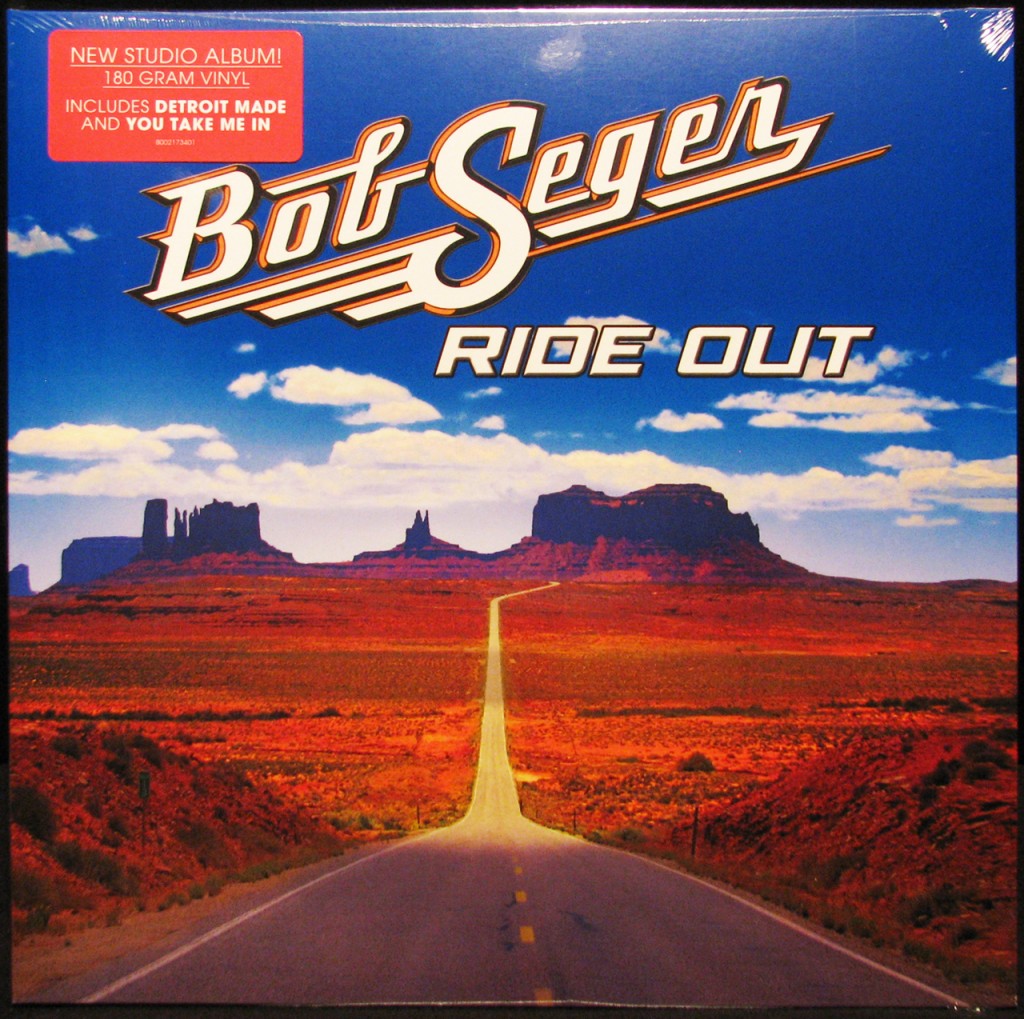 Over the years, Detroit's Bob Seger has been one of the longest lasting and endearing names in classic rock and pop. From his early genesis in the latter half of the 1960s to first making it big with the Silver Bullet Band in the late 1970s, his music has stood the test of time and then some. If you live in the civilized world, you have heard Bob Seger music at some point; his influence and impact on the world of music (and pop culture at large) is undeniably strong.
In recent years, Seger's studio output has decreased significantly; he has taken much longer to finish and release albums, often taking multiple years to finish a record. Ride Out is Seger's first studio album since 2006's Face the Promise, a wait of eight years between records (and there was an even longer gap between Face the Promise and its predecessor). Fortunately, when these albums have finally gotten released, they have done a solid job proving that Seger is still in the game, and every bit the songwriter that he once was. The man who gave us classics like Turn the Page, Night Moves, Against the Wind, Old Time Rock and Roll, Hollywood Nights, Shakedown, and Like a Rock is definitely still in the game, even if he is largely trying his hand at different sounds.
Needless to say, Seger fans have been eagerly awaiting the latest studio effort. Ride Out has arrived at last, and this fan finally has his hands on a copy. How does Seger's newest record measure up?
In interviews, Seger has claimed that with Ride Out, he was trying to create an effort that was substantially different from anything he had recorded in the past – the fact that four tracks on the album are covers, something Seger generally avoids, should say something in that regard. Do these things mean that this is a good album, though?
Let me start by saying that it is not likely that Ride Out is an album that will immediately win you over in the first listen. The Silver Bullet Band this is not. However, for what it is, this is a respectable collection of adult contemporary songs that runs the gamut from pop-rock to more country and folk inspired music. It is not what old school Seger fans might be looking for, but those willing to listen with an open mind will be pleasantly surprised by what they find here.
Kicking things off is Detroit Made. Ironically, despite being a cover, this is the closest thing on the album you are going to find to classic, vintage Silver Bullet Band era Seger, It is a solid pop rocker that starts the album in fine form. Hey Gypsy slows things down a bit, taking on something of a rockabilly-inspired sound, making it one of the more memorable tunes here; not surprisingly it is one that Seger has spoken favorably about in interviews regarding the album. Another one of the real surprises on the album is the cover of the Devil's Right Hand, a country ballad of sorts dealing with guns owned by the storyteller, and his mother's words. Seger has also stated that he based this version of the song primarily upon the Waylon Jennings version; Jennings is someone Seger strongly admired over the years. With backing instrumentation that sounds like it belongs in an 80s synth pop song, the title track proves to be one of the stranger tracks on the album, yet still appealing in its own way. The first half of the album closes out with Adam and Eve, a cover which is a duet between Seger and a female vocalist. A strange hybrid of country, folk, and gloomy sounds alike, dealing with the titular characters, it definitely leaves an impact on the listener!
The second half of the album is started by California Stars, originally written and performed by Woodie Guthrie several decades ago, but is a song that has been revisited by many an artist over the years. Seger definitely works his magic on this tune; the horn section used here gives it a sound all the more distinctive. It's Your World is another surprisingly memorable song, gritty and down to earth, dealing with the problems of the day. In this fan's eyes it is one of the real stand outs here. Things slow down for the latter three songs on the album and it tends to run out of steam here, though the orchestration on closing track Gates of Eden helps it to stand out and close things on a fairly high note.
The album is only 10 songs and 35 minutes long, and as such may leave the listener wanting more. There is a deluxe edition available at some retailers with an additional three songs, and another special edition available at Target stores that has the three extra songs from the deluxe edition plus two additional bonus songs unavailable elsewhere. Personally, I feel some of the bonus tracks from the deluxe edition would have worked better on the album than some of the cuts that made the final release, including the latter few ballads on the record.
After having listened to Ride Out, I am definitely a bit torn between extremes and am not totally sure how best to sum up my feelings; when Seger said he was trying to create something different sounding from his past works, he has succeeded. But for better or for worse?
I will put it this way – those seeking the classic Bob Seger and the Silver Bullet Band sound are not going to find it here. If that is the kind of album you are looking for, stick to your old albums and greatest hits CDs. It is a work that could definitely be more classified along the lines of adult contemporary with its diverse sounds, including many country and folk style songs. Those willing to listen with an open mind may enjoy what they hear.
YES, I am a bigger fan of Seger's classic material than what can be heard on this album. Despite that, I admire him for taking musical risks and chances on different genres and sounds. While Ride Out is not an album that immediately won me over, it has certainly grown on me and has more strengths than weaknesses. Those who give it a chance may be pleasantly surprised, but old-school Silver Bullet Band fans will want to listen before they buy. I am giving the album a modest recommendation overall.