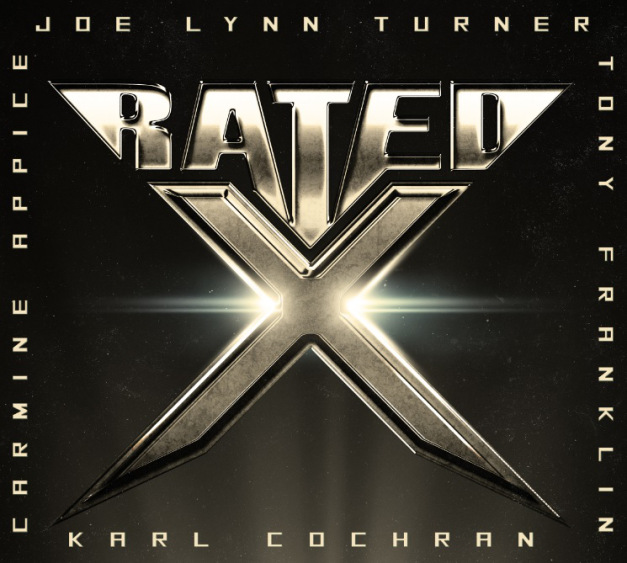 It seems like every day in today's world, there is another supergroup popping up, combining the talents of people from multiple great bands of the past. They come up around every corner, often with hit and miss results. Many of these groups make the all too common mistake of simply mimicking modern/alternative hard rock sounds and come off as bland and generic, while many others have been able to successfully fuse modern and classic sounds, making for some of the best listening of the day. Upon hearing about the Rated X album last year, it became one of my most eagerly awaited releases.
Rated X features Joe Lynn Turner on vocals, best known for being the singer in Rainbow in the early 1980s following the departure of Ronnie James Dio, as well as for serving a short stint in Deep Purple in the late 1980s/early 1990s, spawning one album. On drums is the legendary Carmine Appice, who has been a rock drummer for half a century, with a career that has seen him in bands like Vanilla Fudge, Cactus, King Kobra, and Ozzy Osbourne's band. Bassist Tony Franklin previously played in the Firm and Blue Murder, and is also in Kenny Wayne Shepherd's band. Guitarist Karl Cochran has collaborated with countless artists over the years, remaining respected by fans and fellow musicians alike. Furthermore, many of these musicians have played in other bands together before; Franklin and Appice were together in the classic Blue Murder lineup, and Turner and Appice were together in Mother's Army in the 1990s.
While I will be the first to admit I was a bit apprehensive when I heard the first tracks from this album that were released as videos online, it only took one listen to the actual album to win me over, and it has grown on me further ever since. One of the best things about the Rated X album is that it is a nice balance between a throwback and modern sounds alike. Nearly every major band these musicians have played in is echoed in the sounds on several tracks on the record. There are shades of Rainbow, Deep Purple, and Blue Murder throughout, but at no point does it feel like the artists in question are trying to mimic or copy those old recordings in an attempt to cling to glory. They have given fans the best of both worlds here.
Another thing worth mentioning here is the sheer talent of the members and how well it all holds up today. Joe Lynn Turner, even into his 60s, still has a great, distinctive rock and roll voice that has not degraded like so many of his peers have. Furthermore, Carmine Appice is still an absolute monster on the drums; pushing 70 his still plays with a ferocity that far surpasses most men half his age. Rounding out the group are Tony Franklin, a seriously underrated musician who has made many contributions to assorted groups over the years, and the equally underrated but no less impressive Karl Cochran.
With this release, some of the most iconic classic hard rock musicians have proven that they are still relevant and capable of creating great music. Here is hoping the first release from Rated X is not also the last!