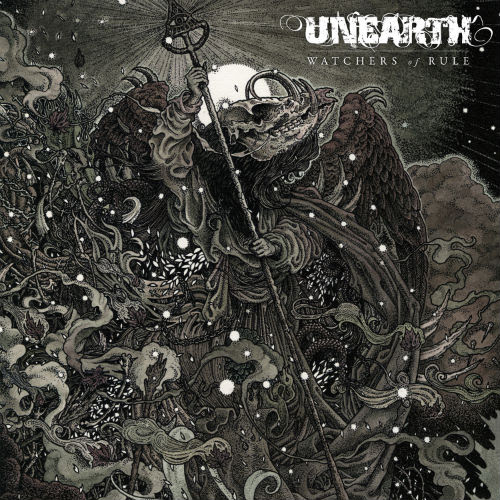 Unearth is a band that's never strayed from their path of metalcore destruction.
What they have done is perfected their craft through time and just keep getting better, and their songwriting improves with each album.
More technical, more groovy, more straightforward, more bad ass, more melodic, more fast, and more heavy. They pull it off with ease every time.
In a genre that they helped create and have now outlasted many of their once very strong peers… they now stand at the very top of the heap alongside Killswitch Engage.
Unfortunately, As I Lay Dying, Bleeding Through, Chimaira, God Forbid, and even Shadows Fall have fallen victim to the current state of the music business (or in As I Lay Dying's case, extreme legal issues). So the competition for Unearth has dropped massively and given them the chance to completely rise to the occasion to claim a throne they deserve. It only helps that their music keeps getting better along the way.
The one problem Unearth has always had is drummer problems, but it seems like they may FINALLY have someone who can stay behind the kit fittingly, Mr. Nick Pierce.
In any Unearth album, you can expect plenty of breakdowns, thrash beats, raw aggression, blazing sweeping solos from Ken Susi, and very little melodic singing (if any), but plenty of melodic riffs. This album is no different in that regard.
The song structures and the placements and usage of the things that Unearth do are what keeps them on the continued right path. As stated before, they don't stray from what they do, but what they do… they do EXTREMELY well, and that's what's kept them at the top of the heap.
6 albums into their career, I've never been disappointed. I've only seen them live twice, and both times were incredible. I hope they don't fall victim like their peers. Out of that late 90's and early 2000's period, we need a band like Unearth to continue waving the flag of METAL like they do.
I'm purposely not naming any songs because there's no need to. The album is very strong from start to finish (including the cover of Slayer's "Spirit in Black"). I recommend the entire thing. If you're an Unearth fan, I don't expect you to be disappointed. If you've never heard Unearth, there's absolutely no issue in starting with Watchers of Rule. This one and the last album, Darkness in the Light, are my favorites. Many might say 2004's The Oncoming Storm, but I disagree. While that album was perfect for that time, I simply can't say that that's their best work when Watchers of Rule exists.
8/10