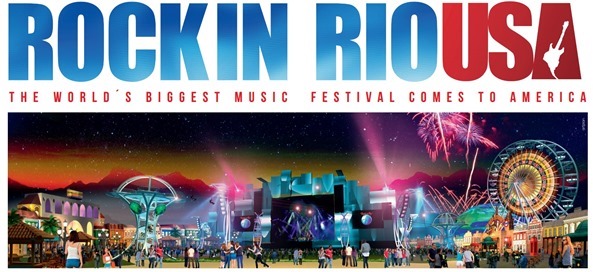 Want to go to Rock in Rio this weekend? We will be there!  Oh, so you think it isn't affordable? THINK AGAIN! We want to make sure you catch all the action and Benoic Ventures, an amazing travel company here in Vegas has your weekend and day passes to THE Festival of the year in the Vegas Valley! Give them a call at 702.410.2668 and tell them you want your pass for the weekend and that you found out about it from ZRock'R Magazine and LV Rocks Radio and you will be set to go!
Tickets for the Rock weekend with bands such as Coheed and Cambria, No Doubt, Sepultura ( featuring Steve Vai on guitar) and METALLICA are just $150 for the weekend! (the other guys want at least $298, but we have the hook up for you!) Don't miss out! Call Benoic Ventures TODAY and get your pass into an unforgettable weekend of some of the best hard rock and metal bands out there! May 8 and 9 are the dates for the rock weekend- that is THIS WEEKEND!  Next weekend May 15 and 16, will be all pop with people like Bruno Mars, John Legend and Taylor Swift and you can get tickets for the Pop weekend for just $180 for BOTH days!  Again, if you want to go, you have to call 702.410.2668, mention ZRock'R Magazine  and you will be set to rock (or dance) your ass off!

The line up is amazing to say the least!  Check this out!  Just to give you an idea of who is going to be there:
FOR THE ROCK WEEKEND – Announced Line Up (Just to name a few… )
May 8th  ( Doors open: 3:00pm! )
MAIN STAGE 
No Doubt 
Maná 
The Pretty Reckless
SUNSET STAGE 
Foster The People 
Gary Clark Jr. 
Bleachers 
Saints of Valory
ROCK STREET BRAZIL 
Pepeu Gomes 
SpokFrevo Orquestra 
Leo Gandelman
May 9th 
MAIN STAGE 
Metallica 
Linkin Park 
Rise Against 
Hollywood Undead
SUNSET STAGE 
Deftones 
Sepultura Ft. Steve Vai 
Coheed and Cambria 
Of Mice & Men
ROCK STREET BRAZIL 
Simoninha feat. Toni Garrido 
Marcos Valle 
Bossacucanova
May 8th & 9th 
ROCK STREET USA 
Miguel Colker 
Bruno Bastos 
Shaun Evaristo
ROCK STREET UK 
Stone The Beetles 
Terra Celta 
Lisa Lottie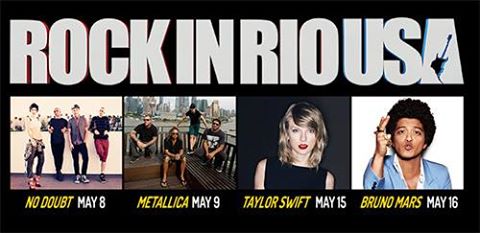 FOR THE POP WEEKEND – Announced Line Up (Just to name a few…):
May 15th 
MAIN STAGE 
Taylor Swift 
Ed Sheeran
May 16th 
MAIN STAGE 
Bruno Mars
SUNSET STAGE 
John legend 
Joss Stone
May 15th & 16th 
ROCK STREET UK 
Stone The Beetles 
Terra Celta 
Lisa Lottie
ROCK STREET BRAZIL 
SpokFrevo Orquestra 
Leo Gandelman 
Bossacucanova
Benoic Ventures also have special packages for the weekend for hotel, transportation and extreme VIP packages!  More info at www.benoic.com and scroll down to Rock in Rio and click on the banner to take you to the page with all the details on those special packages you can only get from them!
Listen to ZRock'R Magazine LIVE!  Thursday night for your chance to win a weekend pass for THIS WEEKEND to Rock in Rio!  9pm PST on LVRocks.com!
( If you want to go to the Pop weekend,  Listen to Pop It Off with Lis on Saturday at 3pm PST on LVRocks.com for your chance to win a pair of tickets to next weekend's Rock (Pop) in Rio! )