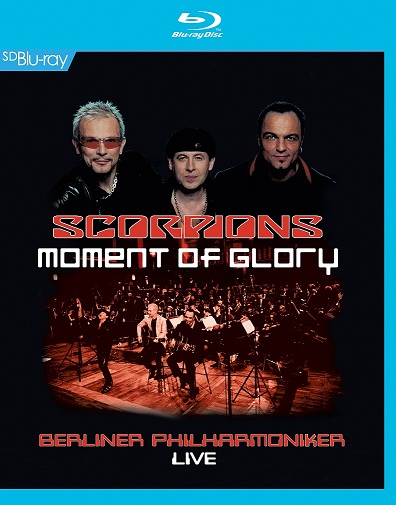 Rock and orchestra experiments are nothing new; it seems like something that continues to be attempted over the years by assorted acts in various genres. The Scorpions surprised the world in 2000 when they recorded Moment of Glory with the Berlin Philharmonic Orchestra, rerecording and revisiting some classic tunes with classical style accompaniment; many of the revisited songs proved to be surprisingly effective. The band took their show on the road, and one of these gigs was recorded and given a home video release. Eagle Rock has now released this show, recorded in June 2000, on SD Blu-ray Disc. The band, of course, features long time members Klaus Meine, Rudolf Schenker, and Mattias Jabs, joined by bassist Ralph Rieckermann and drummer James Kottak (formerly of Kingdom Come). Christian Kolonovits conducts the orchestra.
Eagle Rock has begun doing "SD Blu-ray" releases recently, which may seem like something of a misnomer at first glance. However, there are a few things to take into consideration with the label doing these releases that may not be immediately obvious:
-You cannot do an HD video release for something that was not shot in HD (for example, shot on video tape rather than on film or digitally). However, Blu-ray Disc is an uncompressed format, which still at least helps to alleviate many of the anomalies associated with a compressed DVD presentation (artifacting, aliasing, etc.) even if the presentation remains standard definition in terms of video quality.
-Blu-ray Disc allows for an uncompressed audio track, which is not possible on a compressed video format like DVD.
-This marks a major step towards Blu-ray Disc becoming the standard for the home video industry.
Essentially, this marks a concert the Scorpions did in the wake of the Moment of Glory studio album release, accompanied by a full orchestra and (on select tracks) a children's choir. The majority of the tracks on here are reworkings of older Scorpions songs, given a radical transformation through the band playing in unison with an orchestra, although a few new tracks that were introduced on the studio album are played here as well, including the title track. Special guests include Lyn Liechty, 1990s Genesis vocalist Ray Wilson, Zucchero, and several others.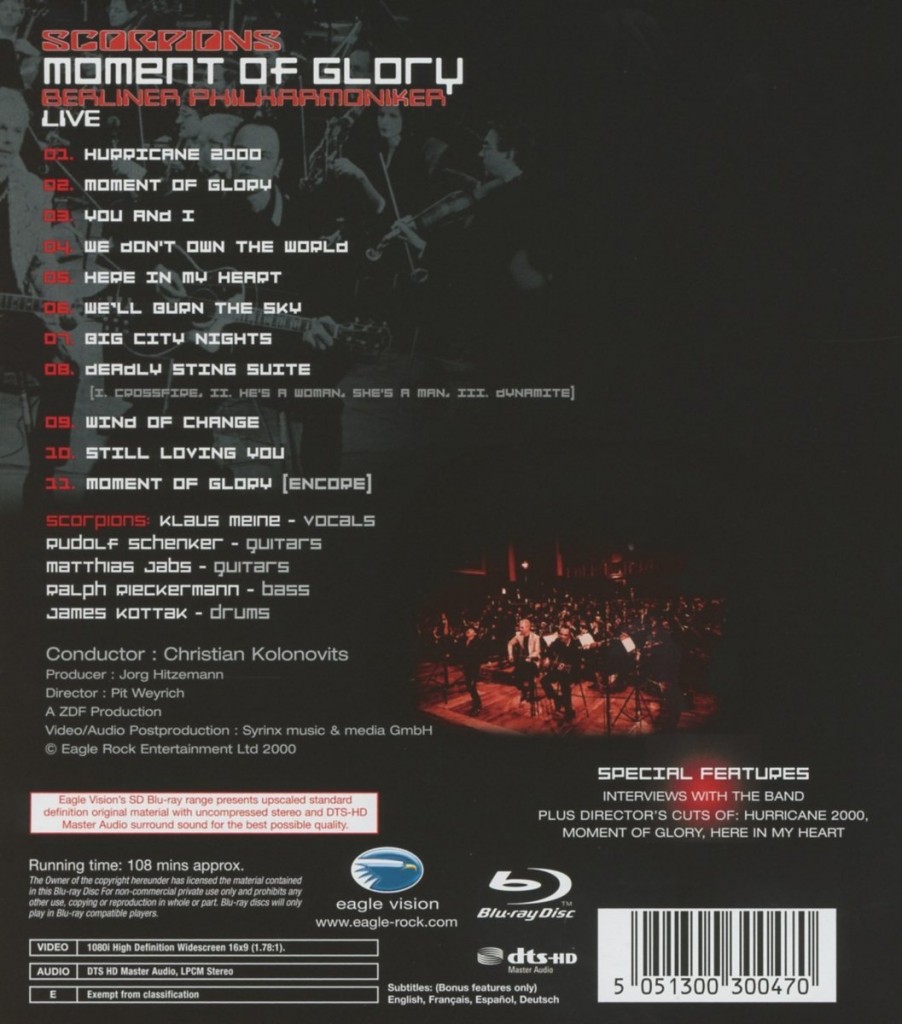 Let me start by saying that if you are a casual Scorps fan or you only know a few of the biggest hits, this is definitely NOT the home video release for you. This is a concert for the established fanbase, and it definitely veers away from the band's traditional style of performance. While the show is not "boring" by any stretch of the imagination, it is more intimate and less "wild" on stage than the band is known for being when performing in their traditional straight-up rock style. Newbies to the band will be left tilting their heads in confusion on this disc, though age-old Scorps fans will love seeing the band trying their hand at something new and unusual.
The performance here makes full use of the orchestral arrangements and this brings a new and interesting musical sound to the classic hits. You will see for yourself that the band's experiment here definitely pays off musically when you watch and listen to this presentation. "Hurricane 2000," the band's orchestral reworking of "Rock You Like a Hurricane," kicks off this show in the finest form, reinventing one of the band's biggest hits in a powerful new format. Throughout the evening, the group is even accompanied by a children's choir on some tracks, and other assorted guest stars. It is more intimate than a traditional Scorpions show, and it is likely the established fanbase is going to like what they see and hear here for the duration of the 90 minute performance.
Unfortunately, the video quality on this disc is absolutely atrocious. I did not expect something called "SD Blu-ray" to look razor sharp and like the best of what HD has to offer, but here we have a dull presentation that is riddled with artifacts and aliasing, particularly in the long shots. Some close-up and overhead shots look very good, but overall there are more faults than qualities with the visual aspect of this disc; presenting it on Blu-ray should have done away at least with the anomalies. Audio fares better and there are no substantial complaints in that department.
One major complaint with the disc, however, is the lack of English subtitles when Klaus Meine is addressing the audience. He speaks in German to them, as this is a show in Germany. How they could not include subtitles for these portions of the show is beyond me; it does get tedious listening to him talk in a foreign language and having no idea what he is saying during these passages.
Bonus features on the disc consist of an interview with the band and three music videos. The bonus material is pretty thin here, though fans will definitely want to watch it all at least once.
Should you buy this Moment of Glory live disc? That is a tough question. Die-hard fans of the band who dug this experiment on the studio album will definitely want to see it live on a stage, but the poor video quality derails it. Similarly, more casual fans of the group are not going to enjoy the more intimate and experimental nature of the show. So whether or not you should buy this disc depends on who you are. Get it if you are a die-hard Scorpions fan or completist. If you are anyone else, a rental will suffice.