As half of the sister duo fronting Heart, Ann Wilson has one of the most unmistakable voices in rock and roll. When one of those classic songs comes on the radio, you instantly know who is singing it, and rightfully so. Over the years, Ann's talents have not been relegated to Heart alone, and with her new side project/tour, The Ann Wilson Thing, she aims to show audiences a completely different musical side to herself than fans would get on a Heart album.
The first The Ann Wilson Thing release is the #1 EP, released digitally in September. The release has been out for nearly two months as of the writing of this review, but this fan missed it on its initial release. Having just heard about it, and being someone who always has to go back and check out solo albums and/or side projects from Heart members, I knew that this was something I had to hear.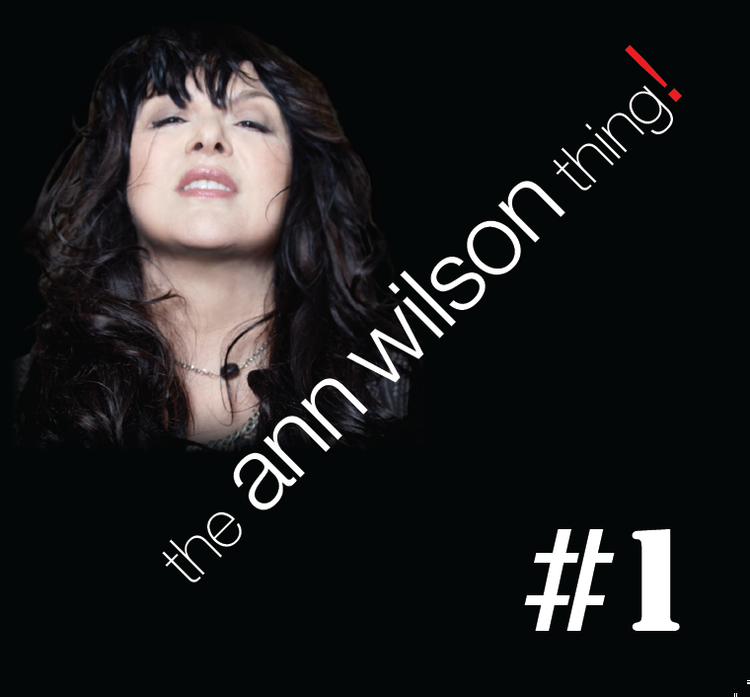 For The Ann Wilson Thing #1 EP, the backing band for the tracks is comprised of Craig Bartock, Dan Rothchild, Chris Joyner, and Ben Smith. In other words, basically the musicians who comprise the current version of Heart. Ann's sister Nancy Wilson guests on one of the tracks as well.
This EP consists of a mere four songs, but the question on any fan's mind is as to whether or not they are worth taking the time to listen to. It is interesting to note that the majority of the songs here are covers. Likewise, even though the EP's players are all Heart members, the sound here is drastically different, with a more mature, almost adult contemporary sound, featuring jazzy and bluesy elements throughout. Will you want to give this EP from The Ann Wilson Thing a listen? And what can you expect?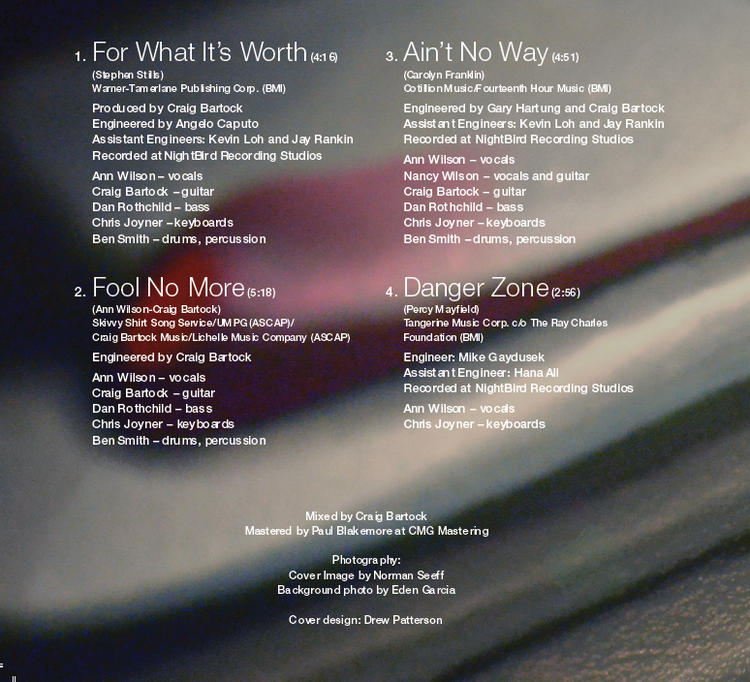 Okay, let us get the bad news out of the way first – the cover of Buffalo Springfield's "For What It's worth" is terrible. This feels like an attempt to reinvent the song as a sort of jazz/big band arrangement, and it is completely stripped of the simple, low key nature of the original, that made it so effective a protest anthem. I am all for attempts at reinventing a song, but this opening cut is a disaster and serves more to butcher the song than benefit it.
Fortunately, that opening blunder is really the only major problem on this EP. "Fool No More," the lone song on the EP co-written by Ann herself, is by far its strongest, with a mature, bluesy feel throughout; the songwriting and performance alike here are brilliant. The fact that the song is not likely going to be a bigger hit is absolutely criminal. "Ain't No Way" is an Aretha Franklin cover, and a solid reinvention of the classic Motown anthem. Unlike the EP's first track, reinventing this track with a full band and a bluesy arrangement works surprisingly well. Nancy Wilson guests on guitar and backing vocals on this one as well. Closing out the EP is a cover of Ray Charles' "Danger Zone," which is noticeably more low key and stripped down than the rest of the EP; this is just Ann with a keyboard player and nothing more. The vocals have a strange, almost lo-fi feel to them, likely deliberate to make this sound like an older recording. Somehow, it works and wins the listener over.
Aside from one dud, Ann Wilson has proven herself with this EP; there is definitely more to her than just Heart music! If you are a fan of Ann and/or Heart, you owe it to yourself to give this EP a listen at least once. Just do not come in here expecting "The New Heart Album."