Black Sabbath is on what they claim is their "farewell" tour, and that plans to record an album to follow up 2013's 13 have been aborted.
But the band recently surprised fans with the announcement that there would be a new CD sold only at their farewell tour shows, comprised of unreleased songs from the 13 sessions, and live tracks from the recent tour. Having been disappointed by the announcement that the group would not be recording a new album's worth of material, this news of a new release was at least somewhat relieving. At least there would be SOME sort of new Black Sabbath content.
The End EP is comprised of four tracks that the band recorded during the 13 sessions, while the other four are live songs that were recorded on the tour dates the band did around the world in 2013 and 2014. All tracks feature classic Black Sabbath members Ozzy Osbourne, Tony Iommi, and Geezer Butler.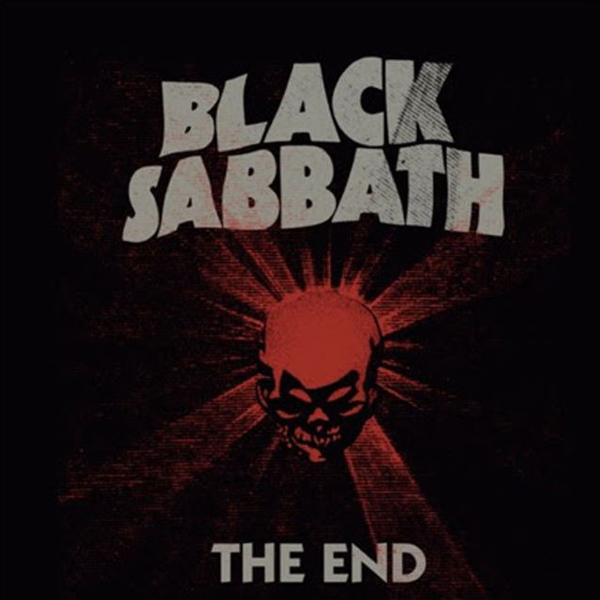 The four studio tracks feature drummer Brad Wilk, best known for his work with Rage Against the Machine and Audioslave; it was his drumming you heard on the 13 album. The new studio tracks that appear here are "Season of the Dead," "Cry All Night," "Take Me Home," and "Isolated Man." All of these tracks are solid, though not exactly spectacular; for the most part they have more in common with Ozzy Osbourne solo material than classic Sabbath. That said, they are absolutely still worth listening to for fans, even though the best material from the 13 sessions was what made it on the final record.
The four live tracks feature Tommy Clufetos on drums; he is best known for playing drums in Osbourne's solo band. Keyboardist Adam Wakeman also appears on these cuts; he is the son of legendary Yes keyboardist Rick Wakeman (who appeared on some of Sabbath's vintage records). The live tracks on here are versions of "God is Dead?," "Under the Sun," "End of the Beginning," and "Age of Reason." It is disappointing that all but one of these are songs from 13; this fan was hoping to see some more live cuts of classic Sabbath tunes make the cut. Fortunately the performances are good and certainly do justice to the material on a live stage.
You have a nice mixture of unreleased 13 sessions cuts on this EP, as well as live versions of songs, most of which originally appeared on 13. That said, it is only being sold (so far) at the band's live farewell tour shows, and there is not much here that will appeal to anyone except the most die-hard of Black Sabbath fans. If you are a big fan, this one is absolutely worth adding to your collection, but casual fans can pass.
https://www.youtube.com/watch?v=FN28QrPttUQ