As a long time concertgoer of the Sin City Sinners, this fan sorely misses the days when Todd Kerns fronted the band and would do his thing on stage out here in Vegas multiple times a week. When Kerns parted ways to become the bass player in Slash's band, sightings of him out here in his place of residence became far less common. A shame, because Kerns is definitely one of the greatest and most underrated talents in the music world today. There is more to him than just being "Slash's bass player."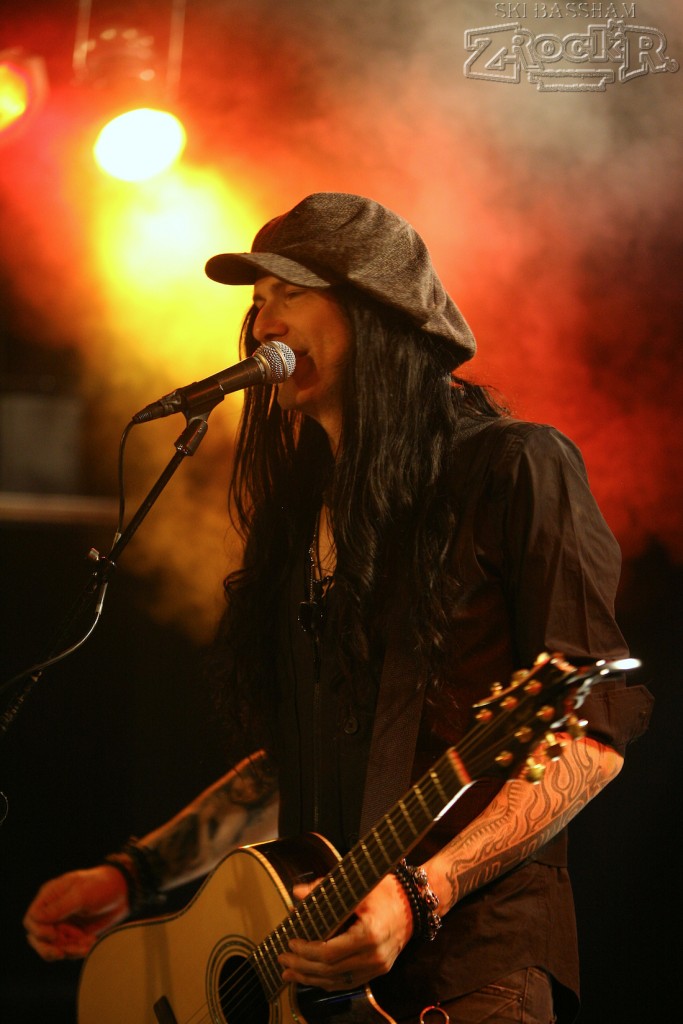 In addition to his talents with the Sinners and Slash's band, Kerns also played for years in the band Age of Electric, and has recorded a number of solo albums and side projects. The crowd that Vamp'd drew in for this gig is proof that Kerns has a massive fanbase, and no shortage of fans who love him – this one included! The promise of guest stars only further built up the anticipation for the evening.
Two sets came before Kerns took the stage. The first was from another Sin City Sinners alum, Zachary Throne. Throne is not only a self-trained musician with experience in no shortage of bands, but also an experienced actor and voiceover artist, who has entertained people in countless productions. He is currently working on a solo album, and gave the fans a set that included both originals from his forthcoming record, as well as some unexpected covers, which included an Eagles deep cut in tribute to the late Glenn Frey, and even a cover of the theme song to The Jeffersons! You never quite know what to expect from Mr. Throne, but that is not a bad thing!
The second set was from Anthony Stasi. I will be the first to admit that I had no knowledge of this guy coming into the show, but the spoken intro prior to his set stated that those who had not heard of him would be fans after his set. His power-pop flavored acoustic set was a breath of fresh air, and had a nice intimate sound to it throughout the entire time he was on the stage. It was a nice build up to the climax of the evening, and one that did not seem to disappoint the building crowd!
And then, of course, came what everyone was hoping for – Mr. Kerns himself! Largely an acoustic driven night, it managed to feel intimate despite the massive crowd of people assembled. What followed was performances of many songs from his career, including Age of Electric, Sin City Sinners, solo material from his Borrowing Trouble and Near Life Experience releases, collaborations, and covers alike. The show lasted for quite some time, but there was not one moment of boredom, and this was further contributed to with the collaborations of numerous guests. The fact that Kerns has a sense of humor and was cracking jokes throughout, along with some unexpected, "on the spot" covers made this gig all the more entertaining to the audience.
In addition to his acoustic guitar, Kerns even switched over to ukulele for a few tunes as well. An unpredictable setlist where one had no idea what was coming next made this all the more interesting and entertaining an evening. Guests Kerns jammed with included some promising young music students who he had nothing but good things to say about, and who certainly put on fantastic performances in their own rights.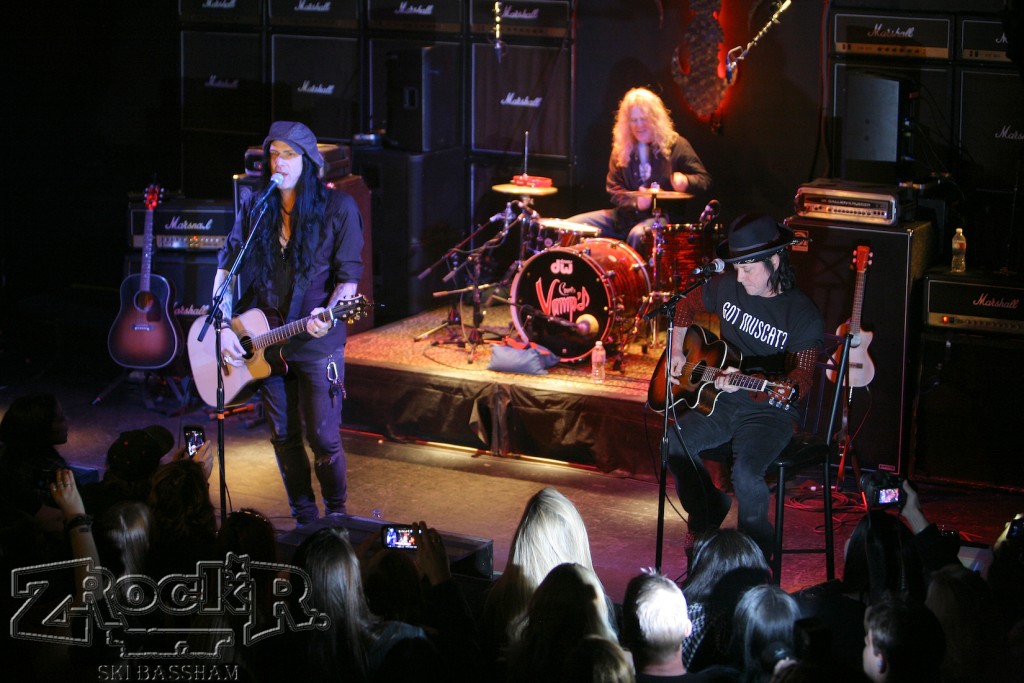 A major highlight was a reunion of the "classic" Sin City Sinners lineup, with Kerns teaming up with Brent Muscat and Rob Cournoyer (this was all of the members from the classic Exile on Fremont Street Sinners lineup sans Michael "Doc" Ellis). Later moments of the show even featured Kerns teaming up with Slash bandmate Frank Sidoris, and Kerns' longtime collaborator Reed Shimozawa, with whom he will be releasing an album. Sadly, Slash bandmate Brent Fitz did not make an appearance despite his name appearing on promotions for the gig, but this did not stop it from being a fantastic, intimate night of acoustic driven rock and ballads.
Todd Kerns has never failed to please, and this night was a brilliant showcase displaying what this man is truly capable of. The guests only added to an already excellent experience. Should you have an opportunity to see Kerns in an intimate setting like this, do not pass it up.
PHOTO CREDIT: Photos by Ski Bassham for ZRock'R Magazine- ©ZRock'R Entertainment, LLC - ALL RIGHTS RESERVED