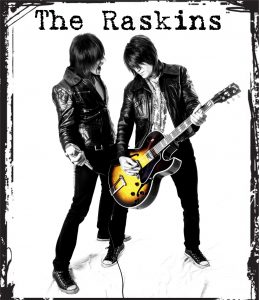 One of the most promising up-and-coming rock bands, the Raskins – led by the brother duo of Logan and Roger Raskin – are set to open almost a full month of U.S. dates for , Ted Nugent (dubbed The Sonic Baptizim Tour, and beginning July 1st in Phoenix, and wrapping up July 24th in Atlanta).
Thus far, the Raskins accomplishments have been very impressive:
Scoring a single in the Top 20 Billboard radio charts.
A Top 5 Billboard Heatseekers album sales.
Selling thousands of CD's since 2014.
The Raskins are currently working hard on their second album at Henson Studios, with French producer/engineer Nico Essig (Coldplay, Paul McCartney, the Goo Goo Dolls), as well as producer Brian Virtue (30 Seconds to Mars, Jane's Addiction, Kiss), and will also be issuing a new song "Never Too Late" to be released right before their summer tour (released on MIRAL Records). "Can't think of a better way to release our new single,"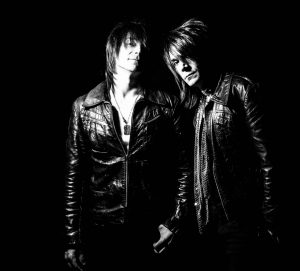 says Logan about the upcoming dates with the Nuge. "It's so wild to think that the Raskins get a chance to tour with such a rock icon as Ted Nugent," adds Roger. "Two of our favorite rock songs of all time are of course 'Cat Scratch Fever' and 'Stranglehold'."
The band will also be adding a few new songs from the upcoming album into the setlist for this incredible tour with Ted Nugent. Joining Logan and Roger (who handle vocals and guitar/vocals respectively), will be Jet Lopez (guitars), Michael Reynoso (bass/vocals), and Troy Patrick Farrell ("the animal drummer").
After the Raskins finished up a 70 show run with Motley Crue on their final tour, the band came home and went straight into writing mode for the album. The brothers ended up writing and recording about 40 songs – 12 of which ended up making the cut for the new record.
The Raskins on tour with Ted Nugent, on The Sonic Baptizim Tour 2016:
Fri. July 1st Phoenix, AZ The Celebrity Theater
Sat. July 2nd Pasadena, CA The Rose
Sun. July 3rd Beverly Hills, CA Saban Theatre
Tue. July 5th San Juan Capistrano, CA The Coach House
Wed. July 6th San Juan Capistrano, CA The Coach House
Thu. July 7th Agoura Hills, CA The Canyon
Fri. July 8th Las Vegas, NV The Foundry @SLS
Thu. July 14th San Antonio, TX Tobin Center
Fri. July 15th Houston, TX The Warehouse
Sat. July 16th Ft Worth, TX Billy Bob's
Sun. July 17th Austin, TX Scoot Inn
Mon. July 18th Baton Rouge, LA Varsity Theatre
Wed. July 20th Jacksonville, FL Florida Theatre
Thu. July 21st Melboune, FL King Center
Sat. July 23rd Clearwater, FL Ruth Eckerd Hall
Sun. July 24th Atlanta, GA Symphony Hall