Call him whatever you want. Uncle Ted. The Nuge. The Motor City Madman. Sweaty Teddy. A crazy bastard. Regardless of how you feel, Ted Nugent has been doing his thing for half a century now! Starting out with the Amboy Dukes in the mid 1960s, it was his solo career, starting in the 70s, that truly catapulted this rock guitarist into superstardom. His passion for hunting and his unflinching political beliefs have earned him the respect of many people, and the ire of just as many others.
Like him or hate him, Nugent's music has remained consistently strong over the years, with varying but no less excellent band lineups. For this tour he was joined by drummer Jason Hartless and bassist/vocalist Greg Smith, the latter of whom has collaborated with many bands/artists over the years. Performing as a trio, the group sadly did not feature classic vocalist/guitarist Derek St. Holmes, who is currently out on the road with Aerosmith's Brad Whitford supporting the new Whitford/St. Holmes record, Reunion.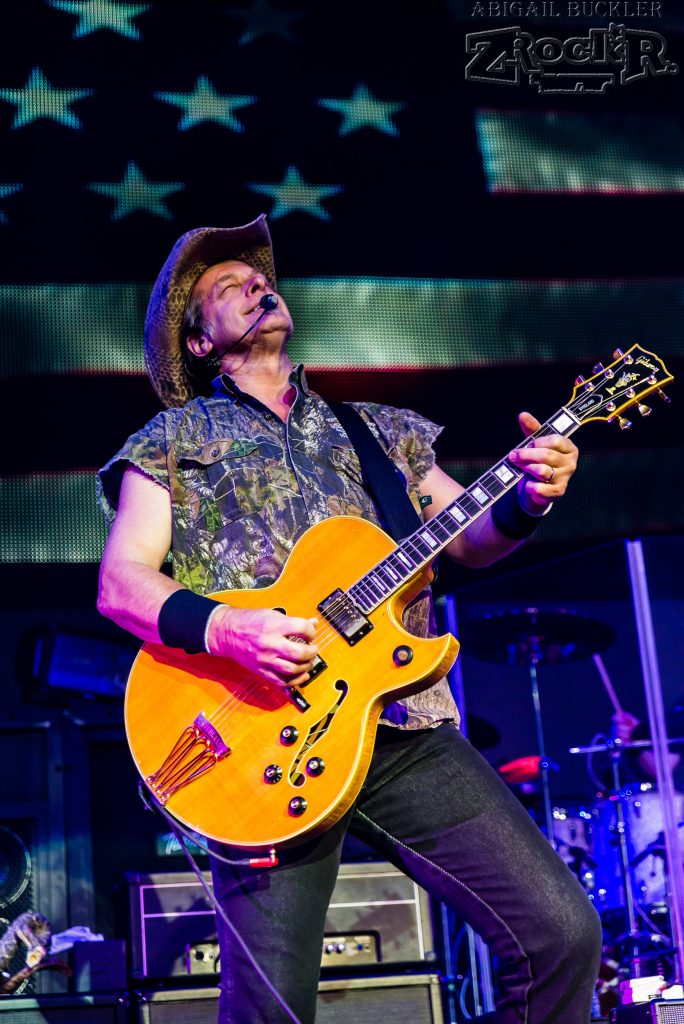 Following an opening set by The Raskins, Uncle Ted took the stage, with his amplifier stacks decorated with assorted interesting items, including cattle skulls and rattlesnakes, and even a screen displaying American flag backdrop; this was all definitely befitting of the Motor City Madman! He even made an announcement that his performances would be dedicated to the police officers who had been killed in Dallas in previous days; whether you love or hate Nugent, this was a classy move.
Right from the get go, the most obvious thing about the show was that The Nuge has stage presence, and lots of it. This guy can still shred, and despite pushing 70, age has absolutely not slowed him down. This set featured the majority of the Nugent classics, and a band that largely did them justice.
The true surprise of the evening was drummer Jason Hartless. Barely 21 years old, he definitely held his own and stood with the big boys. I was surprised to see our hero had recruited so young a man into the band, but any doubts the audience may have had were immediately shattered. This kid rocks, and I am eager to see what he does in the future, both with and apart from Mr. Nugent.
Instrumentation-wise, we definitely got justice done to classics like "Snakeskin Cowboys," "Cat Scratch Fever," "Stranglehold," and "Hey Baby." An additional surprise came in the form of Nugent paying homage to many of his hometown Motown heroes that inspired him musically; one of the best came in the form of an abbreviated cover of Chuck Berry's "Johnny B. Goode." It was impressive to see an aggressive, eccentric rocker like Nugent paying tribute to these performers. There were a few omissions of Nuge classics in the setlist, namely "Dog Eat Dog," "Wango Tango," and "Stormtroopin'," but I doubt anyone in the audience cared.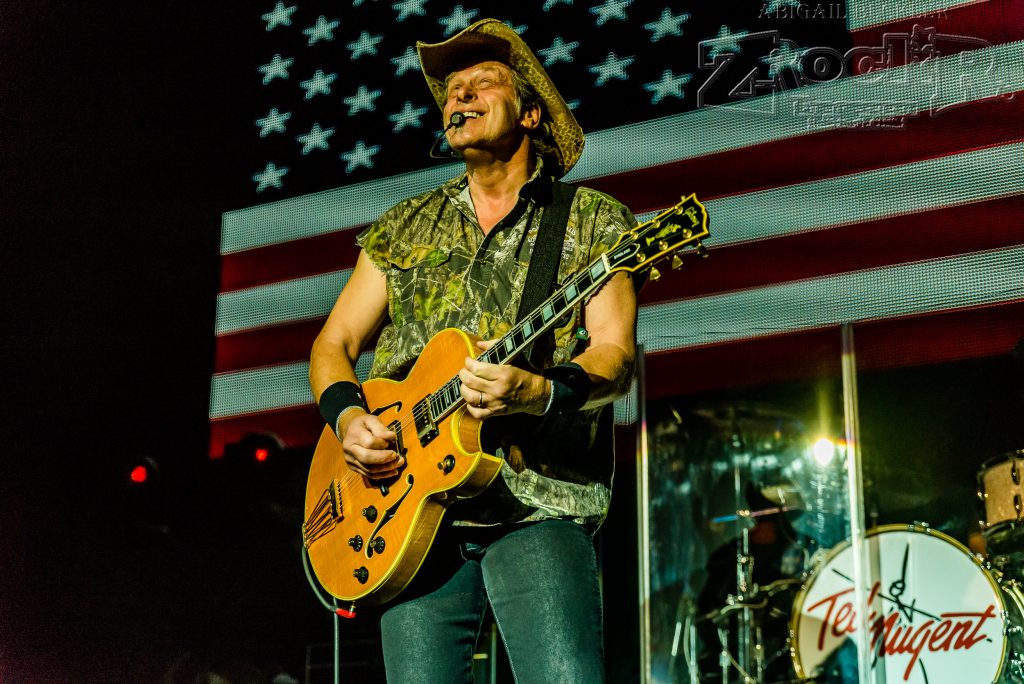 Unfortunately, the band being reduced to a trio due to a missing a key member did come with some issues. The lack of Derek St. Holmes was noticeable in more than a few places, and with both Smith and Nugent himself trying to pick up the slack, some songs were noticeably weaker due to the lack of a dedicated lead vocalist and a second guitarist (though for the most part Nugent handled songs well on which he himself originally did the lead vocal). The lack of a second guitarist was noticeable on "Cat Scratch Fever," a song of which one of the defining characteristics is its rhythm guitar track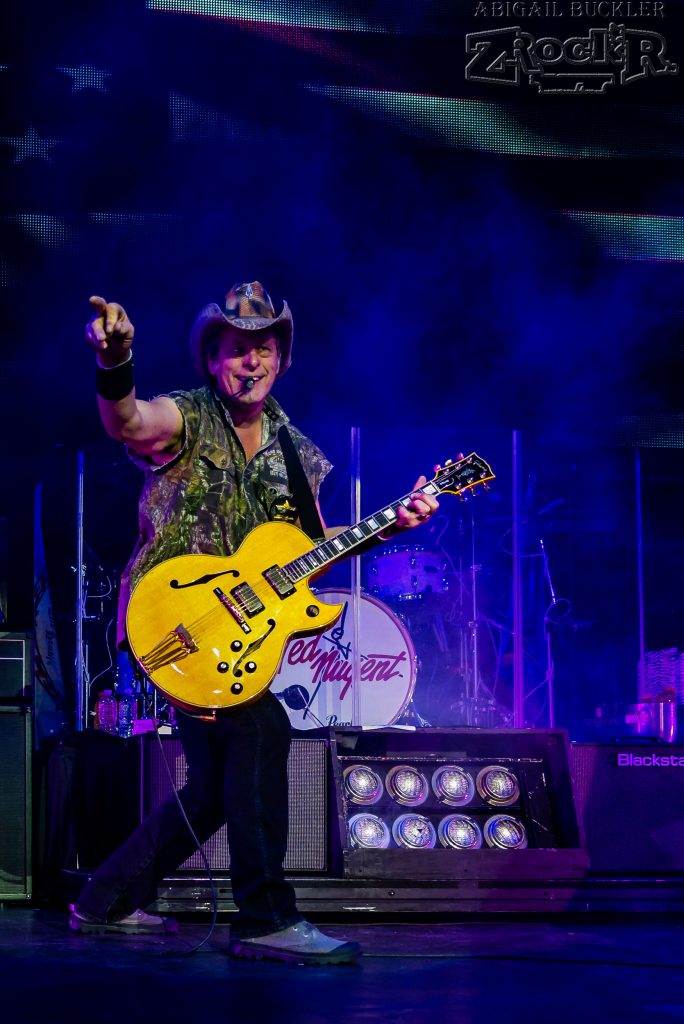 and Nugent's stand-out lead riffs layered over said track; here we had him scrambling in many parts to play both parts simultaneously, which did somewhat show the limitations of performing as a St. Holmes-less trio. Smith is a fine bass player and actually did decent vocal work on a number of the tracks, but one cannot help but feel something was missing. This does not mean the performances of the songs were weak, though.
Of course it would not be a complete Nugent experience without mentioning his aggressive, unflinching political ranting and beliefs made known to the audience. I will not go into too many details here; this tends to be the thing about Uncle Ted that divides the audience. However I will give him credit for keeping it to a comfortable minimum; it was mostly limited to one rant near the end of the set and a few other minor scattered remarks.
Nugent also announced he was celebrating his 50th anniversary as a performer and that this was his 6,000-something show. His past was done justice with the encore; a cover of his old Amboy Dukes standard, "Great White Buffalo." If he was truly going for the anniversary appeal here, a cover of another Dukes tune, "Journey to the Center of the Mind," would have been a nice second one, but I am not complaining. Good to get this era paid homage in the form of at least one song.
Ted Nugent is still rocking hard, loved and hated by just as many as ever before. On the guitar he still rocks it, and this audience discovered that firsthand in a packed house inside the Foundry at the SLS. Despite some minor issues, namely the lack of Derek St. Holmes, this was an excellent show overall, and The Nuge is definitely worth going to see if he hits your town up in the near future!
EDITOR'S NOTE: The political views expressed by Ted Nugent are not necessarily those of ZRockR.  We are simply presenting you with a concert review as a good many people enjoy Ted's music but not so much his rants.   Thank you!-  S
PHOTO CREDIT: All photos by Abigail Buckler for ZRock'R Magazine- ©ZRock'R Entertainment, LLC- ALL RIGHTS RESERVED