Hailing from Switzerland, Krokus has been rocking audiences for four decades, and to this day, continues to tour and entertain the headbangers in all corners of the globe. Classic hits for the band in their early-mid 1980s heyday include "Heatstrokes," "Bedside Radio," "Headhunter," "Eat the Rich," "Midnite Maniac," and their classic cover of "The Ballroom Blitz." New albums released a few years back show that this is a group still going strong despite the times and changing music trends.
It seems like in more recent years, bands recording covers albums has become a big thing. Krokus has apparently jumped on this bandwagon with the release of Big Rocks, an unabashed covers album with the band paying tribute to their very own rock and roll heroes and influences.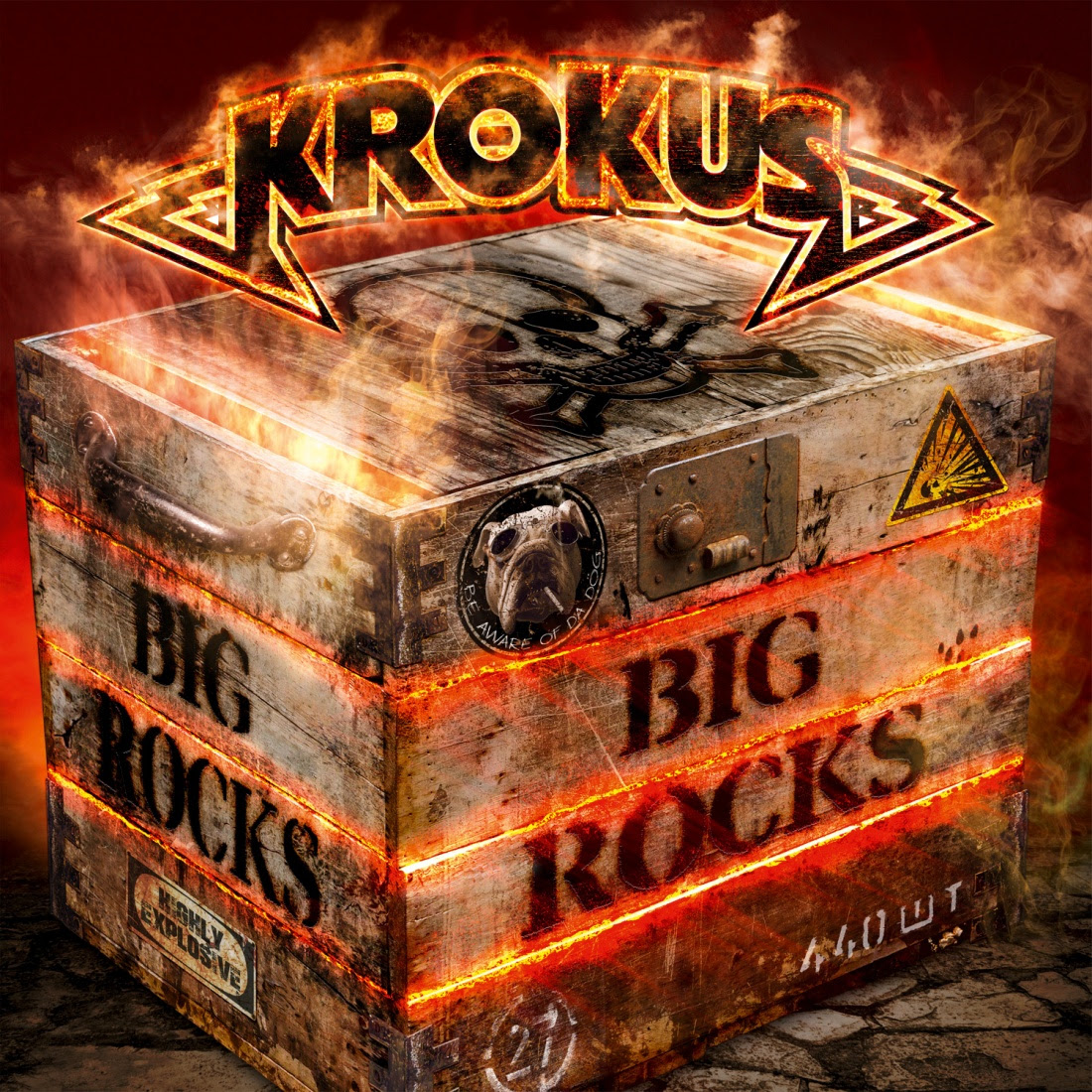 The current Krokus lineup is comprised of Mandy Meyer (guitar), Marc Storace (lead vocals), Fernando von Arb (guitar), Mark Kohler (guitar), Flavio Mezzodi (drums), and Chris von Rohr (bass, vocals). The tracklist for the album is as follows:
NIB
Tie Your Mother Down
My Generation
Wild Thing
The House Of The Rising Sun
Rockin' In The Free World
Gimme Some Lovin'
Whole Lotta Love
Summertime Blues
Born To Be Wild
Quinn The Eskimo
Jumpin' Jack Flash
Backseat Rock N' Roll
If you are a fan of classic rock songs, these titles will all sound familiar to you; clearly Krokus knows and appreciates the classics, and wanted to give fans their own take on them, thereby paying tribute to their diverse base of influences.
Okay, let's get the bad news out of the way first – the opening cover of "NIB" is a short, instrumental version that lasts just over a minute, and is not a cover of the complete song. Also, the tracklist mainly only covers "the hits" from these respective artists, so there are not really any "surprises" to be had; a number of these songs have been rerecorded by other bands already. Also the redone version of the band's own "Backseat Rock N Roll" hardly seems necessary.
Fortunately, these are my only gripes. Love them or hate them, one thing you cannot deny about Krokus is that they are band with PERSONALITY. When you listen to a Krokus song, you know what band you are listening to. The band takes that personality and energy and infuses it into each and every track on this release. The result is that all of these songs are reborn, and are suddenly fresh and interesting again. These Swiss rockers score points for simply not giving us "carbon copies" of the originals, while at the same time staying true to the original material. Krokus fans should not be disappointed in what they hear here.
It has been a few years since we got an album from Krokus, and while they have taken the rather clichéd route of recording a covers CD, the actual execution here in which they Krokus-ify the classics makes it a worthwhile listen. Strongly recommended for any fan of the band!