Inglorious surprised audiences last year with the release of their debut album; the UK band impressed rock and rollers around the globe with a release that combined the best of modern and retro rock sounds; it even landed a deserved spot on this rock and roll fan's "Best of 2016" list. Just over a year since releasing their first studio effort, the band has returned with their second!
The band's second effort features a band lineup of vocalist Nathan James, lead guitarist Andreas Eriksson, guitarist Wil Taylor, bassist Colin Parkinson, and drummer Phil Beaver, although the band has recently announced that, following his writing/recording efforts on the second album, guitarist Wil Taylor has been replaced by Drew Lowe.
The first Inglorious record was one of the biggest surprises of 2016, and I probably would have missed it had a friend not recommended the band to me. Damn, am I ever glad I did not miss that one, and miss out on the band altogether. After hearing their performance on the first record, which beautifully combined elements of old and new rock sounds alike, I was all the more ecstatic to learn that the band had a second one on the way. The album streets on 12 May 2017. When it comes out, will you want to add the band's latest effort to your collection?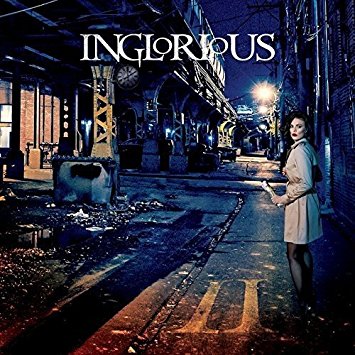 While I personally prefer the first record by just a hair, the second Inglorious record proves that the band is not just a one-album wonder. A sophomore jinx this ain't. Much credit to the band for not simply copying the first record, while at the same time staying true to themselves, and not alienating the previously established fanbase.
I would argue that the newer album is more of a modern-sounding one than the previous record, but the group still retains that retro tinge that marks them as spiritual successors to many of the finest hard rock bands of the 1970s. The end result is a great mixture of old and new, and with it comes straight-up rockers, as well as slower, more melodic tracks. This is a great and diverse second record that fans of the first release should be more than happy with. I was not disappointed by what I heard on the band's sophomore album. You will not be either.
Inglorious rocks; these guys are quickly becoming one of my favorite modern rock acts. With a sound and a musical approach that combines the best of old and new alike, the potential here is endless. Following up their first album was no easy task, but what the band gives their audience on the second does not fail to please. When it streets next month, you will want to add this one to your collection. VERY HIGHLY RECOMMENDED!