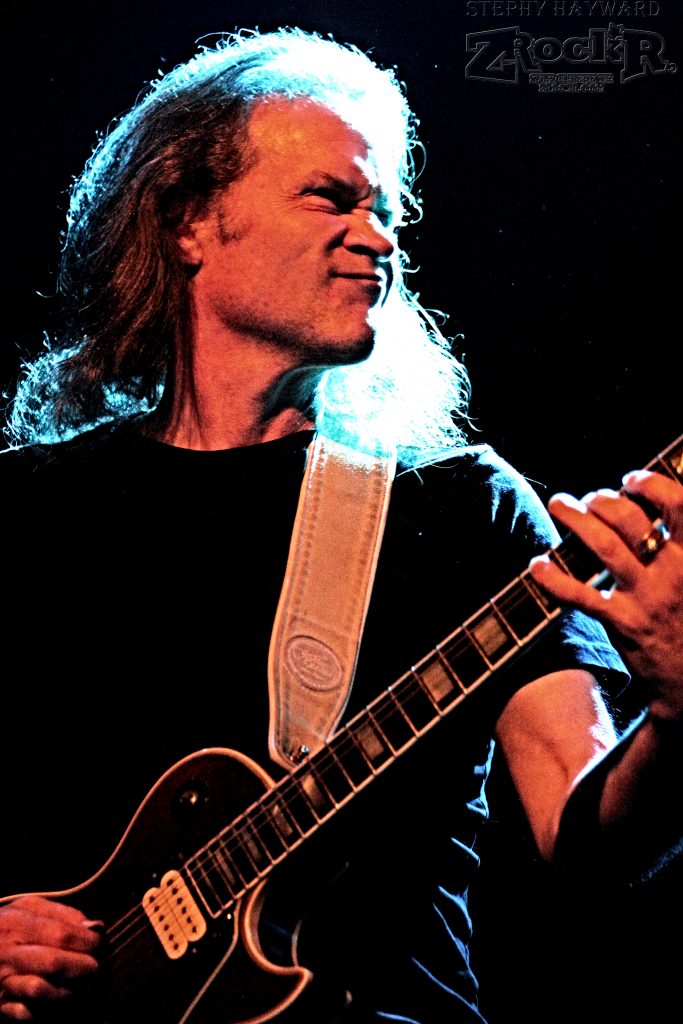 If you are a music person, then when you go to Seattle you have to go to a show. For me, I was fortunate enough to see one of the founding bands of the Seattle scene we know and love today- Malfunkshun.
Freezing, we walked into Studio 7 on Horton Street around 5 o'clock, and were fortunate enough to be able to witness Malfunkshun's soundcheck. Once warmed up and saying hello to friends, it was time to get to sit down with co-founder and guitarist Kevin Wood. I had the fortune of sitting with Kevin in November of 2014, when they played Backstage Bar and Billiards in Las Vegas, NV (check it out here). So, it was really cool to get to catch up with him again.
We walked upstairs of the venue, which reminded me a lot of The Rainbow on the Sunset Strip. The venue began to fill up little by little, and we sat at a table in the corner for some privacy so we could hear each other again.
Something you guys should know about Kevin is that he is an absolute sweetheart. Getting to sit down for a few minutes felt just like catching up with an old friend, picking up right where we left off.
ZR: So, how is it getting to play on your home turf?
Kevin: It's great! I love coming back here, and these guys are taking good care of us. It's a cool spot.
ZR: The band has gone through some changes since I last saw you guys in Vegas. Tell me a little bit about that?
Kevin: Jeff Stark is our new vocalist and he is so talented. He's a huge blessing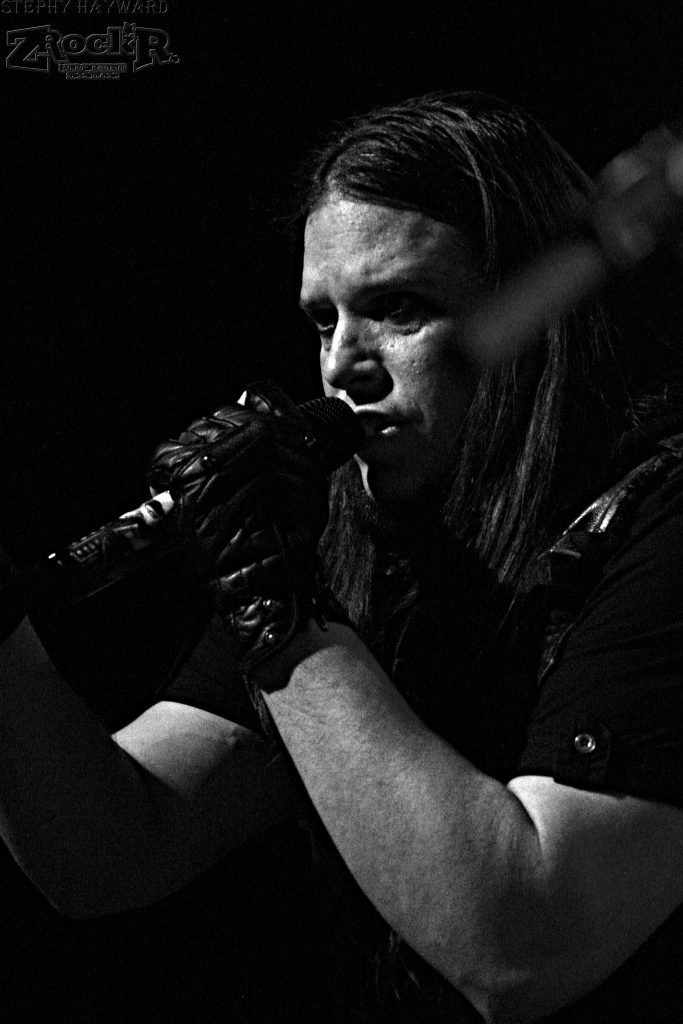 and like the guy I've always dreamed could be in my band. He's dramatic and is extremely creative.
ZR: Have you started writing anything together?
Kevin: We have, actually! We've put together about 3 or 4 songs and they are coming out soon. We keep talking about it, but you know how things go. The wheels turn slowly sometimes. We've recorded some new stuff that is really amazing, and we will be playing some of it for you tonight!
ZR: When do you think you'll get that out there?
Kevin: Well, we could release it as a single right now, but if I wanted to release an entire CDs worth, I have about half a dozen songs that are not done yet. We have two singles ready to release, but we want to put them in a full length CD. We don't have enough ready right now. Due to logistics, it's taking a little longer than we thought, but we have a lot of stuff recorded. It's a matter of mixing, but we are working on it!
ZR: So, we can look for the new album maybe end of 2017, early 2018?
Kevin: Well, it's March now… Maybe the end? I may just release some songs right away and stick them on an album later. I am getting anxious to get the new stuff out there! We have some great stuff. I could release the singles tomorrow, but it seems like it's more effective to release an entire compilation.
ZR: Are you going to go the route of digital download for the release, or are you going to go into print?
Kevin: These would be digital only, but you see, the thing is if I put together a CD, it will be a physical media. I don't want to create physical media with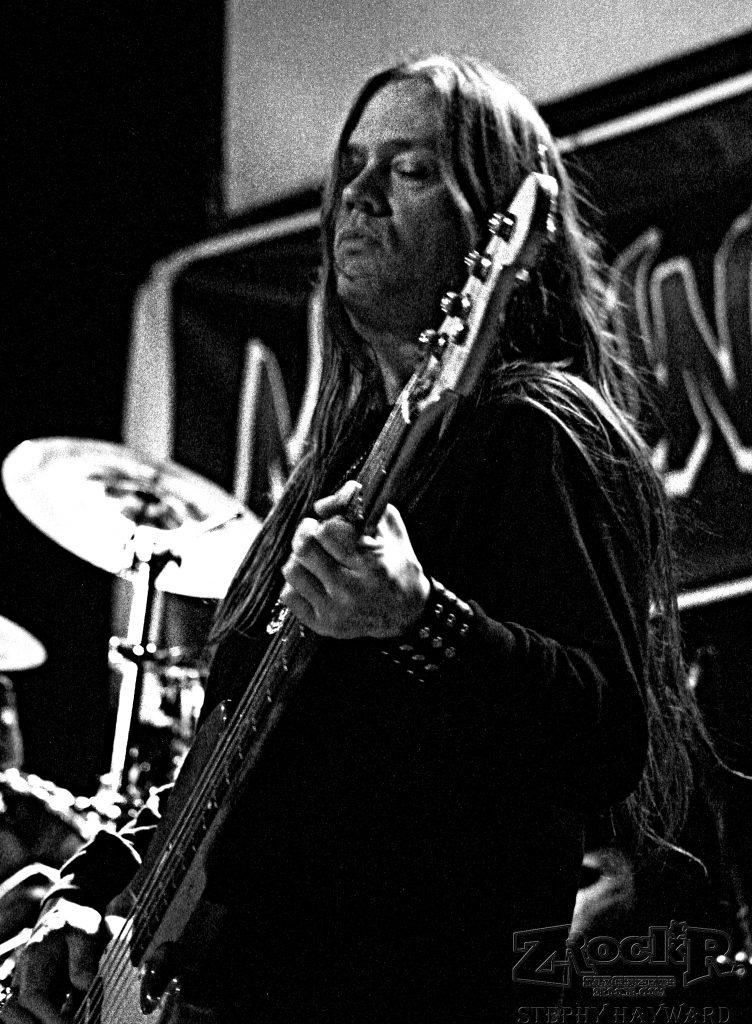 singles. It's just not doable. It would be nice to have a new CD to sell at the shows.
ZR: Getting a little off topic, something we really want to know is, with Temple of the Dog going back out on the road this past year, how do you feel about them resurrecting some of Andy's music? I mean, the upside is it gets some of the music out there and draws attention to Malfunkshun, but how do you feel about Chris going out on the road?
Kevin: I love Chris, Stone, and Jeff. What they put together with Mike is really good music. I've been playing Andy's music as a tribute for quite a while. I think them doing it is great. They are bringing it in a while that is truly personal to them. They put together that project during a time of intense emotional distress- after Andy died. They were all friends of his. Temple of the Dog isn't all about Andy though. I felt good about it though and am totally behind it.
ZR: How do you feel about music in general? Basically, Malfunkshun were one of the pioneers of Seattle music. Now, 30 plus years later, music has gone through a lot of changes. How do you feel about rock music as a whole?
Kevin: Well, it's hard to say. I think women are coming to the forefront of rock music now in a big way, and I am really excited about that. It's a great thing. I am seeing heavy music and rock expanding beyond the confides of the depressed, angry, white male. Girls can join in too and be crazier than shit. I was watching Butcher Babies videos, and God… They're nuts! Someone turned the green light to girls everywhere in the rock world and said, "Go for it!" and they are in a big way. I am excited about that progress.
ZR: Any favorites as far as the female fronted bands?
Kevin: I really like Arch Enemy. I was a fan even before they had a girl singer. I also like Once Human and Ginger out of the Ukraine. It's like Meshuggah, and I find it to be amazing.
ZR: We've gotta mention it, but the political climate… It's everywhere. Do you think music will go back to being something where it points out what's wrong with society again?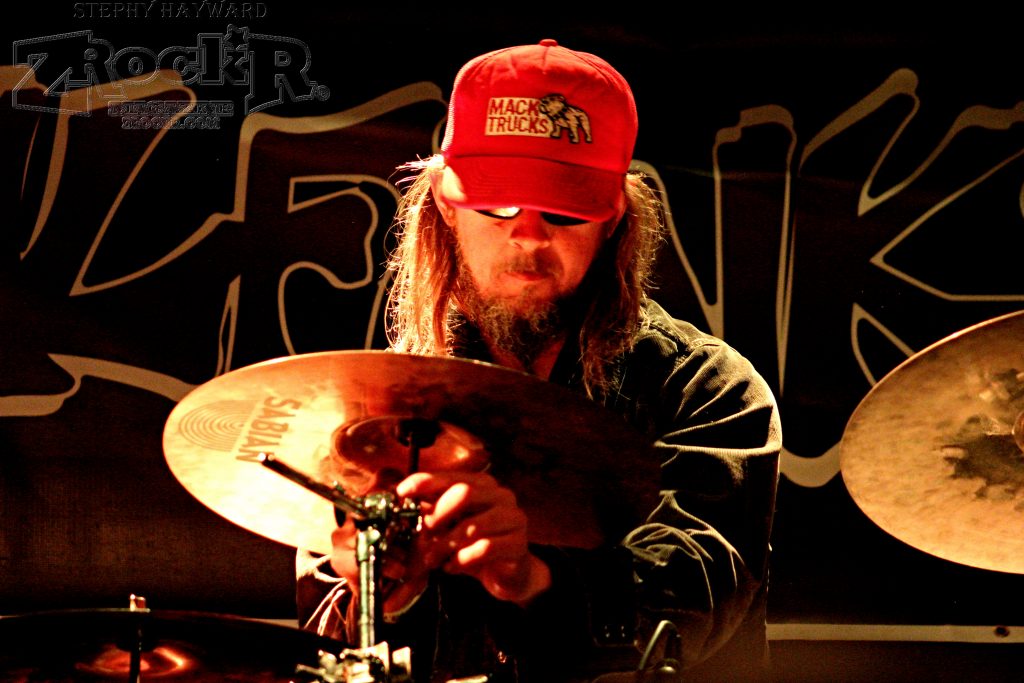 Kevin: I don't think it will. The way that society has been moving is more about escaping and social concepts have fallen to the wayside. It's kind of a shame in a way because, I may be wrong, but I see it as the same old. People see it as "Well, we got through it the last time. We'll get through it." We are living in a divided climate. I think they'll turn to rock to get away from it. I could be wrong. Our song "Occupy Reality", you listen to it and realize it's a song related to the realistic movement. I turn to rock to escape. I'm not a big lyric guy. I just want to hear mind blistering, crazy music, and a guitarist and a drummer that kick ass. I think a lot of people are that way too. The world sucks. There's some problems. Let's turn on some rock and roll.
ZR: When it comes to guitar work, especially on Return to Olympus, you are playing so fast. It's like, oh my God. Who was your influence as far as guitar work goes?
Kevin: Early on, there was a guy who taught me to play. His name was Greg Gunther. I watched him, and he had this fast blues pattern, and I emulated that.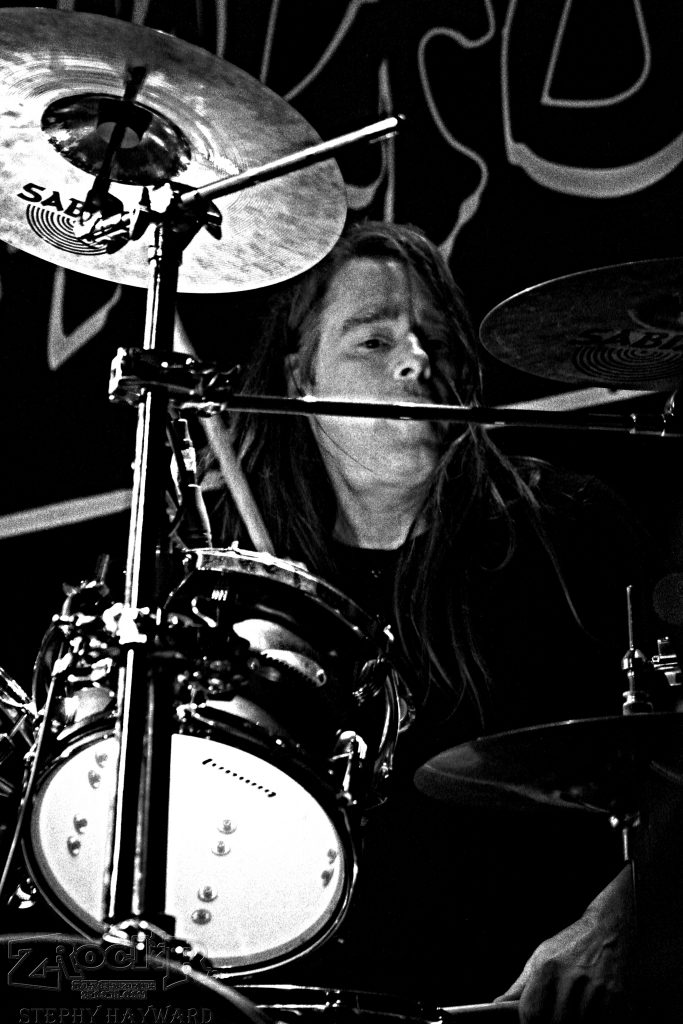 So, I've played fast from day 1. I was listening to bands like Mercyful Fate, and Michael Denner, the solo he has on this EP… I would listen to it over and over. It was blistering. That of course is when Yngwie came out, and it was like, "WOW! That guy can really play fast!" So, I've been listening to fast guitar work and playing quick my whole life. I listen to anything fast- guitar, horn, whatever! It's my thing.
After our chat with Kevin, we went down to check out the rest of the show, consisting of the local bands TOECUTTER, Dogs of War, The Glenn Cannon Blues Trio, KISW's The New Originals, and What Thou Wilt.
This was definitely a night to remember, which included a jam session prior to Malfunkshun's set featuring Steppenwolf Revisited's Glen Bui and Queensryche's Parker Lundgren.
Shortly after, Malfhunkshun took to the stage, which was long awaited by the crowd. Songs performed included "I Wanna Be Yo Daddy", "Jezebel Woman", and a special performance of Black Sabbath's "Sweet Leaf" with Nirvana drummer Chad Channing, who played alongside Kevin in the band Fire Ants.
Malfunkshun delivered a killer set, playing late into the evening for a night that definitely will not be forgotten by anyone there for quite some time.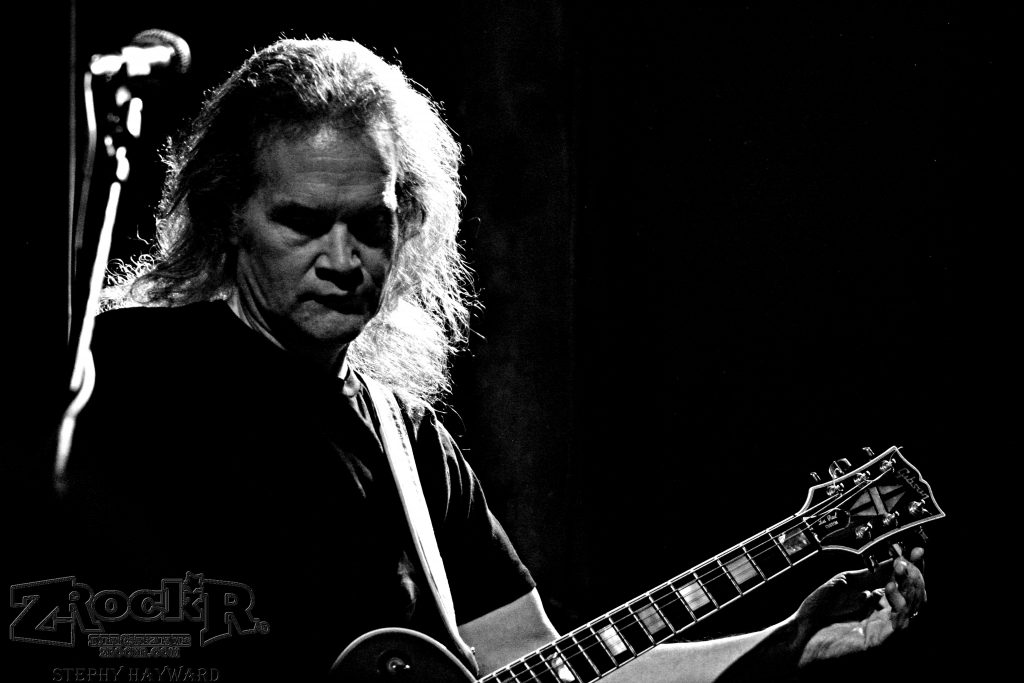 PHOTO CREDIT: All photos by Stephy Hayward for ZRockR Magazine – ©ZRockR Entertainment, LLC – ALL RIGHTS RESERVED