While Frankie Banali's decision to keep Quiet Riot going following the death of vocalist Kevin DuBrow has been met with mixed reactions and criticism from fans and critics, one must admire the man's rock and roll spirit. The bands 80s glory days (they were the first metal band to top the pop charts!) are long gone, and despite going through a number of singers in recent years, the group seems to have finally found a steady frontman in the form of James Durbin. The current lineup of Quiet Riot combines Durbin and Banali with bassist Chuck Wright and guitarist Alex Grossi.
Road Rage, Quiet Riot's latest studio album, will be released on August 4, 2017. The entire album was completed and recorded with vocalist Seann Nichols, but due to Nichols' departure from the band, the group ultimately decided to rerecord the record with Durbin on vocals, pushing back the release several months.
I admit, I would liked to have seen Jizzy Pearl stay on board with Quiet Riot longer; we only got one release with the Love/Hate vocalist at the helm, 2014's Quiet Riot 10. Despite the "revolving door vocalist" shenanigans, James Durbin (who had previously recorded an EP with his Quiet Riot bandmate Alex Grossi) is off to a promising start with the revitalized 80s rock act. Road Rage is the thirteenth studio album from Quiet Riot, and their eleventh international release of original studio recordings. How do Frankie Banali and the boys fare this time around? Will Road Rage be an essential addition to your hard rock and heavy metal collection, or will the album make you wish the Quiet Riot name had been laid to rest years ago?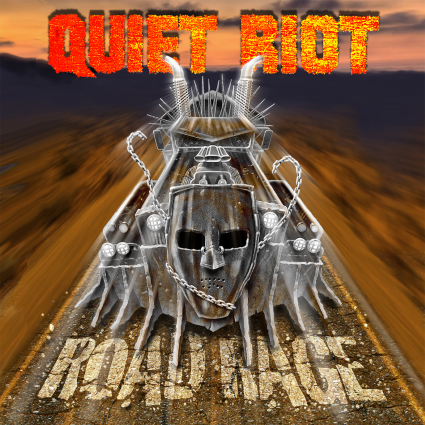 While the album the band recorded a few years back with Jizzy Pearl felt like an attempt for the band to modernize and move away from the past, Road Rage is quite the opposite, feeling like a deliciously retro rock experience. I was not too familiar with James Durbin prior to this release outside of the EP he had recorded with Alex Grossi, but he makes a powerful impression here, his vocal being a major focal point on every track. Much like Jizzy Pearl before him, Durbin does NOT impersonate Kevin DuBrow, so if you are coming in here looking for something in the style of the band's 80s heyday, turn away now, because you are not going to find it here, for the most part. On the other hand, if you have an open mind and can appreciate something more along the lines of classic hard rock/classic 70s glam rock, you will love Durbin's vocal work throughout this release.
The rest of the band proves themselves to be just as capable, showing musical chemistry and ability throughout the album's duration. Why Frankie Banali doesn't feature on more "best drummers" lists is beyond me; the guy is criminally underrated and brings something to every song he plays on; something that has been true for well over three decades now. Bassist Chuck Wright still brings the groove, being the perfect bass man to complement what Banali throws down behind the skins. Another man in need of more credit and recognition is guitarist Alex Grossi (with the band in nearly every incarnation since 2004), who unleashes some fantastic solos. This is a fantastic lineup, arguably the finest since DuBrow's passing.
Perhaps the most important thing about Road Rage is that it is actually FUN to listen to. Why do bands seem to think an album today has to be gritty, morbid, and industrial in style? You won't find any obnoxious, guttural vocals on here. These are rock anthems in the style of old school classic rock, retro hard rock, and 70s glam. You'll hear shades of your favorite retro bands throughout the album; Quiet Riot brings their own thing to the table, but is not ashamed to wear their influences on their sleeves, something that just made this fan enjoy the album all the more.
Yes, I was skeptical when Frankie Banali resurrected Quiet Riot after Kevin DuBrow died. I was also disappointed to see Jizzy Pearl's all-too-brief period with the band end. But, if Banali and company can continue to create rock and roll like this, and give us solid releases of original songs that are actually fun and entertaining to listen to, to hell with the naysayers. Road Rage didn't put me in a rage at all. In fact, it is one of my favorite releases of 2017 so far. If you are a fan of old school rock and roll and can accept the fact that the band is continuing with a non-Kevin DuBrow vocalist, you should enjoy it as well.
HIGHLY RECOMMENDED!