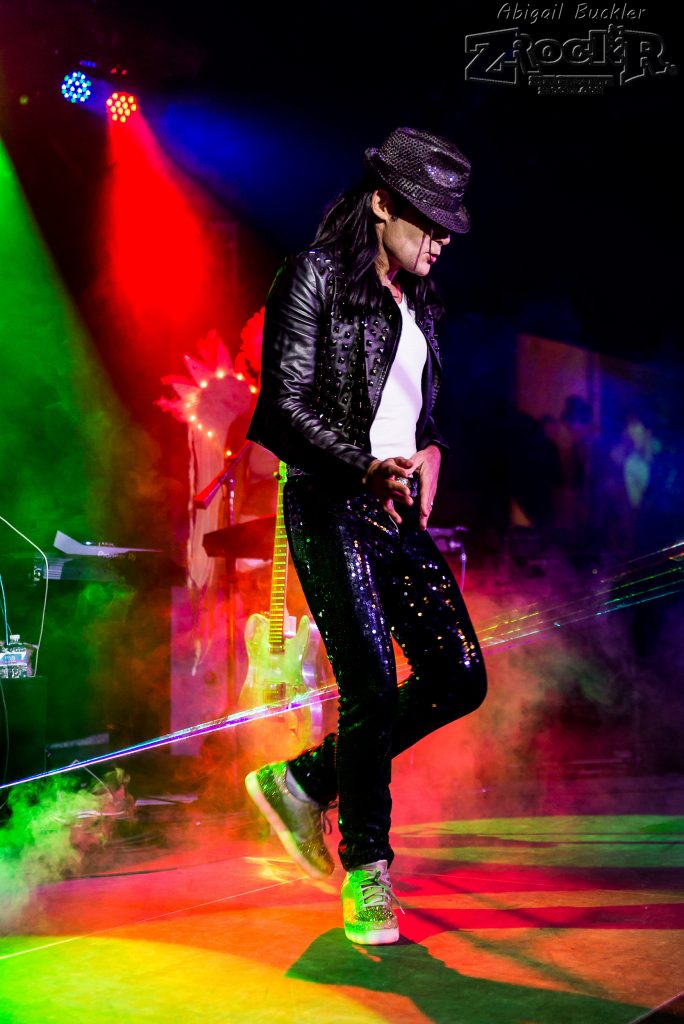 I was a bit surprised to see that the smaller club inside of the Hard Rock Hotel was packed. The interesting crowd anxiously awaited the man of the hour and his angelic band, a bit unsure of what was going to happen as Corey Feldman and his Angels kicked off their tour. 
A single white, sequined hoodie hung on the microphone, glistening in the spotlight. 
Then the lights went out, and the crowd chanted "Corey! Corey!"
A opening clip of God came on the screens, talking about the birth of this awesome band, before going out as quickly as it came on. The angels, in lit wings, took the stage. Behind me I heard a man go, "What in the Jesus fuck?" No truer words have been spoken. 
What happened before my eyes was confusing, beautiful, and shocking. Kind of like child birth.
I know you are probably thinking that it was a train wreck. Look, was it the best show I've ever seen​? It's hard to label a show as such, as I've seen A LOT of shows in my day, but​ it was the most fun I've had at a show in a LONG time.
The Angels, were actually really fun to listen to. These girls have a lot of talent, and as a female musician myself, it's very empowering to see other women get on stage and completely rock it. 
The crowd got into it too, singing along to songs like "Duh". 
During his new song "Forbidden Attraction", his keyboardist and wife joined him for a song. As the music kicked in, they started dancing towards each other from the opposite ends of the stage. I'm pretty sure all of us got to witness the Feldman mate calling ritual, but as a musician who performs with my other half, it is always cute to see two people make art together.
Another really cool thing about this show was that Feldman featured every one of his band members, all of whom are talented as hell, with a lot of musicial ability. They performed their own stuff and covers. One thing for sure is that Feldman has some really amazing women on this tour with him.It was a treat seeing Feldman perform "Something In Your Eyes", followed up by "Rock On". Throughout the show, but these two songs especially, videos from throughout Feldman's career played on the screens behind him.
It was obvious throughout the show that this guy loves his fans. Feldman, while performing, high fived folks, took selfies, and gave hugs, which is something you don't see a lot of anymore. Everyone takes themselves too seriously, and folks could really tear a page out of the Feldman Bible.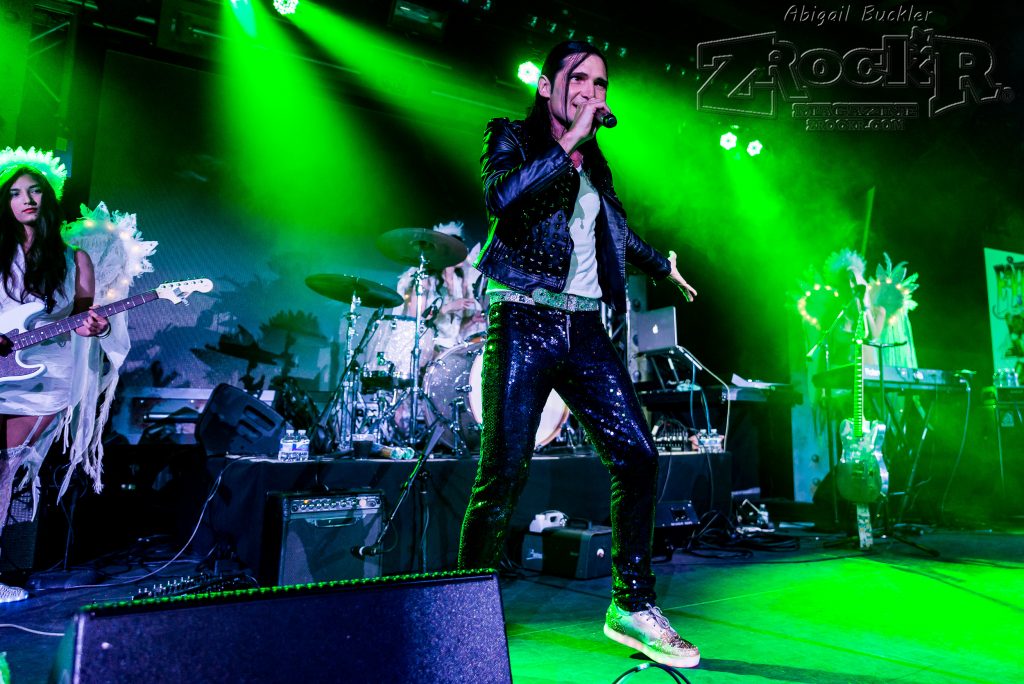 Feldman took a minute to remember his long time friend, Corey Haim, showing video of them together throughout their films, before performing the song "Remember 222" that Feldman wrote to commemorate 5 years since Haims passing. Following that, Feldman performed a cover of "Cry Little Sister" off of the soundtrack from The Lost Boys, which was also done with Haim.
The soundtrack songs continued as Courtney came back on to perform Cyndi Lauper's hit from The Goonies, "The Goonies R Good Enough".
Feldman often changed between songs, coming back to the stage in all white and hopping behind the drum kit for "Stand By Me", which was sung by Jackie and featured Margot on violin. One thing about the costume changes, is that they stayed in tune with the Time period of when they were written. Feldman often wore replicas (or maybe the exact one) of his costumes from the 80s.Feldman stayed behind the kit, this time playing and singing to The Beatles "Why Don't We Do It In the Road", which shocked me because no one does that song!
The show was full of surprises. The band kicked into "Lethal Lolita", featuring the young and INSANELY talented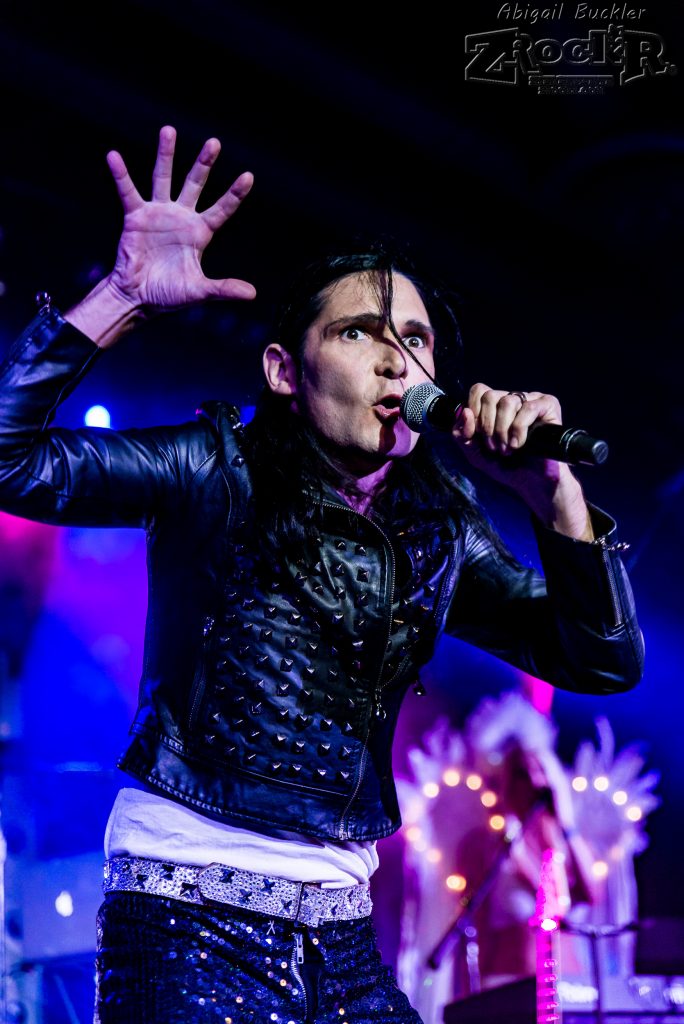 guitarist Jimena taking over the parts originally done by Lita Ford. Chick can fucking SHRED. She continued to perform solo a medley of all of the best guitar riffs of the past 40 years: Nirvana, Iron Maiden, Pantera, The White Stripes, Metallica, Deep Purple, Van Halen; it blew the entire crowd away. As Corey said, "Angel today, rock Goddess tomorrow".
There were some rough moments, like the amount of time it took them to set up for the acoustic angel jam , but the audience continued to scream and clap in support. This was a welcoming audience. Once all set up, Feldman talked about the days of MTV and the awesome shows (which are so missed) Unplugged and Story Tellers.

All in all, this was a fantastic show. It was a musical, visual performance of Feldman's career; past, present, and future. 
People came out to be entertained, and they were. Others came out for a bit of nostalgia with someone that was in their living rooms 20+ years ago, and they got that too. 
One take away and piece of advice if go; go in with no expectations. Don't knock it before you try it. HAVE FUN. If there's one thing that Feldman is doing better than a lot of people these days, it's having fun. Even if someone says you shouldn't and calls you awful, go out and fuckin' do you. Anyone who came to "see the train wreck" I hope left a fan. Anyone who left early missed out. Anyone who knocks it hasn't tried it.
I look forward to the next leg of the tour. I hope I have as much fun as I did at the first show.
PHOTO CREDIT: All Photos by Abigail Buckler for ZRockR Magazine – ©ZRockR Entertainment, LLC – ALL RIGHTS RESERVED