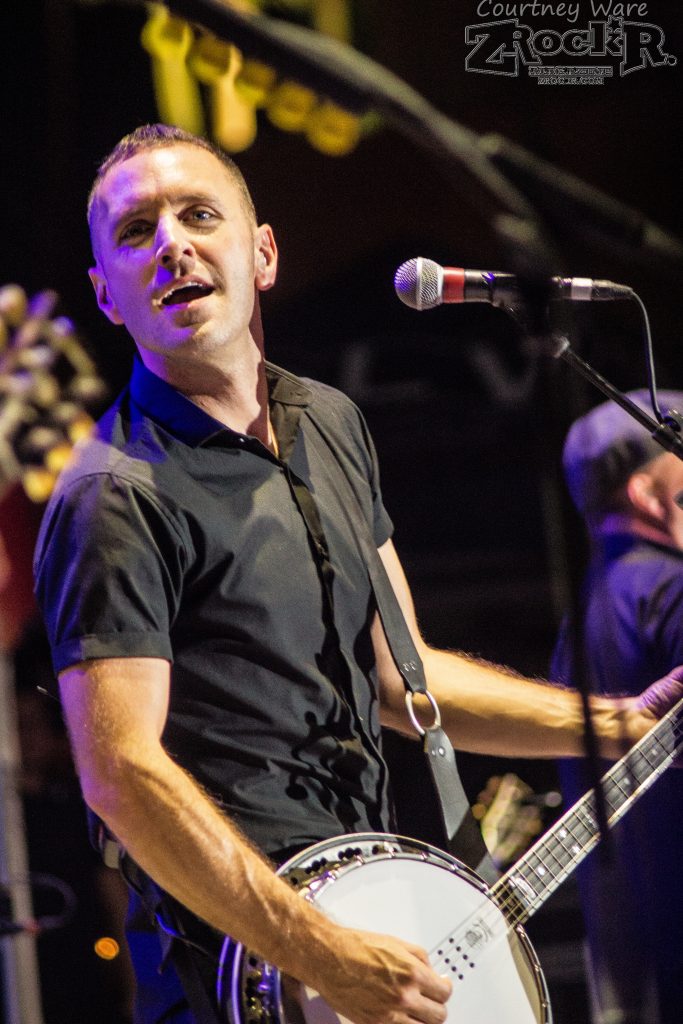 Last weekend's mood was one that had been building up for months. The biggest prize fight of the century brought in a Celtic wave of fans by the plane load to come see Conor McGregor try his chance at Floyd Mayweather Jr. in the boxing ring, and the fight weekend vibe was stronger than any other weekend Vegas has seen before.
However, Fight Night Eve turned out to be where the most rowdiness and Irish pride showed in Vegas that weekend when the boys on the docks met the boys from the bay. Punk Rock super heavyweights Rancid and Dropkick Murphys brought their From Boston to Berkeley Tour to the Downtown Las Vegas Event Center on Fremont for the ultimate way to count down to a fight night; with mosh pits and alcohol!
The punk community has cemented roots for massive outdoor shows in town over the past few years with BYO Records' Punk Rock Bowling invading Downtown Las Vegas every Memorial Day Weekend, and after moving to a very well, almost too organized venue for us degenerates at DLV next to Golden Nugget, we have a home for nights like this where it's almost like a single night of a PRB festival. Leaving behind the asphalt and port-a-potties on 7th and Stewart for the nice concrete and air conditioned bathrooms at DLV is a comfortable change that will hopefully replace the pop-up stage festivals we've been used to for so long.
It was an appropriate way to start the lineup with Kevin Seconds playing a solo acoustic set. Kevin has been more known for doing his one man act around the world lately compared to playing in 7 Seconds with his brother Steve Youth, but the duo that started a punk scene 8 hours north in Reno still get together and murder sets for occasional mini tours and festivals.
Kevin's eight studio albums have certainly given him fame to claim of his own, and having a crowd bigger than any opener I've seen at DLV certainly showed that people were ready to take a soothing step with him down the path towards a rowdy night. Kevin falls under my rule that if a man can play harmonica and acoustic guitar at the same time, he deserves your ear, but after listening to a few of his songs I realized he hooks you harder than Mayweather! (last boxing pun, I swear)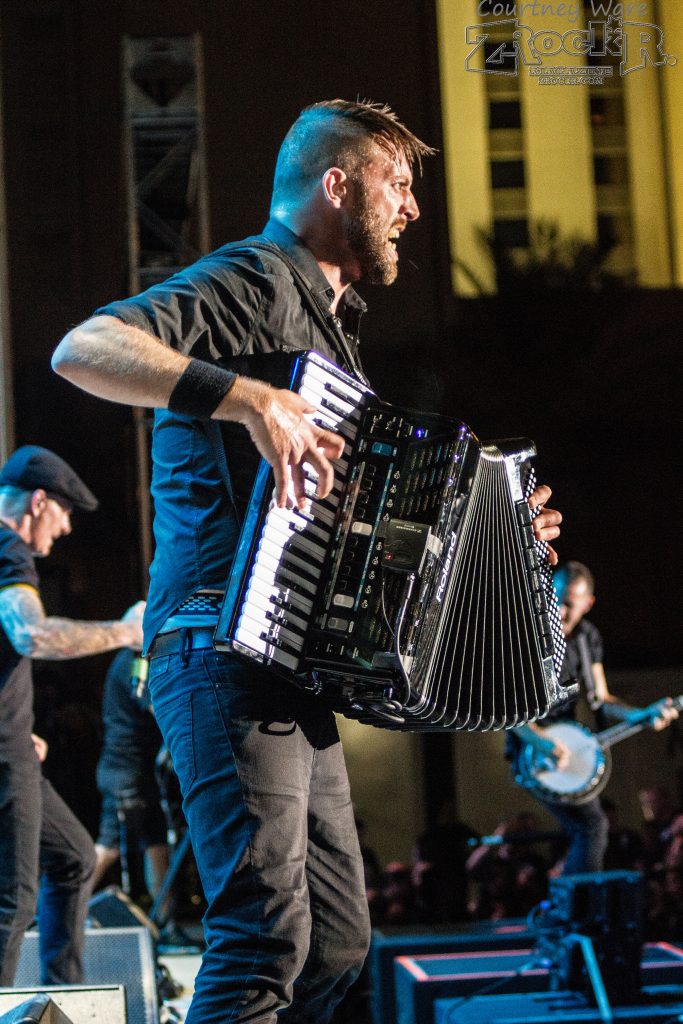 Up next was time to strap up our dancing shoes and stretch out those skankin' legs with two-tone originals The Selecter. I was confused at first because I swore I saw The Specials playing in front of me, but it didn't take long to realize that 70s ska really needs that deep voiced black dude with that Rastafarian vibe to their voice to spice up the sound; seems almost as necessary as a horns section for them. I took this time to swerve in and out of the crowd to see how the environment was during their set. Good ol' ska music definitely brings out the smiles and dancing, but it's like an alarm clock for people that are holding in the crowd to light up their joints; presenting the perfect time to make new friends.
Calming down was impossible after The Selecter because everyone knew the scorched air in Vegas was about to get a little cooler and turn into an East Bay Night when Rancid came out on stage. I took a second to look back on my history with Rancid, and I was more than satisfied with replacing the 40 oz Mickeys I had in my hand as a teenage the first time I heard Let's Go with the tall can of Sierra Nevada I had in my hand for the first moment I was about to see them on stage.
All I could see from the side view I stood at was a straggly beard creep out of from the back of the stage, and I wasn't sure if a bum rushed the set or Rick Ruben was about to give a shout out to the bands coming up, but after a Yellowstone like eruption from the crowd and the strum of a guitar, it was about damn time that I noticed it was Tim Armstrong about to put the crowd under a lyrical spell!
"Never fell in love, until I fell in love with you. Never know what a good time was until I had a good time with you" muttered over the PA with a voice that can only be achieved by years of smoking cigarettes and drug use, but the rasp lyrics looked effortless making their way through Tim's massive beard and into the mic. No hesitation was showed by the crowd in finishing the words to the rest of the verse, and after the drums kicked in and "Radio" was in full swing, there was no turning back for the rest of the night.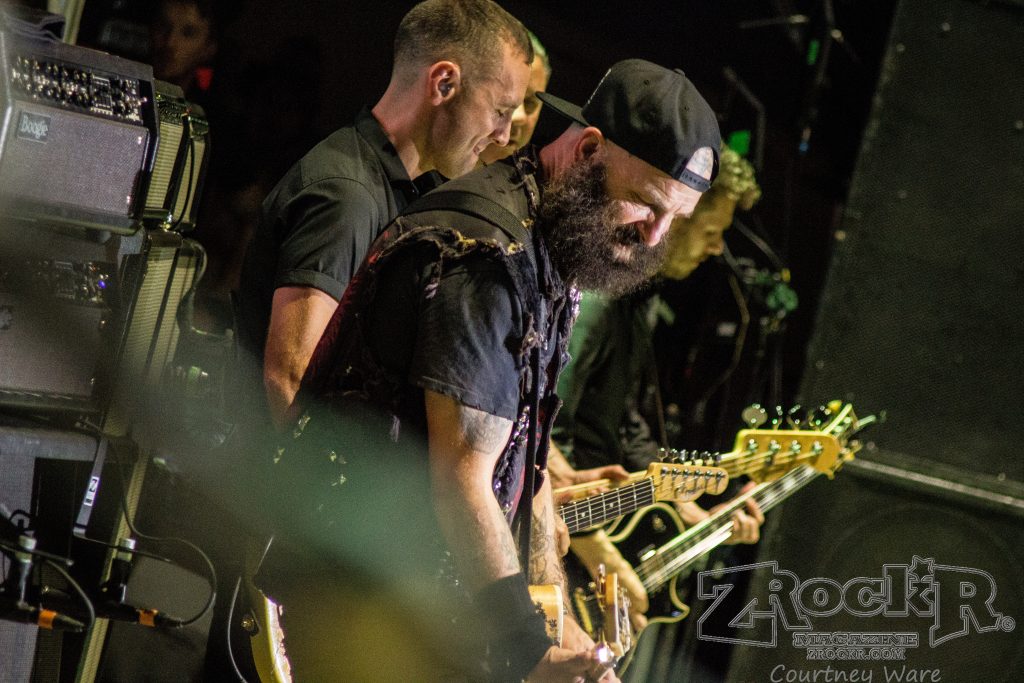 Playing anthem after anthem, they had the crowd chanting at every chance there was. "Roots Radical", "Journey to the End of the East Bay", the fucking bass solo from Matt Freeman during "Maxwell Murder"! What kind of sorcery was this?!
I needed more alcohol to calm me down from this hysteria. After making my way to a bar that was perched over the floor, I noticed how massive the crowd was. This was bigger than Iggy at PRB 2017, and the movement was all over the place! I don't think a single person was standing still while Rancid mesmerized everyone through newer songs like "East Bay Night" and "Ghost of a Chance", then back to hits like "Salvation" and "Olympia W.A"., and into the closer "Ruby Soho".
I was left like a one-night-stander that had the luck of the victim leaving their place right after they slept together; completely satisfied yet not worried how the rest of the night was going to play out. One issue was plaguing us all night though; security was not letting us in front of the barricade for photos. Even after the PR Director of DLV was gracious enough to tell security we were be allowed up there, we were still denied. Besides Tim Armstrong's voice sorcery, there was more magic that needed to be done that night.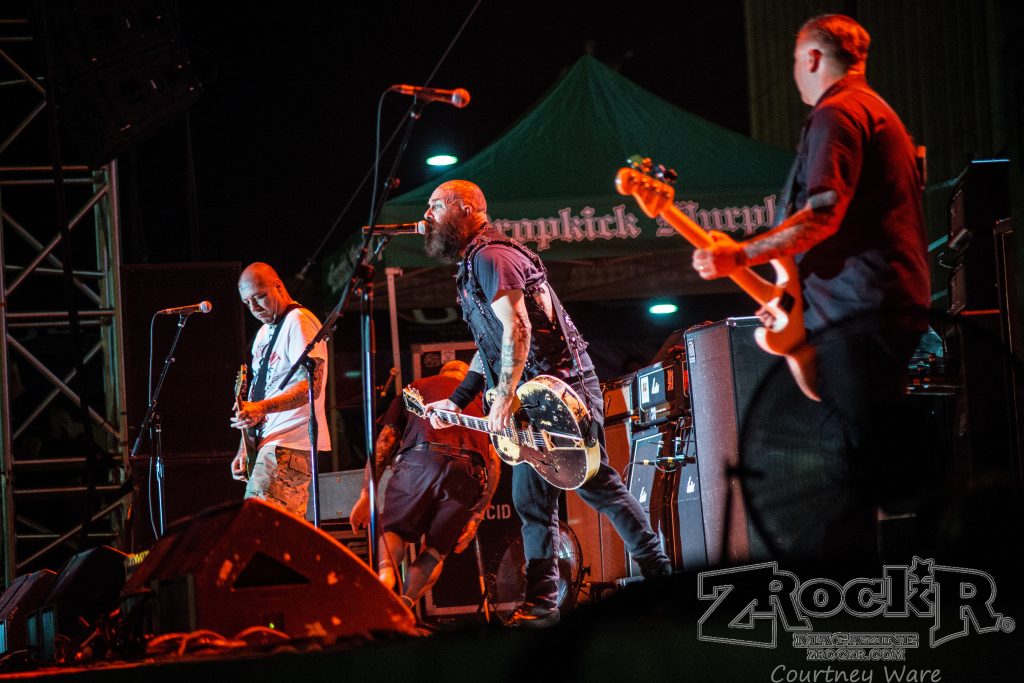 Three beers deep was an interesting feeling in the heat of the crowd, and after seeing a few people come in and out from the back stage area, I was good and ready to try my first back stage infiltration. My stealthiness was immediately shut down by the sweetest lady with a Wisconsin accent that was regulating the back stage area.
"Come on back, sweetie!" she said with the biggest smile.
I almost didn't keeping walking from the humble shock, but there was nothing stopping us now! I wasn't sure how far this magic wristband was going to get us, but lighting up a cigarette and making a plan for our next move was the most logic step to take from here.
The staircase that ledup to the stage was manned by a singles security guard, and after watching him wave away two groups of people it was almost time to abandon the idea on getting to good vantage point past him. Then, almost like it was written in a movie, a member of the venue staff strolled up to one of the denied groups to walk them up to stage-right, and with a cartoon style slide, we got in a single file line behind them and just kept walking until all I could see was the sea of people in the crowd. Hole. E. Shit.
The lights dimmed and a woman's voice came crying over the speakers with a soft, folky sounding Celtic jig while the Dropkick Murphys name waived on the projection banner in the back of the set-up. The crowd immediately began soccer style chants with claps and calling for Dropkick to take the stage, and with a twang of the banjo, "State of Massachusetts" immediately satisfied their calls; turning those clapping hands into pumping fist along with the "hey!"s they called out.
There was no slowing down through "The Boys are Back" and "I Had A Hat", and it was no different when classics like "Barroom Hero", "Do or Die", and "Boys on the Docks" sent a cyclone of a pit through the crowd. "Rose Tattoo" gave us a second to get a breathe while we swayed back and forth, but was quickly abandoned for the screeching bagpipes from the famed "Shipping Up to Boston" that brought the crowd into complete chaos! At least 30 women made their way onto the stage then green and white confetti blasted over the crowd.
I wasn't sure how this show would end now that "Shipping Up To Boston" literally blew its load all over the crowd. The boys made their way off stage and I was almost ready to say it was over. I was so incredibly wrong. You can see how everything ended in the video below . Enjoy!
PHOTO CREDIT: All photos by Courtney Ware for ZRockR Magazine – ©ZRockR Entertainment, LLC – ALL RIGHTS RESERVED