Electric Radio Kings made their debut performance at Vamp'd on Friday, December 8, 2017, with Queens of Noise as the support act.
For the past several years, former LA Guns guitarist Stacey Blades has called the Vegas Valley home. And in those several years, this rock and roll fan has seen him play with numerous acts, all of which have endless potential, but for whatever reason, never quite seem to last or hold together. Given the man's talent, this is disappointing; he definitely deserves a solid long-term gig that can bring the goods. But Blades is back with a new group, Electric Radio Kings, taking music in a newer, more modern direction. Also in the group is Vegas drummer Johnny Rude, who has played with many local acts as well. The group also used this evening as the release party for their debut EP, which I have previously reviewed.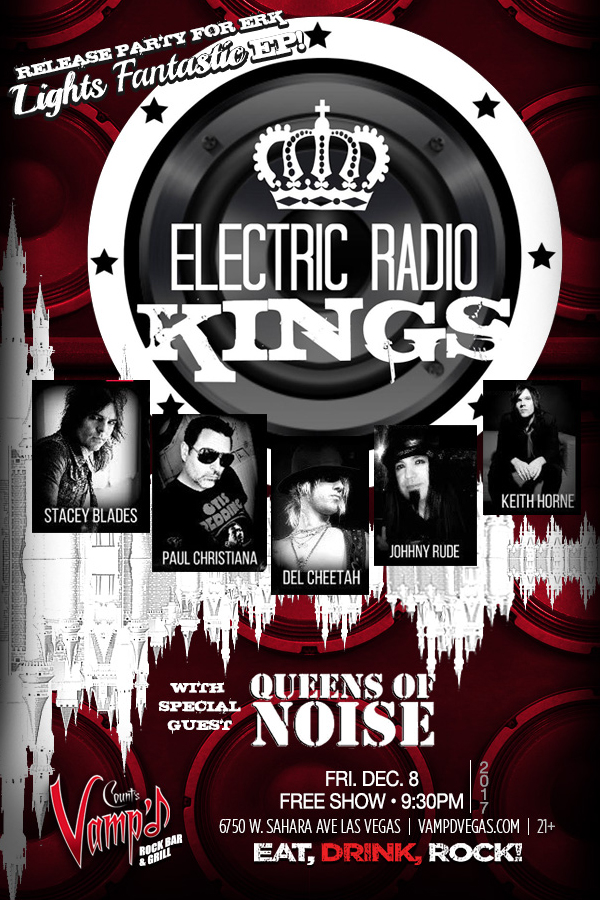 Kicking off the festivities were Queens of Noise, a superb local all-female act paying tribute to some of the best names in rock and roll, such as The Runaways and associated acts, including Joan Jett. These girls kick ass on the stage every time, and look good doing it, so I always look forward to their performances. The surprisingly large crowd clearly got into the music and enjoyed every second of their set. It was a fantastic way to jump start things.
And then came the headliners, Electric Radio Kings! Having been a fan of Stacey Blades and Johnny Rude over the past several years, hearing that they had united for a new band definitely had this fan excited. Hearing the EP and reviewing it was a good start, but how would these guys fare on the live stage?
I am pleased to announce that these guys do not disappoint on stage, and rocked the house throughout the evening. The group has a great stage chemistry together; the quintet clearly enjoys sharing the stage. These songs had more of a modern sound than what people are used to hearing from bands at Vamp'd, but personally this fan is glad to hear a group that does not simply imitate and copy everything from the past. The more modern/alternative influences give the group a unique sound, and make the music of Electric Radio Kings a breath of fresh air. We got plenty of songs from the EP as well as several I did not recognize; this could be a good sign that future releases from the group are a possibility.
This was a fantastic night of rock and roll, and a solid first performance from a new group that this fan hopes is around for years to come. In the meantime, be sure to get the debut EP from Electric Radio Kings!