I, Tonya is directed by Craig Gillespie, and stars Margot Robbie, Sebastian Stan, Allison Janney, Julianne Nicholson, Paul Walter Hauser, and Bobby Cannavale.
I, Tonya is the story of figure skater Tonya Harding. As a child, Harding shows tremendous potential as a skater, and begins training under a top coach, but must contend with an overbearing, horribly-behaved, abusive mother. Growing up in a largely redneck setting, she meets a man that becomes her husband, but their relationship quickly becomes volatile and filled with fights and incidents. Throughout it all, Harding rises as a skater, but can never quite seem to get the proper recognition from the judges. Things take a shocking turn when her husband and some acquaintances hatch a plan that culminates in the incident of fellow figure skater Nancy Kerrigan incapacitated, leading to ongoing investigations that threaten to derail Harding's career. The film is "told" by the characters in the present in the form of documentary-style interview clips framing the "main" part of the story, which feature fourth wall breaks where applicable.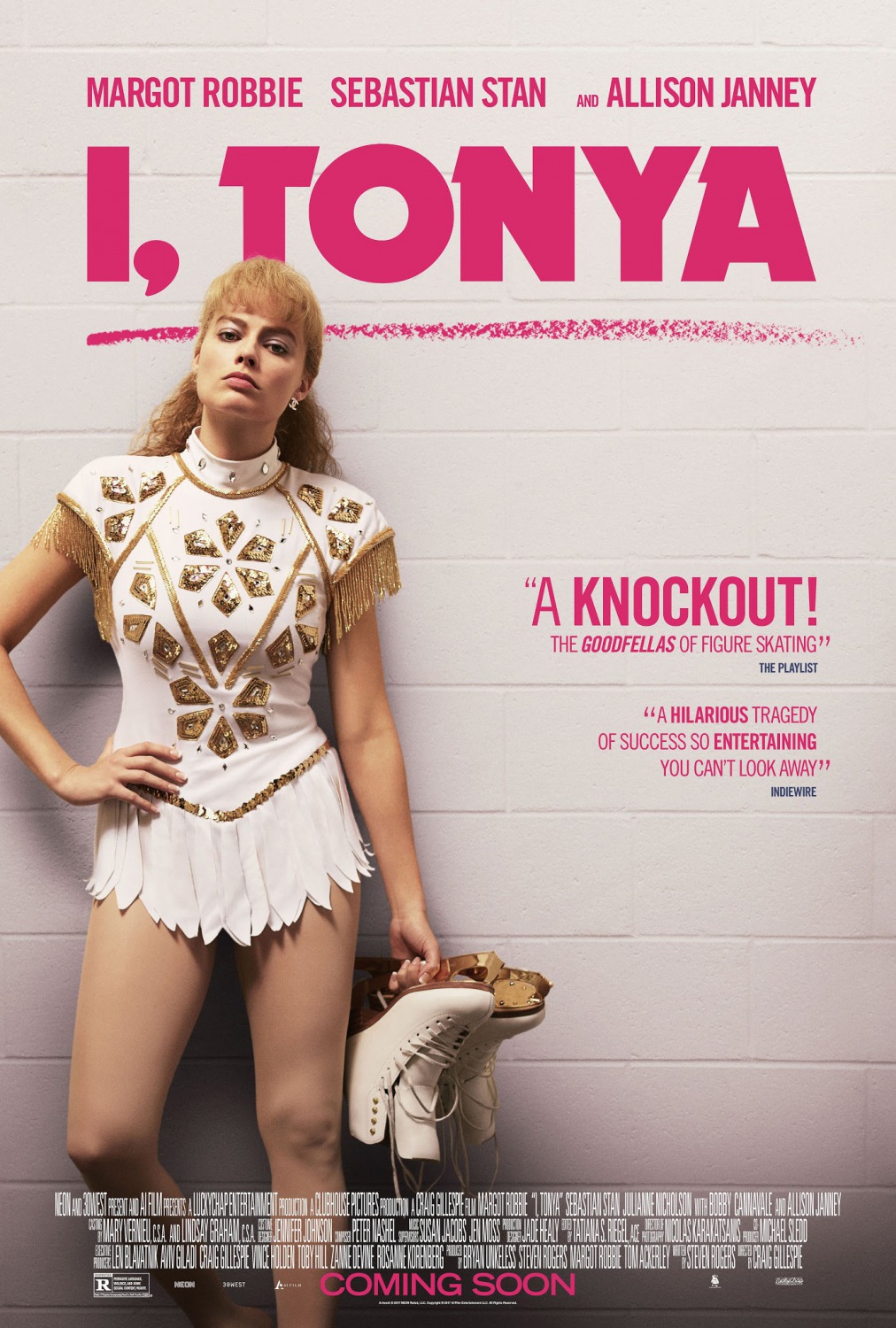 Brutally honest and at times laugh-out-loud funny. I, Tonya is simultaneously hilarious and heartbreaking. The movie paints a picture that certainly does not glorify Harding's life, and gives us a look at the ugliness she experienced growing up, well into her competitive skating years, and the coming of a stranger-than-fiction scandal that she would forever be defined for, despite not having any direct involvement. This film was polarizing and an absolute surprise; I never would have expected it to be one that both moved me emotionally, and had me laughing harder than nearly any comedy of recent memory. I was not able to review the film prior to the end of 2017, but if I had, there is no doubt this would have been in the "Best Films of the Year" list.
Casting in the film is superb, with the role of Tonya Harding played by Margot Robbie (Harley Quinn from Suicide Squad), who captures every side of the ill-fated figure skating prodigy; her chemistry with her co-stars, regardless of what is going on in the film at the time, is superb. Sebastian Stan (Bucky/Winter Soldier from the Marvel Cinematic Universe) fares just as well as her abusive husband, who gets some of the movie's best scenes. But the true standout in the film is Allison Janney, who is delightfully over-the-top as Harding's mother, delivering plenty of instant classic R-rated one-liners (though I won't spoil any of those moments in this review).
The film does not sugar coat Harding's life, simultaneously showing off her more detestable traits, as well as her personal struggles. It scores points for not shying away from the ugliness that she had to face, being born into what aren't exactly the best conditions for success, and having to deal with many obstacles and challenges, not all of which were of her own making. The filmmakers' approach here makes Harding a sympathetic protagonist, but does not result to cheap tricks to accomplish that goal; everything feels authentic and grounded despite the at-times comical side of things. In fact, even a few secondary/tertiary characters get some surprisingly good comedic moments. The experience is paced perfectly, never once feeling boring or overlong in its two-hour duration.
I, Tonya is an unexpected masterpiece, with brilliant casting, a memorable soundtrack of classic 70s rock/pop tunes, razor-sharp writing and witty one-liners, and an unforgettable true story that truly is stranger than many works of fiction. The film earns its R rating and is anything but politically correct, but this works to its strength, making for something all the more polarizing and entertaining alike. Tonya Harding may have been excommunicated from the world of competitive figure skating, but I, Tonya brings home the gold medal. Absolute highest recommendations.
Rating: Four out of four stars.
DISCLAIMER: All images in this review are the copyright of their respective owners, including (but not limited to) LuckyChap Entertainment, Clubhouse Pictures, and AI Film. For promotional use only. All rights reserved.