Forever My Girl is directed by Bethany Ashton Wolf, and is based on the novel by Heidi McLaughlin. The film stars Jessica Rothe, Alex Roe, Travis Tritt, Abby Ryder Fortson, and John Benjamin Hickey.
Years ago, up-and-coming country singer Liam Page left his bride at the altar in Saint Augustine, Louisiana. Several years later, he has become a country superstar. Returning to his hometown for the first time in eight years to attend the funeral of a friend, he is reunited with his former bride to be, only to discover that she has had his child. Despite their obvious past tensions, he attempts to do the right thing, but will he be able to readjust to a "normal" life and take on the proper responsibilities?
Forever My Girl is definitely a film that is not going to be for everyone. It is overly sentimental and over-the-top on multiple occasions, but there are still a handful of aspects that are sure to win you over despite this.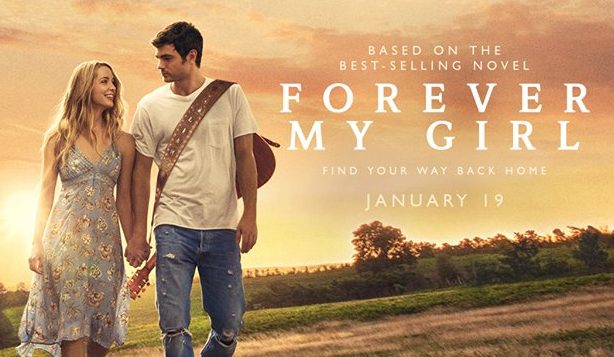 Okay, let's get the unpleasant aspects of the movie out of the way first. The entire premise of the film is more than a little ridiculous. A successful country star returns to his hometown to try to work out his past life and make amends with everyone he abandoned; this is an intriguing and interesting premise even if it is not original. Yet, we are taken to believe, that not one person in the town wants to kiss up to him now that he is a celebrity with status and money to his name. Seriously, not one person in town tries to ask him for money? Not one person takes selfies with him? Even if the town holds a grudge against him for leaving, this element is more than a little implausible. That anyone could stay in seclusion from the public at large for this long is also something of a plot hole, especially in this era of social media.
The predictable plot structure and familiar elements do not work in the movie's favor, either. A character comes seeking redemption and slowly gets it, gradually winning over someone's trust and love, only for third act hardships and obstacles to present themselves, and to have the obligatory happy ending. You've seen this formula a million times, and Forever My Girl, unfortunately, doesn't really do anything to bring fresh twists to the table.
And yet, despite its obvious narrative problems, I would not say the film is a total loss. The casting is well done, and the actors and actresses do the best with the material they are given. The real standout here is young Abby Ryder Fortson (probably best remembered for her role in Ant-Man a few years back) as the daughter of the leads; this girl gets some brilliant one-liners that are sure to get some laughter out of any audience. She is easily the highlight of the film, and the part of the movie that will leave the biggest impression on viewers.
The rest of the cast, again, fares well with the material they are given; scenes with Liam having to do "everyday person" things after being used to other people doing it all for him are actually quite funny. Still, at large, the film cannot rise above the predictable narrative and some obvious and unrealistic inconsistencies. The cast's performances coupled with the strong soundtrack of modern country music does manage to save this from being a weak movie, albeit just barely.
Forever My Girl is not going to win any points for originality. A great film this is not. Yet some elements of the presentation will still manage to charm audiences, namely the performance of Abby Ryder Fortson. It is not a great film, but if nothing else, will make for a decent weekend rental title when it gets its home release.
Rating: Two out of four stars.
DISCLAIMER: Images in this review are the property of their respective copyright holders, including Roadside Attractions and LD Entertainment. For promotional use only. All rights reserved.